Q&A: Dr. James E. Lee on administering COVID-19 vaccine in Massachusetts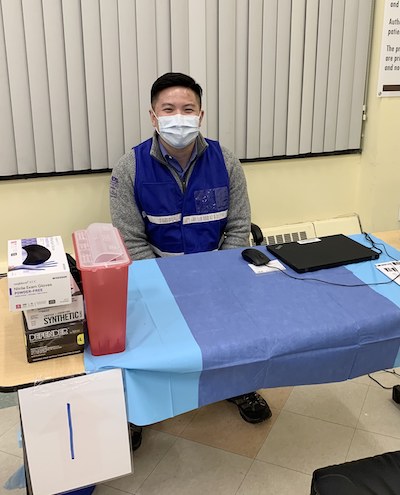 When James E. Lee, D.M.D., found out through the Massachusetts Dental Society that the state decided Jan. 6 to allow dentists to administer the COVID-19 vaccine, one thought came to mind: the need to volunteer.
"Dentists like myself wanted to help administer the vaccine to the groups that were already eligible to help facilitate the vaccine rollout in our communities," said Dr. Lee, member of the ADA New Dentist Committee. "These include people in long-term care facilities, rest homes, assisted living facilities and first responders."
Today, at least 22 states are allowing dentists to administer the COVID-19 vaccine. The ADA and state dental societies continue to advocate for states to give dentists the ability to be an integral part of stopping the spread of the COVID-19 pandemic. Final authority rests with each statein prioritizing the population to receive the vaccine and in administering it. The ADA is asking the U.S. Department of Health and Human Services to declare that dentists have nationwide immunity from liability under the federal PREP Act when administering COVID vaccines. A PREP Act declaration would temporarily preempt state laws that prohibit – or effectively prohibit – dentists from administering the vaccines.
Dr. Lee spoke with the New Dentists News to share his volunteer experience in administering the vaccine and his perspective on why other dentists should consider doing the same thing.
 
NDN: Why did you decide to volunteer administering the COVID-19 vaccine?
Dr. Lee: As health care professionals who routinely administer patient injections, I believe dentists are a powerful resource to meet the country's vaccine goals and accelerate pandemic recovery. I decided to help administer the vaccine because I wanted to be part of the solution, accelerate pandemic recovery in my community, and help protect our first responders who selflessly serve our communities.
NDN: What process did you go through to be able to administer the COVID-19 vaccine in your community?
Dr. Lee: The wonderful City of Worcester Division of Public Health staff made the process very efficient for volunteers. I had to review vaccine administration training materials. However, dentists are already highly trained in administering injections and anatomy. I am incredibly thankful the City of Worcester had the foresight to tap dental professionals as a resource and force multiplier to help stand up their vaccination clinics, and I was very impressed with their professionalism and effectiveness.
NDN: When and where have you administered the vaccine?
Dr. Lee: On Jan. 11 and Feb. 8, I volunteered at a vaccination clinic set up by the City of Worcester Division of Public Health to administer the vaccine to public safety personnel/first responders in Worcester, Massachusetts. It was a wonderful experience serving in both clinical and nonclinical roles at the direction of clinic staff who were extremely professional. I helped administer the COVID-19 vaccine to 20 public safety personnel.
NDN: From your perspective, why should dentists (if allowed in their respective states) consider administering the COVID-19 vaccine?
Dr. Lee: Throughout the pandemic dentists have safely provided essential care to patients and supported our frontline medical colleagues by keeping dental pain out of the emergency rooms and hospitals. Vaccine administration is another way dental professionals can proactively be part of the solution. Dentists are leaders in their communities, and we have a unique public health role to play in the nationwide COVID-19 vaccine rollout. By administering the vaccine, dentists can support accelerating our country's pandemic recovery efforts and also serve as a trusted resource to educate the public on the vaccine with evidence-based resources.
NDN: What other roles do you see dentists playing in combating the COVID-19 pandemic?
Dr. Lee: Dentists have a critical public health role in increasing vaccine confidence among their patients. It's important for dentists to equip themselves and educate themselves with the latest evidence-based resources so they can share that knowledge with their patients and their communities.
The ADA continues to monitor developments related to COVID-19 vaccine approval and administration on behalf of the profession and public. The Centers for DiseaseControl and Prevention offers training on its website on how to give the vaccine, and dental professionals can visit ADA.org/virus for more information, including a resource list found under the "Vaccination" tab that lists a number of vaccination training opportunities.