'Where should I practice?': New interactive map helps ADA members find ideal dental office location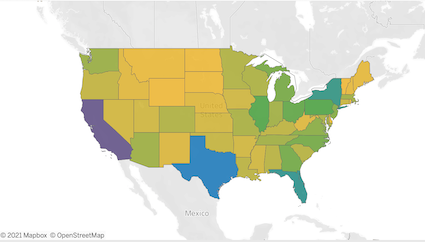 "Where should I practice?"
"Where should I expand?"
"How many active dentists are in a certain zip code?"
New dentists asking themselves those questions have a new resource to find theiranswers.
The ADA recently released the Practice Location Map , an ADA member exclusive benefit that provides location-based demographic information.
The interactive map visualizes data including the geographic distribution of active dentists, population median income, as well as the number of federally qualified health centers with dental services in each state.
For example, according to the Practice Map, Nebraska has 1,244 active dentists, or three dentists per 5,000 residents. Meanwhile, California has 31,106 active dentists, or four dentists per 5,000 residents.
The resource also allows users to zoom in to county, city and zip code geographic levels. According to the map, Lincoln, Nebraska has a total population of 280,849, a population median income of $55,224 and a population median age of 32.6. There are 259 active dentists in the state capital, with 4.6 active dentists per 5,000 people. In addition, the map lets users know that there are two dental schools in the state and 12 FQHCs with dental services in the state.
For those seeking deeper, customized information, the Health Policy Institute (HPI) offers HPI Consulting , a credible, personalized consulting service that uses its data to provide clients with in-depth insights into the dental economic landscape.
Start your search at ADA.org/PracticeMap and let us know how it helped you with your practice decisions at newdentistnews@ada.org .