10 Under 10 Awards: Recognizing the 'future of the dental profession'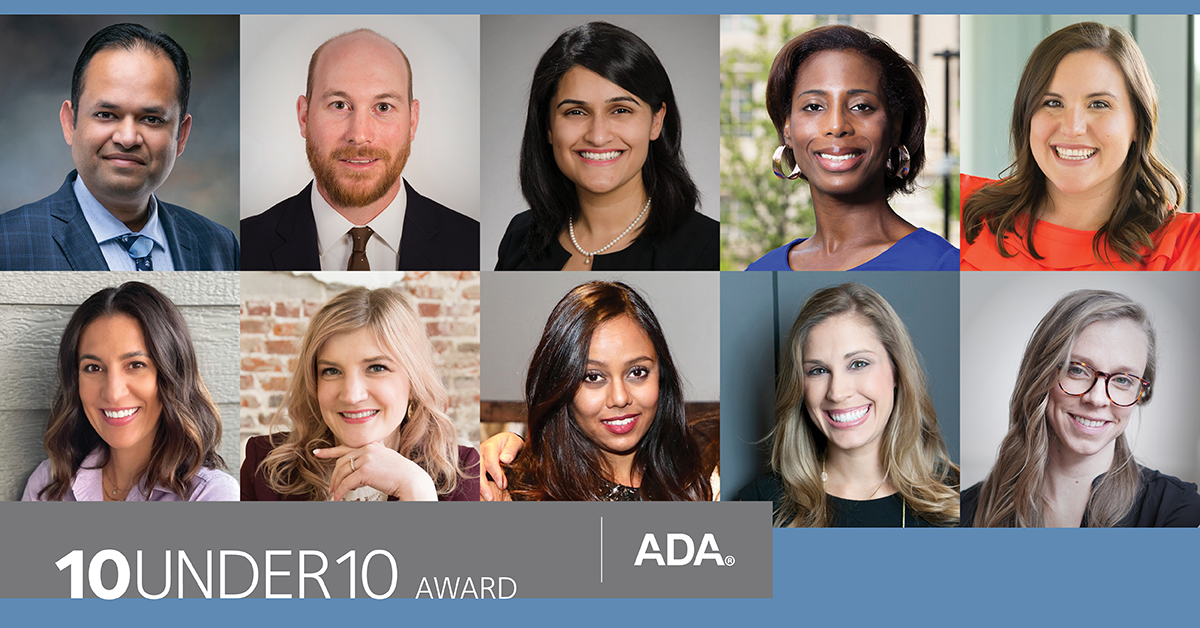 The associate dental director of the Indian Health Service's Native American Health Center in San Francisco. A Houston-based dental practice owner who has raised over $10,000 for the Alzheimer's Association. And a dental epidemiologist at the Centers for Disease Control and Prevention.
The ADA announced March 16 the recipients of its annual 10 Under 10 Awards , which recognizes 10 new dentists who demonstrate excellence early in their careers.
Selected by the ADA New Dentist Committee from more than 100 nominations, the recipients represent the future of the dental profession, said Alex Mellion, D.M.D., chair of the Subcommittee on New Dentist Engagement, which recommended the winners. Nominees and winners had to be active ADA members who graduated between 2011 and 2020.
"These 10 recipients all displayed unique and amazing characteristics that stood out, especially during the COVID-19 pandemic," Dr. Mellion said. "Many of these recipients have been ongoing leaders within their respective communities. Their unique stories andachievements touch on so many different areas, from personal success, leadership in organized dentistry and outstanding research initiatives."
The winners were chosen for making a difference in science, research and education; practice excellence; philanthropy; leadership; and advocacy. The 10 Under 10 Award recipients are:
Amber Ather, D.D.S., of San Antonio. Dr. Ather's colleagues fondly refers to him as "Google" for his in-depth knowledge of the clinical sciences. In 2020, he was among the authors of the study, "Coronavirus Disease 19 (COVID-19): Implications for Clinical Dental Care," published in the Journal of Endodontics. Dr. Ather, a clinical faculty member at the University of Texas Health Science Center at San Antonio, also received a $20,000 grant from the American Association of Endodontics Foundation for Endodontics to investigate the effect of dexamethasone in vital pulp therapies.
Carsen Bentley, D.D.S., of San Francisco. Dr. Bentley has served as associate dental director at San Francisco's Native American Health Center, where he implemented theEvery Day Connect program, which helps fabricate dentures for those experiencing homelessness. A private practice owner, Dr. Bentley is also an attending faculty at the special care clinic at the University of the Pacific Arthur A. Dugoni School of Dentistry.
Sampada Deshpande, D.D.S., of Seattle. Dr. Deshpande is the founder and president of the New Dentist Business Club which provides interactive education to new dentists in all practice modalities in Seattle. A general dentist, Dr. Deshpande recruits speakers and mentors for new dentists to learn more about practice management and regulatory process in the profession.
Eleanor Fleming, D.D.S., Ph.D., of Nashville, Tennessee. Dr. Fleming is a director at the Center for Educational Development and Support at Meharry College and an associate professor at its dental school's department of dental public health. Previously, Dr. Fleming spent nine years as a dental epidemiologist at the CDC as a commissioned officer in the U.S. Public Health Service to oversee the oral health component of the National Health and Nutrition Examination Survey at the National Center for Health Statistics.
Emily Hahn, D.D.S., of St. Louis. Dr. Hahn is the owner of Skyview Pediatric Dentistry and a pediatric dentist at the St. Louis Children's Hospital. She holds leadership roles with the Greater St. Louis Dental Society, the board of directors for the West County District, the Missouri Academy of Pediatric Dentistry and the Missouri Dental Association. Dr. Hahn also works with the Special Olympics as the Missouri Special Smiles clinical director.
Erinne Kennedy, D.M.D., of Joplin, Missouri. Dr. Kennedy aims to continue to integrate public health work into dental education. She serves as an assistant professor and director of pre-doctoral education at Kansas City University's College of Dental Medicine. She is a part-time lecturer in the oral health policy and epidemiology department at Harvard University School of Dental Medicine.
Megan Lenahan, D.D.S., of Rock Hill, Missouri. Dr. Lenahan is a pediatric dentist at Lenahan Smiles Pediatric Dentistry. Recognized in 2020 by the Missouri Dental Association as its 2020 Outstanding New Dental Leader, Dr. Lenahan currentlyserves on the Greater St. Louis Dental Society's executive board and is a member of the Missouri Emergency Response Identification team.
Amrita Rohit Patel, D.D.S., Chappaqua, New York. Dr. Patel, who owns multiple specialty group practices in New York City, serves as the new dentist member of the ADA Council on Dental Benefit Plans and the New York State Dental Association's Council on Ethics. She is in the current class of the ADA Institute for Diversity in Leadership.
Katie Stuchlik, D.D.S., of Houston. Dr. Stuchlik is the co-owner of Dentistry of the Oaks, a dental practice in Houston. She is the immediate past-president of the Houston Academy of General Dentistry and serves in the Advocacy Council for the Texas Academy of Dentistry. She is involved in the volunteer work in her community and other nonprofit organizations, including raising $10,000 for the Alzheimer's Association.
Caroline Zeller, D.D.S., of Portland, Oregon. Dr. Zeller has held several leadership positions at the Oregon Dental Association, recently testifying on behalf of the organization at a Senate Healthcare and Finance Committee hearing. Dr. Zeller also produces her own podcast, "Removing the Bite Block," which seeks to educate listeners on issues affected dentistry and encourage others to help shape profession.
Dr. Mellion said that each of these individuals have fostered the leadership mindset through different and innovative ways, adding that they have created and thrived on opportunities to network with colleagues, expanded and furthered research efforts and served some of the most vulnerable populations.
"New dentists are the future of the ADA and acknowledging their efforts is a must for our organization," he said. "Each generation chooses its own path, and it's amazing to see the bright future of all of these recipients and the nominees."
The recipients of the 10 Under 10 Awards will receive a $1,000 cash prize and be recognized in various ADA publications and channels, including the ADA News and the New Dentist News.
For more information on the 10 Under 10 Award recipients, visit ADA.org/10under10 .