Charting a Path to Financial Success in 2021: Build, strengthen your financial foundation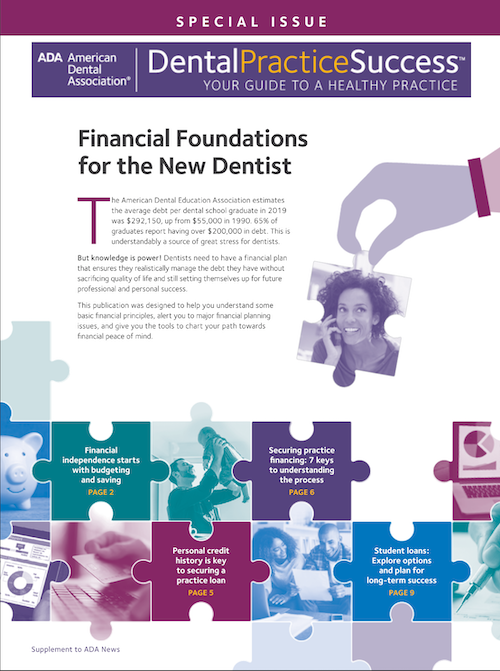 Editor's Note: As we enter tax season, now is the time to think about financial planning and tax implications for 2021. The ADA has financial content to support dentists at all stages of their career on the path to financial success. Follow the New Dentist News financial series to learn more about strategies to decrease student debt, financial planning strategies at all career stages, and considerations for planning an exit strategy as retirement nears. This financial series is brought to you by a generous grant from Crest + Oral-B.
A financial plan is critical in order for you to realistically manage the debt you may have without sacrificing quality of life, while also setting yourself up for the future you imagine.
A special issue of Dental Practice Success has been designed to help you understand some basic financial principles, alert you to major financial planning issues, and give you the tools to chart your path towards financial peace of mind. Learn about:
Financial Independence Starts with Budgeting and Saving: No matter where you are financially, smart budgeting and saving strategies can build a path to financial freedom.
Personal Credit History is Key to Securing a Practice Loan: A recent graduate can implement a sound financial plan for entering the world of private practice dentistry.
Securing Practice Financing: 7 Keys to Understanding the Process: Student loans do not preclude a dentist from obtaining practice financing.
Student Loans: Explore Options and Plan for Long-Term Success: It's important toproactively manage students loans to build a positive credit history, raise your overall credit score and evaluate options for repayment, consolidation or refinancing.