University at Buffalo dental school receives $780,000 grant to expand mobile dental clinic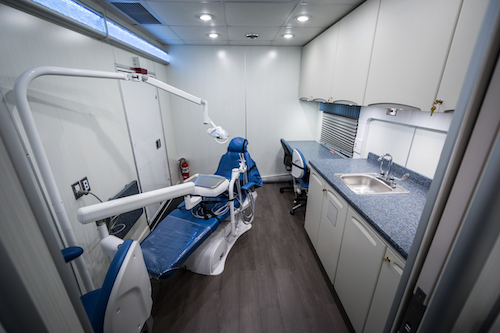 Buffalo, N.Y. — The University at BuffaloSchool of Dental Medicine announced March 11 that it received a $780,000 grant from the Mother Cabrini Health Foundation to expand its S-Miles to Go dental program.
The grant allows them reach an additional 1,000 patients annual by adding a second, drivable mobile dental clinic that can meet the oral health care needs of Erie County's underserved populations, including older adults and people with disabilities.
The new mobile dental van, which is anticipated to begin operation in early 2022, is a 40-foot-long, two-chair clinic outfitted with a state-of-the-art panoramic X-ray unit, digital radiography, sterilization center, wheelchair lift and electronic health record system.
"This will allow the school to expand its outreach to underserved populations throughout Western New York, which in calendar year 2019 totaled over 13,000 procedures performed on over 1,800 patients at 31 different sites," said Joseph J. Zambon, D.D.S., Ph.D., dean and SUNY Distinguished Teaching Professor of the UB School of Dental Medicine, in a news release.
The funding will also support the operations of the dental school's existing mobile dental van, which provides access to oral health care for veterans and underserved children and families, primarily in Chautauqua County.
S-Miles to Go offers a full range of educational and oral health care services, including exams, cleanings, fillings, sealants, fluoride treatments and extractions. It has served Western New York communities for over 20 years, providing more than 45,000 patient visits.
The grant marks the second award provided to the UB S-Miles to Go program by the Mother Cabrini Health Foundation, an organization that provides funding to enhance access to affordable, quality health care and to address the unmet health care needs of communities across New York. In 2020, the foundation provided the university with a $200,000 grant to expand mobile dental services in underserved rural areas.