SmileCon offers new dentists unique experience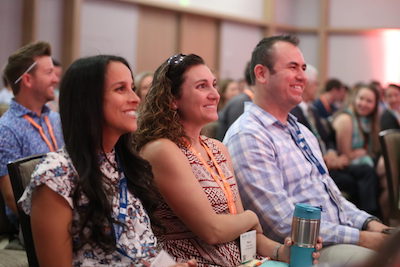 New dentists seeking to share their SmileCon experience with other early career dentists have plenty of opportunities in Las Vegas.
"The beginning of your career is a time of decisions," said Lindsay Compton, D.D.S., New Dentist Committee member. "If you don't know your options, then you can't choose them. It's important to be exposed to and open yourself up to the wide world of dentistry."
That exposure and opportunity to explore the profession are available at SmileCon, to be held Oct. 11-13 at Mandalay Bay Resort and Casino in Las Vegas, where they can share their dental journey with others who are new to the profession and pave their own way with support from the New Dentist Committee, whose members will be present at the meeting to engage with new dentists who attend.
The New Dentist Reception, sponsored by BISCO, will take place from 7-8:30 p.m. Oct. 11 in the Eyecandy Sound Lounge at Mandalay Bay. The reception is included in the meeting's Platinum Smile Pass and costs $30 in advance or $40 on-site for Smile Pass and Dental Central Pass holders.
Dental Central — SmileCon's reinvented exhibit hall — will also offer resources to help new dentists take time for a little self-care as they aim to stay centered, develop healthy habits, and be their best selves emotionally and physically. The New Dentist Committee is also planning other programming focused on mental health and wellness.
During the opening session at SmileCon, the committee will honor this year's winners of the ADA 10 Under 10 Awards, which recognize 10 new dentists who have demonstrated excellence early in their careers.
"I'm excited for the new approach to the annual meeting because I look for the meeting to not just provide continuing education," Dr. Compton said. "Actually, CE is not what draws me to the meeting. I want to see what's new and great in the exhibit hall. I want to meet up with colleagues. SmileCon will provide me with more of those opportunities."