Sponsored by CandidPro™ in collaboration with Philips Sonicare
Enhance clear aligner oversight with CandidMonitoring™

What exactly is remote monitored orthodontic treatment? How can this technology strengthen my treatment plan for patients between in-office visits? These were among several questions that I needed answered before considering incorporating it into my clear aligner therapy.
For a little background, I've always had a passion for healthy occlusion. I've had the privilege of teaching full-day courses on restorative-bite relationships and orthodontics at a number of institutes, including over 20 years as faculty at the LD Pankey Institute. This has led to opportunities to participate in the research and development of clear aligner therapy dating back to the late '90s. As an early adopter, I committed to mastering the mechanics of this orthodontic modality to improve my patients' occlusions and preservation of natural tooth structure. Since then, I've witnessed a remarkable progression in the clinical capabilities of clear aligner therapy. In the early days, we were limiting the cases we would treat to the mildest of malocclusions and yet were still struggling with simple movements. But with today's technology, an experienced practitioner can successfully treat complex cases with clear aligners.
For many years, practice workflow and efficiency took a backseat to the clinical aspect of minor tooth movement. As a general rule, I initially would provide 2-3 aligners at a time so I could see and monitor my patients' progress closely. This consumed a lot of chair time. As time progressed, I began to add new skills, tools, and advanced adjuncts in an attempt to deliver excellent results more efficiently. I learned various orthodontic acceleration techniques in search of ways to improve efficiency, reduce appointments, and truncate treatment time. So it was natural for my curiosity to be piqued by the introduction of telehealth into the realm of clear aligner orthodontics.
Telehealth Technology
I began a deep dive into learning what remote monitoring is and isn't. It turns out it can be many different things: from a proprietary app that monitors toothbrushing compliance, to an incredibly powerful, infinitely customizable solution that can include hiring dedicated team members within the practice to manage it.1,2
After reviewing the available options, I found CandidMonitoring™ (Candid, New York, NY, USA) to be a robust remote orthodontic monitoring solution that delivered what I was looking for. It was fully pre-configured for me, required no additional staff, was easy to use, and was included in the service at no extra charge. Most importantly, it didn't involve giving up any clinical oversight. On the contrary, it provided access to a plethora of clinical data, including an ABO array of intra-oral photographic records, at every aligner stage, with and without aligners inserted, available 24/7, wherever I may be. As someone who travels and lectures often, this was very enticing. Thinking about my patients—many of whom travel a considerable distance for care—also made for an 'aha moment.' I could immediately see a multitude of advantages to incorporating remote monitoring just based on the photographic records alone.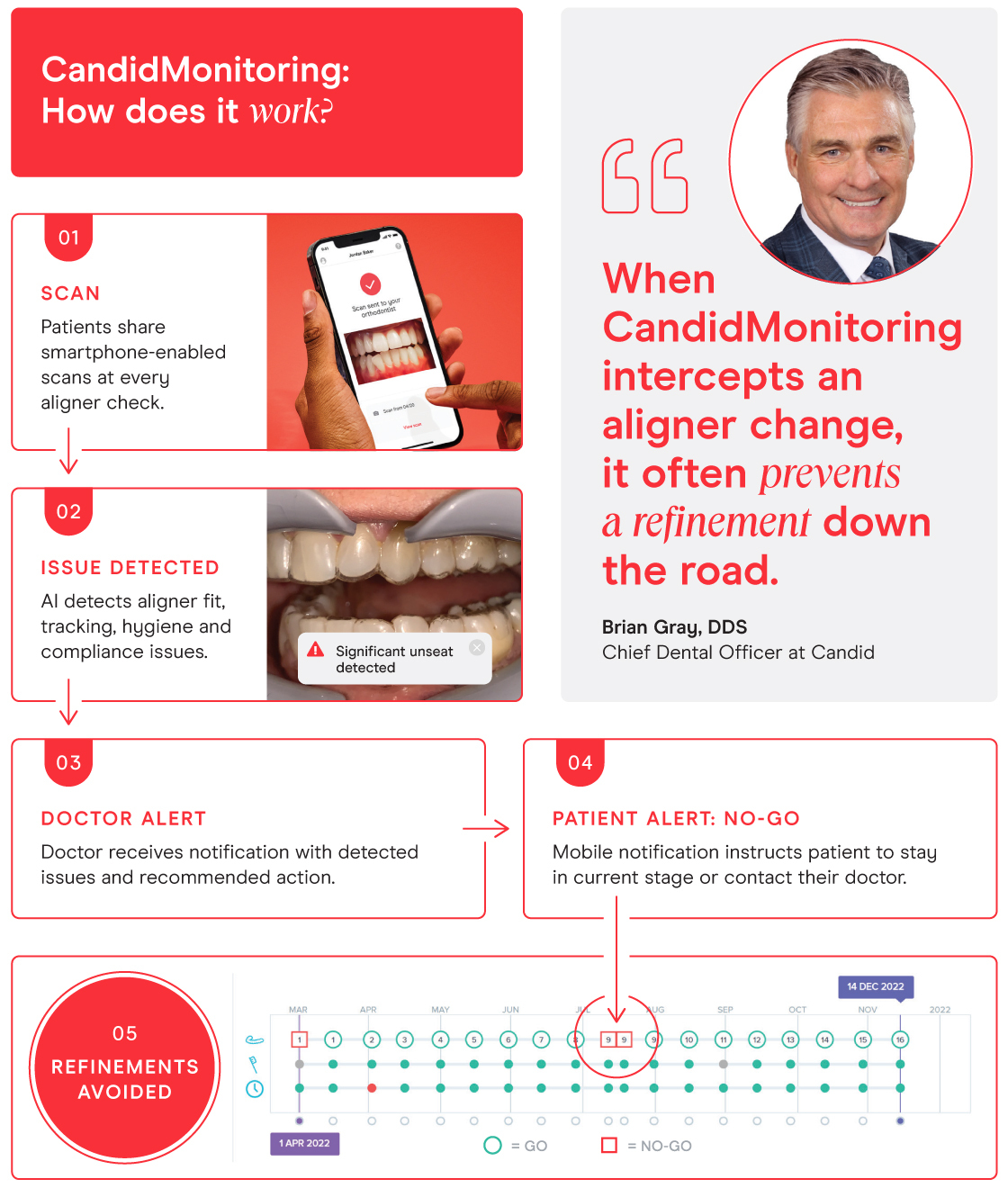 Treatment Compliance
Treatment compliance was still an area of concern for me, though. As someone who has trained over 30,000 doctors on clear aligner therapy, I've learned a few lessons myself along the way. It's not how many patients you start each year that matters. It's how many cases you finish. Orthodontic treatment can be uncomfortable, and clear aligners are removable. Non-compliant patients develop tracking issues, which can lead to additional appointments, scans, and treatment plans.
CandidMonitoring™ directly addresses many challenges of treatment compliance. We know patients will forget to wear and change their aligners occasionally. We can't possibly call and remind them all. Fortunately, CandidApp, an integrated extension of CandidMonitoring, effortlessly alerts patients when it is time to check their progress. Note, I did not say it reminds them when to advance to the next aligner. There is a gateway in place. Instead of blindly advancing aligners based on a fixed but arbitrary number of days having elapsed, the monitoring AI reviews photos submitted by the patient, then evaluates aligner fit to 'see' if the prescribed movements have been clinically expressed.3,4,5 A lot can happen in patients' lives, and despite their best intentions, anatomical, biological, and other variables eventually impact tooth movement at one stage or another. And when a refinement occurs, who pays for it? The entire practice pays.
Workflow Efficiency
Rising overhead and staffing challenges continue to make workflow efficiency a major differentiator in practice health. So handing out a few aligners at a time and not seeing what was going on between visits is becoming a model that is falling behind both clinically and competitively. As an exercise, consider tabulating the number of visits it took to complete your last 10 clear aligner orthodontic cases. The answer may surprise you. A study was recently published evaluating clear aligner outcomes with mild malocclusions and demonstrated 13.7 visits were required per case to complete treatment.6 With the CandidPro™ aligner system, including complimentary CandidMonitoring™, it is entirely possible to address a patient's chief complaint in as few as 2 in-office visits, while following their journey with documented progress photos every step of the way. Many doctors still schedule a visit at the midpoint of the aligner series and/or have a scheduled opportunity to see them at an upcoming periodic hygiene visit.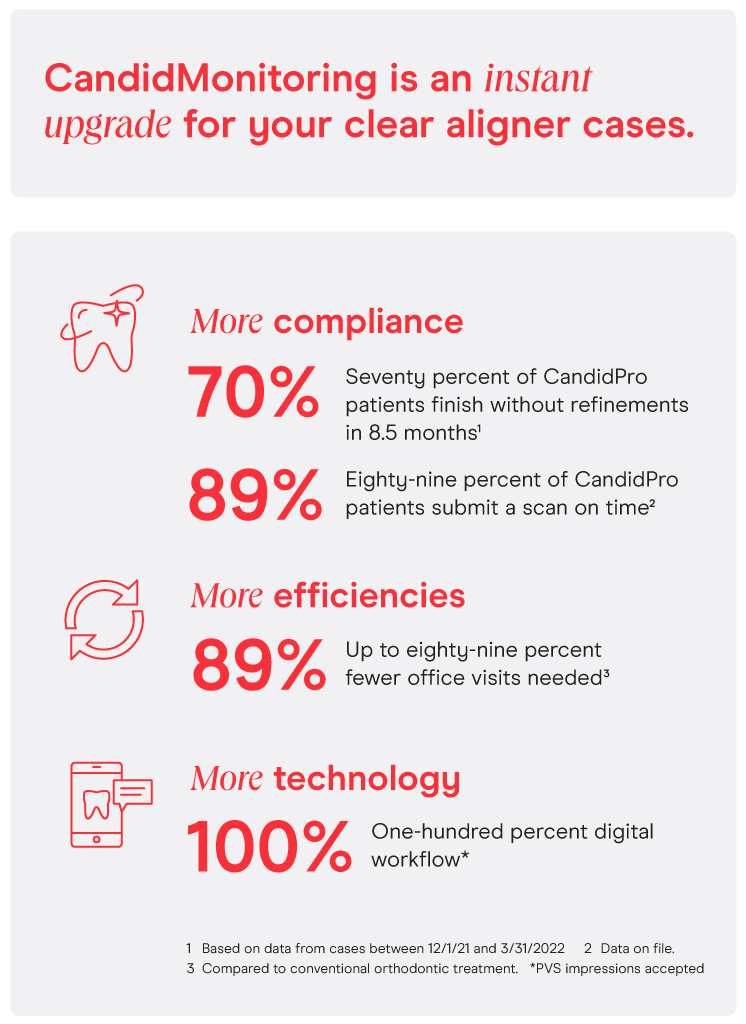 Clinical Confidence
A successful orthodontic diagnosis considers more than aesthetics; it goes beyond function and includes the underlying structures. The diagnosis doesn't begin and end at the records appointment. It is a continuous process spanning the full length of orthodontic treatment, which includes the longest and most important phase, retention. CandidMonitoring™ not only monitors tooth movement and aligner tracking, it also helps the clinician to detect hygiene and gum disease.4,7. With a non-monitored aligner solution, weeks, even months, can elapse with a patient experiencing a periodontal or hygiene issue leading to lasting consequences. Knowing I will receive an alert if a clinical concern is suspected at any of the bi-weekly scans gives me confidence in reducing office visits. Likewise is the comfort that comes from knowing my patient can initiate access to care immediately through the CandidApp. Effectively this app provides a portal to my patient that keeps all communications organized and on a single platform. Non-clinical questions are answered through customer support; clinical questions are automatically escalated to me to address that day.
In closing, I'll say it has been incredibly rewarding to participate in, albeit sometimes hard to keep up with, the continuous advancements in our profession. I am fully convinced that there is a place for remote monitoring in orthodontics. The CandidPro ecosystem, including CandidMonitoring™, has become integral to how I diagnose, monitor, and manage clear aligner orthodontic treatment in my practice.
Visit here to explore CandidMonitoring or set up a demo.
To learn more about how CandidPro can help you grow your clear aligner business, visit candidpro.com.

References: