ADA New Dentist Committee panel offers ray of hope amid dark cloud of debt
SmileCon course discusses planning for future while paying off student debt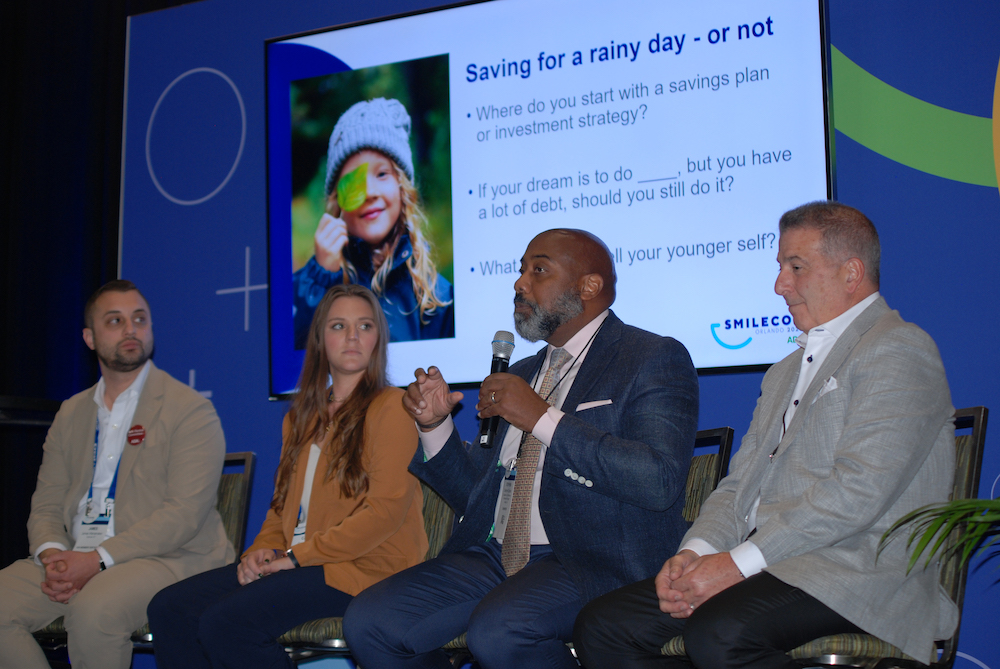 Orlando, Fla. — A course hosted by the ADA New Dentist Committee at SmileCon offered hope to dental students and new dentists strapped with debt.
Dark Cloud of Debt, Where to Look for the Rainbow took place Oct. 5 in the Wellness Hub of Dental Central. The course was moderated by New Dentist Committee member Kellie McGinley, D.D.S., and panelists included committee members James Wanamaker, D.D.S., and Camryn Bryant, D.D.S., as well as Stephen B. Dunbar III, J.D, executive vice president of Equitable Advisors, and Santo LoPorto, a financial professional at Equitable Advisors.
The panelists covered ways to manage money even with irregular income and sky-high student debt and discussed the role student debt plays in planning for a family and the future.
"The goal today is two things: No. 1, for you all to leave with hope. And we'll talk about that at the end," Mr. Dunbar said. "And No. 2, to ask you to just take one single step that will make forever a difference in the financial management of your future."
Dr. Wanamaker graduated from dental school in 2016 with about $255,000 in student debt, and his wife, who is a nurse, graduated with about $30,000 in debt. While the two currently have two children and own a house, they decided to delay those life steps until they were able to cover their student debt and mortgage and support a family.
"And then the biggest decision was when to buy my practice as well, and how do you position yourself financially to buy that practice because ultimately that practice is the asset that then generates the revenue to cover the debt and pay down the debt," he said. "It was going with an income-based repayment plan initially with the federal government so that we could have a lower payment so I could save to buy a practice because I needed that engine to drive the revenue and the cash flow for later."
Dr. Bryant, who graduated in 2022 from dental school with $320,000 in debt, offered advice to new dentists on how to approach their savings.
"I base all my finances off percentages, so it makes it easy," she said. "It's hard to say, 'I'm going to put back $500 every single month.' It's really easy to say, 'I'll put back 5% every single month.' So whether or not that's $5, $50, whatever it is — it's just you're making an effort, even if it's as little as 5%. It is something, and it will increase, and you'll get better at it. And sooner or later, the more you make, the more it will be."
The panelists recommended having a holistic financial plan and prioritizing saving for the future as part of that plan.
"One of the worst things about debt is it robs you of the desire and the ability to dream. I think that is so terrible," Mr. Dunbar said. "We are designed to dream, we're designed to pursue, we're designed to want more for ourselves, our families, our communities."
The New Dentist Committee will also host Managing the Big Three: Burnout, Anxiety, Depression (6150) from 10-11 a.m. Oct. 6 in the Wellness Hub. In this course, the presenters will share their experiences with depression, anxiety and other mental health challenges, ways to support each other during tough times, and resources to strengthen overall well-being.
The committee also hosted a town hall on career path mentorship Oct. 5.
Other SmileCon events related to new dentists and dental students include the New Dentist After Party, Dental Olympics and 10 Under 10 Awards celebration.
The New Dentist After Party, an exclusive get-together for new dentists and dental students, will feature food, drinks, music and games from 8-10 p.m. Oct. 6 at Descend 21 at the Hyatt Regency Orlando. The party is sponsored by Aspen Dental.
During the Dental Olympics on Oct. 6-7 in Dental Central, student teams from four dental schools will compete head-to-head in dental trivia, a social media contest and more, as their fellow students, alumni and supporters cheer them on. The event is sponsored by Pacific Dental Services.
The 10 Under 10 Awards celebration, which is open to anyone to attend, will honor the accomplishments of the award winners — 10 new dentists who have demonstrated excellence in the dental profession. It takes place 1-2:30 p.m. Oct. 6 in the ADA Hub of Dental Central.