Dental Assistants Recognition Week scheduled to begin March 7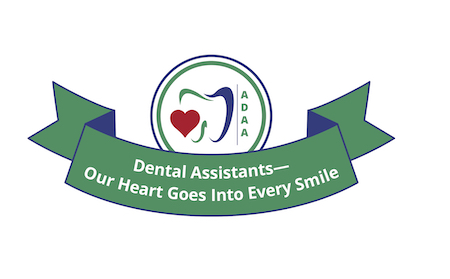 The ADA Council on Dental Practice is encouraging dentists and their teams to acknowledge the dedication and contributions of their dental assistants during Dental Assistants Recognition Week, March 7-13.
Dental assistants, working with the dental profession, play an important part in providing dental health care to patients.
"'Dental Assistants — Our Heart Goes Into Every Smile' is the theme for 2021 and recognizes the very important and personal role dental assistants play in the health and happiness of their patients, as well as the entire dental team," said Duc "Duke" Ho, D.D.S., chair of the ADA Council on Dental Practice. "From skilled technicians during clinical procedures to the voices of reassurance and calm for the nervous patient, their significance cannot be measured or overstated. As an everyday practicing dentist, I can say unequivocally and without hesitation that I would not be the dentist I am without the support of my own assistants."
The profession of dental assisting continues to diversify and expand. Whether working chairside with the dentist, taking X-rays or managing the business office, teaching or working in insurance or sales, dental assistants are vital to the success of the dental practice.
Dental Assistant Recognition Week is held the first full week in March every year. The ADA, American Dental Assistants Association, Canadian Dental Assistants Association and Canadian Dental Association jointly recognize the observance.
For more information on the American Dental Assistants Association, which sponsors this event, visit ADAAUSA.org .