Health Literacy Dental School Essay winners revealed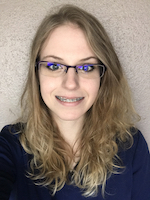 Ms. Barnes
A dental student at The University of Texas School of Dentistry at Houston is the winner of the ADA's 2020 Health Literacy Dental School Essay contest for her piece about the human papillomavirus vaccine.
Casandra Barnes will receive $1,000 and her essay, "Why Your Dentist Wants You to Get the HPV Vaccine," is on the ADA's consumer website, MouthHealthy.org, announced the ADA Council on Advocacy for Access and Prevention.
"Research shows that the vaccine is successfully preventing HPV infections," wrote Ms. Barnes in her winning essay. "Infection rates among young adults drop by 88% when given just one dose of the HPV vaccine. Long term studies report that fewer women are getting cervical cancers. Also, protection from the HPV vaccine can last more than 10 years."
The council's objectives of the contest are to increase students' knowledge about health literacy principles and build their skills in writing plain language.
Every year since 2015, the ADA has increased the number of dental schools invited to participate in the contest. All dental schools are now invited to participate. This year's essay topic is centered on the HPV vaccine.
The first runner-up is Evan Fry, a dental student at University of Illinois at Chicago College of Dentistry. He receives $500 for his essay, "More Than Teeth: Why Your Dentist Wants You to Get the HPV Vaccine."
The second runner-up is Kapiolani Wisler, a dental student at the Indiana University School of Dentistry. The prize is also $500 for the essay, "Long-Lasting Protection: HPV Vaccine."
The contest is run by the council's National Advisory Committee for Health Literacy in Dentistry.