CDT 2022 ready for pre-order to ensure dentists, dental team have most up-to-date information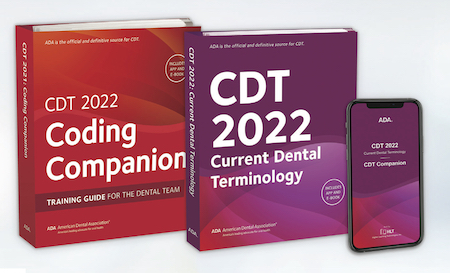 The CDT 2022 and Coding Companion Kit with App delivers the newest additions and changes to the CDT Code and is available for pre-order online .
All CDT Code changes will become effective on Jan. 1, 2022.
CDT 2022 is the complete upcoming edition of the most up-to-date codes and descriptors, and the CDT 2022 Coding Companion compiles more than 200 frequently asked coding questions and more than 140 common dental coding scenarios.
The CDT 2022 App and e-book are included with the purchase of the kit, providing more digital resources for desktop computers, tablets or phones.
CDT 2022 contains new codes for:
Pre-visit patient screenings.
Fabricating, adjusting and repairing sleep apnea appliances.
Intra-coronal and extra-coronal splints.
Immediate partial dentures.
Rebasing hybrid prostheses.
Removal of temporary anchorage devices.
In all, CDT 2022 has 16 additions, 14 revisions and 6 deletions, as well as the eight codes adopted in March regarding vaccine administration and molecular testing for a public health-related pathogen. It includes full descriptors and a section on ICD-10-CM codes relevant to dentistry.
To order, visit  ADACatalog.org. ADA members can save 15% on the kit by using the promo code 21108 by Sept. 17. Books will begin shipping on Sept. 15. To order products, email or call the ADA Member Service Center at msc@ADA.org or 1-800-947-4746.
The ADA offers multiple solutions to support the learning of coding, including the ADA Dental Coding Certificate: Assessment-Based CDT Program, available online that the dental team may enroll and complete at any time.
More information on coding is available at ADA.org/en/publications/cdt/coding-education.
The ADA developed the CDT as a standardized language to help dentists and other members of the healthcare industry communicate effectively. CDT is updated and updated every year. The ADA is the exclusive copyright owner of CDT. Except as permitted by law, all use, copying or distribution of CDT, or any portion in any product or services (including works prepared for clients by consultants and other professionals), whether in printed, electronic or other format, requires a valid commercial user license from the ADA.