HPI: Dentists say they need more staff to see same number of patients compared to pre-pandemic
November's COVID-19 Economic Impact on Dental Practice poll results confirm that PPE costs have increased dramatically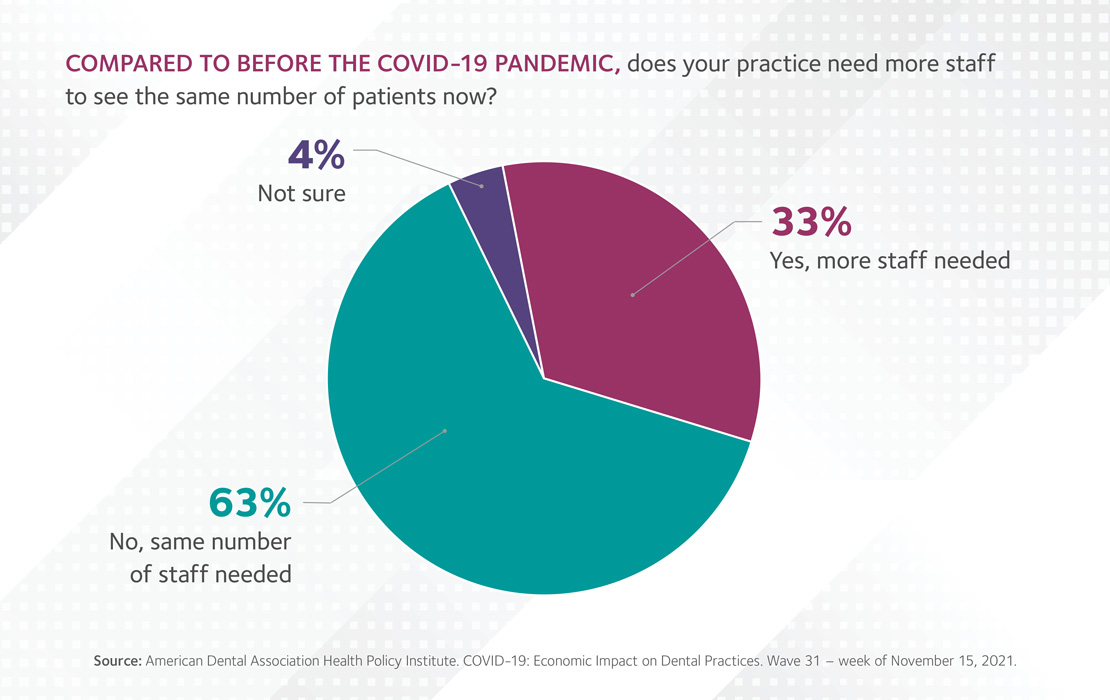 One in three owner dentists indicated they need more staff to see the same number of patients compared to before the pandemic, according to new data from November's COVID-19 Economic Impact on Dental Practice poll conducted by the ADA Health Policy Institute. Moreover, the results reveal that 35% of dentists have recently or are currently recruiting a dental hygienist. Forty percent have recruited a dental assistant. Among those, roughly nine out of 10 hiring dentists indicate that it has been "extremely" or "very" challenging to recruit dental hygienists and dental assistants compared to before the COVID-19 pandemic.
"For almost all positions on the dental team, recruiting has become increasingly difficult," said Marko Vujicic, Ph.D., HPI chief economist and vice president.
Other results from the poll include:
Patient volume is 91% of pre-pandemic levels, the highest number since polling began in March 2020.
The share of dentists hiring for dental hygienists and assistants increased again, as did the challenges associated with recruiting for these positions. Staffing shortages are the most common limiting factor for practices that want to see more patients, followed by low patient demand and safety protocols.
The majority of dentists indicated that the price of surgical masks has at least doubled, and 47% indicated gloves have at least tripled in cost since the onset of the pandemic.
In general, younger dentists have confidence in the recovery and greater intent to hire and invest in new equipment and technology in the coming months.
Since March 2020, the ADA Health Policy Institute has measured the effects of COVID-19 on the U.S. dental economy with a regular poll of dentists on economic conditions during the pandemic. The poll quantifies how COVID-19 has shaped dentists' delivery of care, financial sustainability, and overall attitude toward their profession.
Results for all waves of polling can be viewed online.
More information on recruiting, hiring and training dental team members, can be found on the newly redesigned ADA website at Managing dental staff.