New toolkit offers strategies to deal with interrelated trio of oral health, mental health, substance use
National Council for Mental Wellbeing toolkit developed with input from ADA members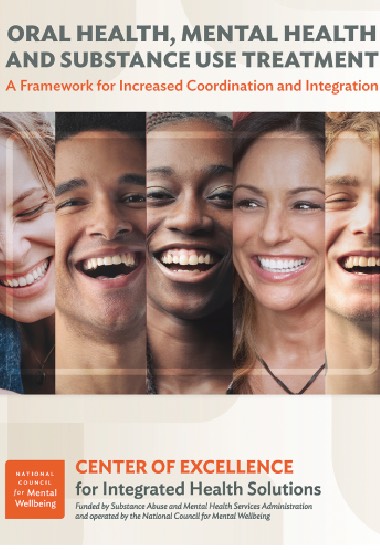 The interrelated connection of oral health, mental health and substance use presents challenges in the health care system — often with stark disparities in access to care — but there are opportunities and strategies to help the vulnerable, according to a new toolkit from the  National Council for Mental Wellbeing.
Many ADA member dentists served as subject matter experts and participants in the development of the toolkit, titled Oral Health, Mental Health and Substance Use: A Framework for Increased Coordination and Integration.
"The National Council for Mental Wellbeing's toolkit highlights that oral health is vital to mental health," said Sean Boynes, D.M.D., vice president of health improvement at the CareQuest Institute for Oral Health and participant in the development of the toolkit. "I was proud to work on this toolkit because I believe the connection between oral disease and mental health is critical to helping dentists and oral health professionals provide holistic care."
The toolkit was developed because no comprehensive set of resources currently exists to help health organizations that may be interested in more coordination or integration across oral, mental health and substance use treatment services, according to the toolkit's authors.
More integrated oral and behavioral health services hold promise to improve outcomes, said Rear Admiral Timothy L. Ricks, D.M.D., assistant surgeon general and chief dental officer of the U.S. Public Health Service, and participant in the toolkit's development.
"Integration of oral health and overall health, including mental and behavioral health, is multi-directional," he said. "Behavioral health directly impacts oral health and overall health, and vice versa."
The toolkit offers practical suggestions, resources, strategies and on-the-ground examples for implementation of new care models.
Individuals with mental health or substance use challenges have considerably greater oral health needs than the general population, the toolkit reported. In 2019, it was estimated that at least 45.5 million people aged 12 and older suffered from a mental health condition, 10.4 million from a substance use disorder and 9.9 million from both.
"These staggering statistics are only expected to worsen due to the COVID-19 pandemic due to, for example, increased rates of unemployment, depression, grief, anxiety, domestic violence and/or substance use," according to the toolkit's authors.
One strategy to coordinate care, the toolkit suggested, is to embed a social worker within a dental school or dental practice to address identified barriers to care and increase access to needed dental, mental health and substance use treatment services.
Another strategy is to have a behavioral health consultant on-site at a dental practice one or two days a week to offer consults about depression or anxiety, substance use challenges or help promote healthy lifestyles.
The toolkit also provides examples of coordination that have exhibited success, often in places where disparities in care exist.
For example, from September 2016 to April 2017, 12 Indian Health Service dental programs participated in a project to assess the viability of conducting depression screenings in a dental setting. Over this six-month project, the Indian Health Service increased depression screenings by 1,266% (from 1,046 to 14,563) and increased dental referrals to mental health and substance use treatment services by 382% (23 to 111) at the 12 pilot sites.
"Such integration work demonstrates the importance of collaborating with other health care professionals and the importance of oral health professionals being part of screening patients for systemic health conditions," Dr. Ricks said.
Oral health providers are well-situated to offer interventions for certain mental health or substance use challenges, the toolkit's authors wrote. This is due to the regularity of patient visits, the fact that oral health visits tend to be preventive in nature as opposed to problem-oriented and the ability to capitalize on negative cosmetic impacts of certain unhealthy behaviors, such as smoking and/or illicit drug use, including discoloring of teeth, halitosis or tooth decay.
Irene Hilton, D.D.S., another participant in the toolkit representing the National Network for Oral Health Access, said that the development of this framework and tool kit was important "because dentists, if we stop and think about it, have probably all seen examples of the influence of behavioral health status on oral health status and vice versa, in our practices and in the people we know. Even if individual dental practices feel they can't yet do some of the activities — for example performing depression screenings and referrals — simply considering the role that behavioral health issues could be having on the oral health of the patient in front of you is important."