After challenging year SmileCon opening session celebrates dental community's accomplishments
Keynote encourages dentists to face fears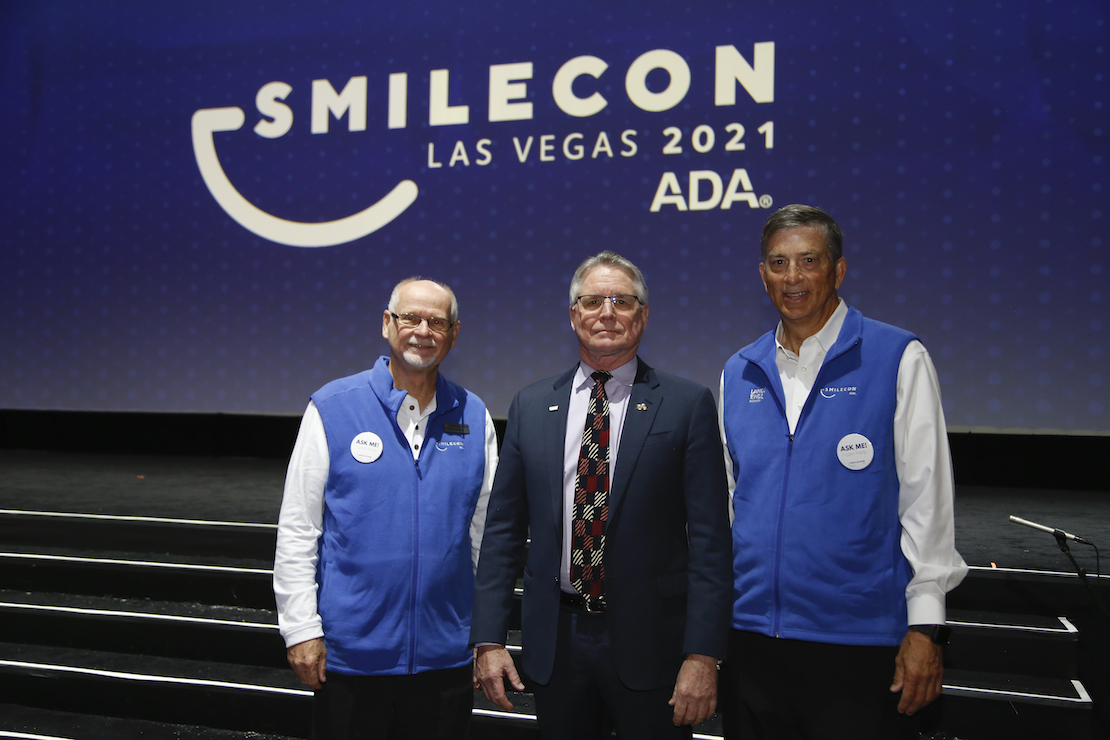 Las Vegas — After a year and a half of facing the unprecedented challenges caused by the COVID-19 pandemic, the dental community came together in celebration during the SmileCon opening session.
"We made it through one of the toughest periods in modern history," ADA President Daniel J. Klemmedson, D.D.S., M.D., told the audience Oct. 11. "We've grappled with uncertainty, illness, grief, loss and all manner of difficulty. Our profession, our patients and our personal lives have all been greatly affected, but today, we're here. Today and always, we're very resilient. And our resilience is a testament to each and every one of you. Because of your commitment, dentistry has been able to recover from a crisis."
Hosted by ADA member dentist Daryn Lu, D.D.S., the session featured videos highlighting members' stories and honored winners of the ADA's 10 Under 10Awards and Distinguished Service Award.
The 10 Under 10 Awards recognize 10 new dentists who have demonstrated excellence early in their careers, and because last year's annual meeting was virtual, the opening session featured both the 2021 and 2020 winners.
The Distinguished Service Award is the highest honor the ADA Board of Trustees can bestow on a member. In a surprise revealed at SmileCon, the award had two winners this year: Rear Adm. Timothy L. Ricks, D.M.D., chief dental officer of the U.S. Public Health Service, and retiring ADA Executive Director Kathleen T. O'Loughlin, D.M.D., who first learned she was receiving the award after being recognized during the opening session for her time with the ADA.
The theme of tackling challenges continued with the keynote address given by Michelle Poler, a social entrepreneur whose work has been highlighted by the "Today" show, CBS and CNN. She is the founder of Hello Fears, a movement inspired by a challenge she made to herself to face 100 fears over 100 days.
Initially, she thought the goal of her 100-day project was to eliminate fear, but instead, she realized that fear is an ally that keeps people safe and alive. The challenge is to keep fear in its place.
"The more we open ourselves to the unknown, the more we allow growth to jump in," Ms. Poler said. "And the most important thing here is to make sure that we can keep fear in its place and not let it hold us back from making all those growth decisions. Because the 100-day project was only the beginning. But now, instead of perceiving every fear as an obstacle, I choose to see it as an opportunity, an opportunity that can lead us to uncover our next big thing, and that is the best that could happen."