SmileCon panel highlights emerging technologies in dentistry
ADA journal editors lead discussion with award-winning researchers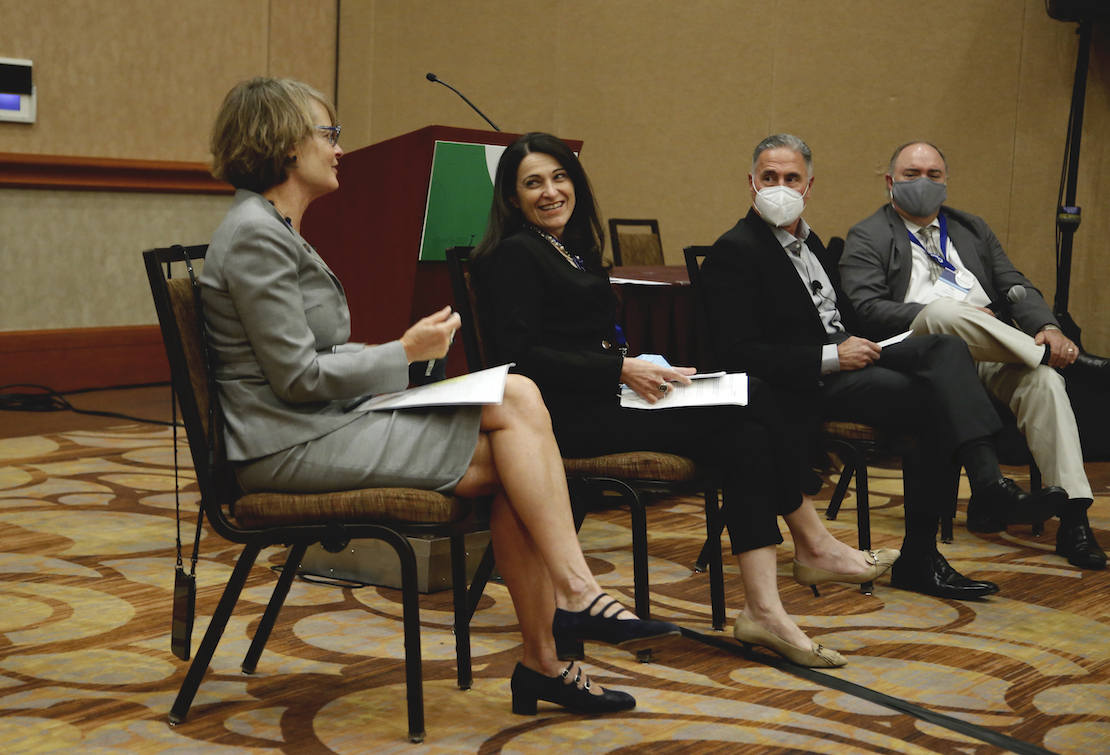 Las Vegas — Dentistry is in the midst of rapid advancement, from the introduction and use of digital technologies in the office to the improvement of dental materials and more.
"It continues to be evermore incredible to be part of this profession and health care," The Journal of the American Dental Association Editor-in-Chief Tim Wright, D.D.S., told the audience of Emerging Science in Oral Health — From the Research Labs to the Clinic (2160) on Oct. 12 during SmileCon.
Moderated by Michelle Hoffman, vice president of publishing for the ADA, the session included Dr. Wright, who is the Bawden Distinguished Professor in the division of pediatric dentistry and public health at the University of North Carolina at Chapel Hill Adams School of Dentistry; Jack L. Ferracane, Ph.D., editor-in-chief of JADA Foundational Science and professor and chair of the department of restorative dentistry and director of the division of biomaterials and biomechanics at Oregon Health & Science University School of Dentistry in Portland, Oregon; Hatice Hasturk, D.D.S., Ph.D., winner of the 2020-21 ADA Norton M. Ross Award for Excellence in Clinical Research and director of the Center for Clinical and Translational Research at the Forsyth Institute; and Laurie K. McCauley, D.D.S., Ph.D., winner of the 2019 Ross Award and dean of the University of Michigan School of Dentistry.
Drs. Wright and Ferracane led Drs. Hasturk and McCauley in a discussion of the emerging technologies they find the most exciting based on their potential impact on clinical practice.
Dr. McCauley highlighted several areas, including oral microbiome research, salivary diagnostics, 3D printing, augmented intelligence, teledentistry and more.
"We're in a period of really rapid change in our profession, and that is really exciting," she said. "But it also means that we need to, more importantly than ever, look to the science to guide us as we move forward."
Dr. Hasturk said she expects to see technological innovations and clinical applications become available more quickly than in the past because businesses are interested in solving public health issues.
"Right now, the corporate world and the science world are starting coming together," she said.
Dr. Ferracane addressed advances in dental materials, including materials that are anti-microbial or assist with tooth remineralization.
"That's where the exciting stuff is for us in materials right now is trying to figure out can we actually harness these ideas and get products out there that really do what we think they're doing?" he said. "It won't be too long, I don't think, before you're going to be seeing a lot more products."
The topics discussed during the panel offered a preview of the innovations and clinical advances the editors expect to present in JADA and JADA Foundational Science.
"The journals that we're involved in, I would suggest that the primary responsibility we have is to provide current, relevant, up-to-date and scientifically valid, as best as we possibly can, information to health care providers and to the public," Dr. Wright said. "So that's a huge responsibility actually."