ADA council: Delta Dental of California launches provider rating system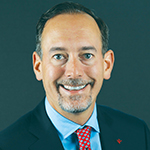 Dr. Markarian
The ADA Council on Dental Benefit Programs has been informed about a new program launched by Delta Dental of California that allows consumers to see a rating on each network dentist in its provider directories.
These ratings are derived from P & R Dental Strategies' DentaQual program .
On its website, P & R Dental Strategies notes that more employers than ever are asking for ratings to help employees make better decisions about their oral health care. A  white paper  available from P & R Dental strategies outlines the different metrics used by the company to derive provider ratings based on claims data gathered from several payers.
The company notes that "DentaQual uses statistical analysis of insurance claims data, sourced from DentaBase, P&R Dental Strategies' multi-payer claims database. Dentists are compared to their geographic and specialty peers. No subjective reviews, surveys or testimonials are included."
In a letter to Delta Dental of California, Randall Markarian, D.M.D., chair of the Council on Dental Benefit Programs, said, "It is essential that the metrics that are used to profile providers be transparent, as well as supported by strong scientific evidence. Such metrics should be tested for validity, feasibility, reliability and usability."
Dr. Markarian noted that in 2007 the New York State Attorney General's office signed agreements with major medical carriers requiring the carriers to follow specific guidelines when rating physicians.
"We believe these actions established guidelines that are foundational to any quality rating program," Dr. Markarian wrote. "The ADA requests Delta Dental to provide explanation as to how its provider rating program complies with principles such as:
Use of established national standards to measure quality and cost efficiency.
Risk adjustment to account for difference in populations treated in different practices.
Disclosures to consumers on how the program is designed with explicit notifications regarding any data limitations.
Disclosures to dentists on what measures are used and how ratings are designed prior to publication of such ratings.
Disclosures to dentists on their quality scores prior to publication with an opportunity to appeal their rating.
Independent review of scientific methodology to derive quality scores."
"I think it is important that we make sure that such programs are designed and implemented in a transparent manner. The ADA must evaluate each program to ensure it meets the highest scientific standards and does not negatively impact patient care," he said.
Dr. Markarian added that other dental insurers may be waiting to see how this system works for Delta before rolling out their own rating programs.