September JADA finds dentists often discuss costs with patients
Conversations can minimize cost-related barriers to care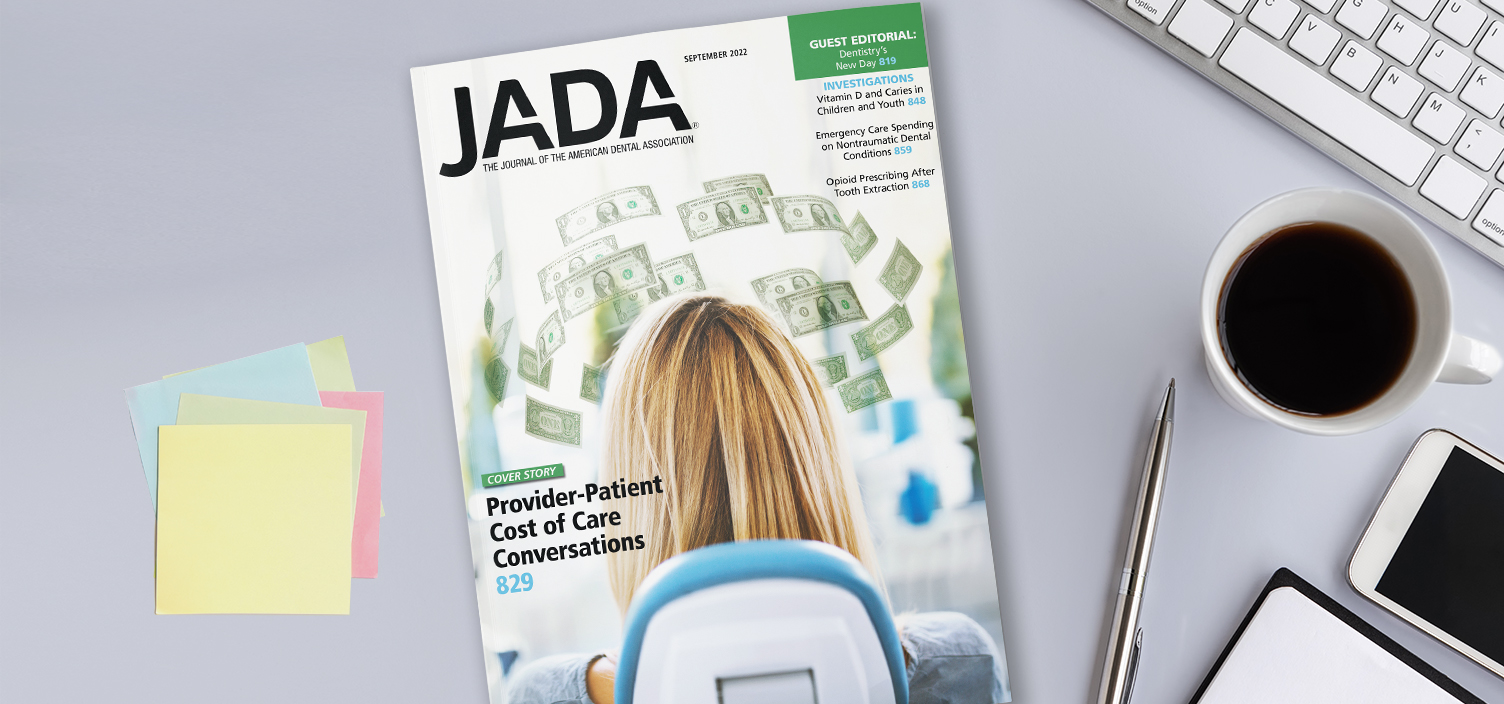 Conversations about the cost of care are common between dentists and their patients, according to the September issue of The Journal of the American Dental Association.
The cover story, "Factors Associated With Cost Conversations in Oral Health Care Settings," found that two-thirds of patients reported having a cost-related conversation with their dental provider during their last dental visit. The study included 370 respondents from an online, self-administered survey of U.S. adults who had seen a dentist within the last 24 months.
Cost-related conversations were more likely to occur with patients aged 24-34, 35-44 and 55-64 than patients aged 18-24, and respondents from the South and those who were screened for financial hardship were more likely to report having these conversations with their dental providers. Conversations were also more likely to occur with general or family dentists than dental hygienists.
"Cost is a significant barrier to oral health care utilization in the U.S. Candid dialogue between patients and their oral health providers about the cost of care can inform a shared decision-making process for developing tailored, clinically sound care plans that are also responsive to patients' needs," said Bettye A. Apenteng, Ph.D., corresponding author and associate professor in the Jiann-Ping Hsu College of Public Health at Georgia Southern University. "Findings from our research study indicate that screening patients routinely for financial hardship during oral health visits can facilitate these conversations. Although additional research is needed to accurately quantify the extent to which cost conversations occur within oral health care settings, our data suggest encouraging rates of cost conversations in oral health settings."
Other articles in the September issue of JADA discuss vitamin D and caries in youth, emergency care spending on nontraumatic dental conditions, and opioid prescribing after tooth extractions.
Every month, JADA articles are published online at JADA.ADA.org in advance of the print publication.