ADA President Cesar R. Sabates, D.D.S., champions a year of transformation
Addresses House of Delegates in Houston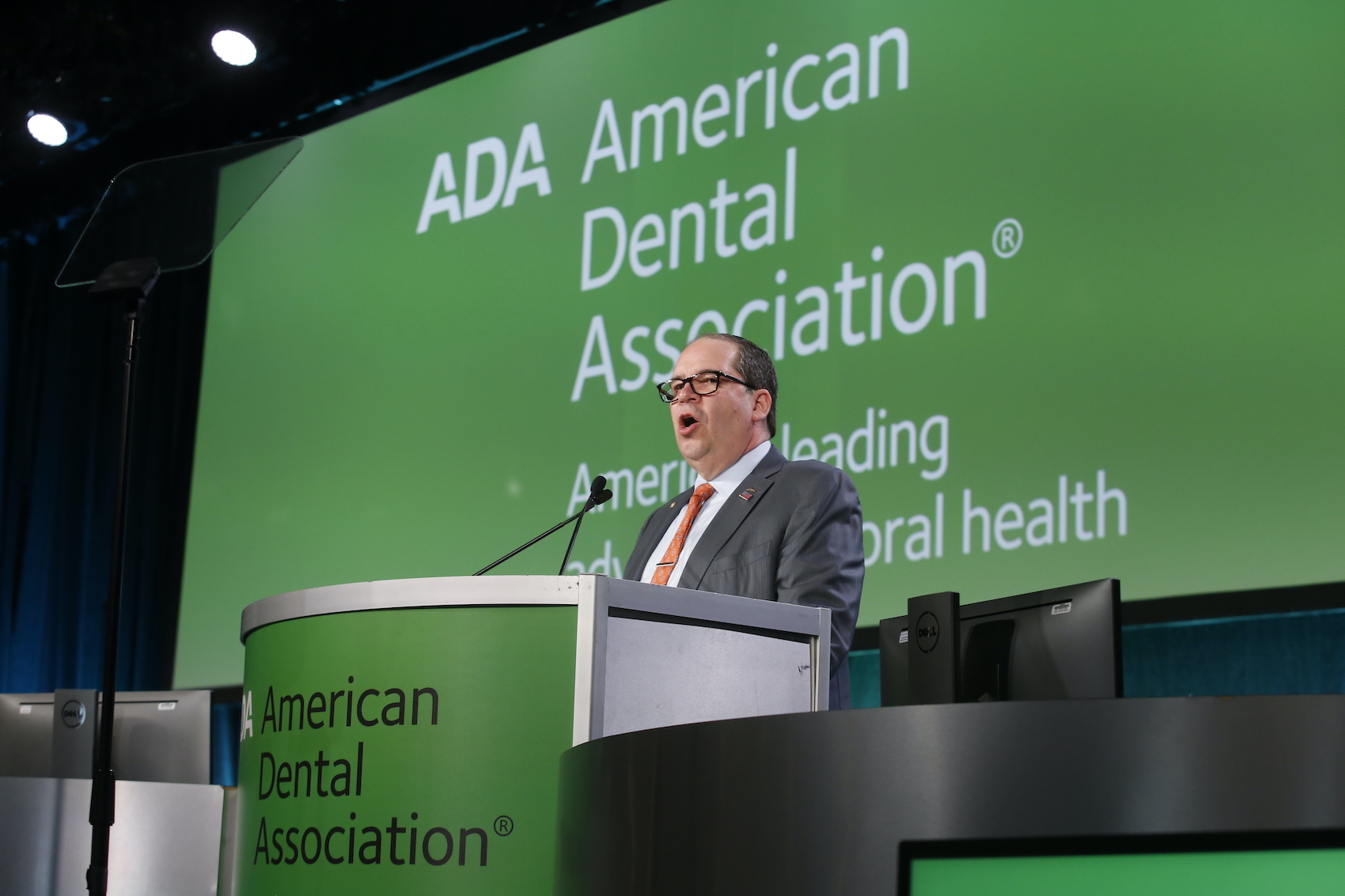 Houston — ADA President Cesar R. Sabates said he had mixed feelings about coming to Houston for SmileCon.
"Although I consider Houston the city where I was reborn, this is also where I have experienced my darkest, lowest moments," Dr. Sabates told the House of Delegates  during his address Oct. 15. "In 2016, I was a newly elected ADA trustee and ready for my first Board meeting. But I did not attend. Instead, I was just down the road from here at MD Anderson Cancer Center, preparing to undergo a risky surgery — the second since my devastating cancer diagnosis the year before. My physicians were unsure of the surgery's outcome, and I was told to get my affairs in order."
"But today, I am a survivor and your ADA president," said Dr. Sabates, who received a standing ovation from the House.
"Asa man of faith, I don't think there are many coincidences in life. But there are meaningful blessings, second chances, and beauty that rises from the ashes of darkness," Dr. Sabates said. "So it is no coincidence that as I end my term as ADA president, I have made a triumphant return to Houston — cancer-free and living my dreams."
Dr. Sabates spent time reviewing a year he said demonstrated "tremendous victory in our progress." He heralded the reimagined ADA Member App, which launched at SmileCon, first anniversary of the revamped ADA.org and ongoing development of a new association management system.
Dr. Sabates also discussed the progress the ADA has made in advocating for health equity. The ADA launched a new Health Equity Action Team, led by the Council on Advocacy for Access and Prevention, which has developed a collaborative strategy with our medical colleagues to promote disease prevention and education.
"In June, I participated in a fireside chat with American Medical Association President Gerald Harmon, M.D., at the One Voice for Inclusive Health Conference. We discussed how medicine and dentistry could more effectively meet the needs of people with intellectual and developmental disabilities. Our organizations, along with the American Academy of Developmental Medicine and Dentistry, continue to connect on a path forward for inclusive health," Dr. Sabates said. "In August, the Board of Trustees welcomed Dr. Harmon, along with a leader from Pacific Dental Services, to engage in strategic conversations on dental-medical integration."
One of Dr. Sabates' areas of focus during his presidential year was to engage different groups within dentistry. In June, the Board of Trustees welcomed dental school deans from across the country to discuss faculty recruitment, challenges in education, funding clinic operations and student and faculty educational debt.
"Our meeting was a step toward fully engaging our educational colleagues — as instructors, leaders, or emerging professionals — within the ADA family."
Dr. Sabates has also been passionate about promoting the principles of diversity, equity and inclusion.
"I come to this topic as a Cuban-American dentist who has experienced quite a few hurtful moments," Dr. Sabates said. "My first year as a member of this House, I was accompanied by one of my mentors to meet an elder statesman from another district. He was proud of my enthusiasm for the ADA budget. We exchanged pleasantries, and once I turned to leave, I overheard the elder statesman say to my mentor, 'It's amazing that we were able to find an intelligent spic. We have not been able to find one.'
Although it certainly wasn't the first time I'd been called a four-letter word, it hurt to hear this as I worked hard to serve my community. But I kept moving forward."
During SmileCon 2021, the ADA launched the New Day for Dentistry campaign, which aims to listen and create solutions to meet dentists' needs; showcase unique voices and perspectives on panels and discussions; and recognize all of the dedicate dentists who are moving dentistry and patient care forward.
"I believe in the ADA's capacity to be a welcoming and safe place, an oasis where dentists of all backgrounds can find support, direction and refuge," Dr. Sabates said.  "As ADA president, it was a top priority for me to cultivate a culture of respect, belonging, and representation within our community."
Under Dr. Sabates, the ADA's Diversity and Inclusion Champions Network was introduced in May. It's a community of leaders, members, and association staff who are committed to advancing diversity and inclusion efforts across all levels of the ADA. To support champions in their efforts to make change, the network meets virtually every two months to brainstorm solutions to diversity and inclusion-related challenges and learn about topics related to change management, transformational leadership and intercultural competence.
"The ADA has done phenomenal work to drive diversity, equity and inclusion on an institutional level. But success will require each of us to live these values in our daily interactions," Dr. Sabates said. "One handshake, one kind word, one listening ear, one helping hand and one step at a time. This is how we strengthen our community. This is how we welcome our new day."