ADA Foundation grant increases access to care for Illinois children with special health care needs
Grant enabled dental center to assemble team able to provide services to nearly 200 children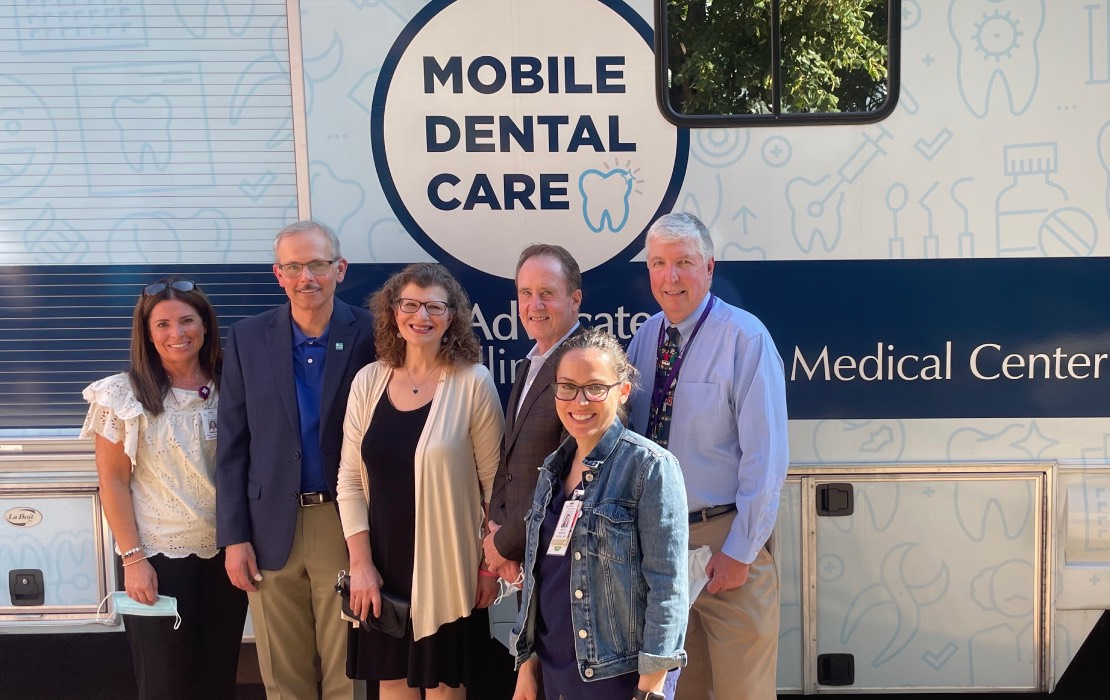 A three-year grant totaling $375,000 awarded by the ADA Foundation in 2019 enabled the Advocate Illinois Masonic Medical Center to expand its capacity to provide oral health care to children with disabilities, including launching a three-year dental anesthesiology residency program that is now in its fourth year, building out an operatory for outpatient dental anesthesia and treating 186 children during the grant period from Chicago and across northern Illinois.
The grant enabled the dental center to assemble a team of pediatric dentists, dental anesthesiology faculty and residents, general practice residents, endodontic specialists and clinical and business support staff that was able to provide services to the nearly 200 children.
Due to the success of the program, the Advocate Dental Center has outgrown its present capacity. Plans are underway to relocate the center in the summer of 2024 to a new $4.5 million facility, funded by a diverse mix of sources including Advocate Aurora, state and federal funds, charitable organizations and other grants. This will enable the dental center to manage an ever-increasing caseload of children who require dental treatment under anesthesia.
The new dental anesthesiology residency program, now in its fourth year, has two alumni, Mathew Carew, D.M.D., and Katelyn Strobel, D.M.D., and current residents: Joe Lotfi, D.M.D., chief resident; Kimchai Lowe, D.M.D.; Arash Jamalpanah, D.D.S.; Gabriella Debruyn, D.M.D.; Scott Fleming, D.D.S.; and Catherine Roberts, D.M.D.
Although the COVID-19 pandemic shutdown in 2020 necessitated a three-month pause for the program, the dental center ultimately was only 39 cases short of its three-year case goal. Its case volume continues to average three to four cases per week, and there is a month-long waitlist.
Kenneth Kromash, D.D.S., dental anesthesiology program director, reflected that the impact of the program can be summed up by a conversation he had with a patient's mother. When he asked the mother when her daughter last ate or drank anything, the mother noted that she gave her daughter a snack at 2 a.m. after they began their six-hour drive to the clinic, and there was no way she was going to be late for her daughter's appointment after waiting for more than six months for care.
When Dr. Kromash asked whether there was any place closer that could treat her daughter, the mother said everyone told her she'd have to take her daughter to Illinois Masonic in Chicago.
"This devoted, struggling mother packed her two kids in the car and left the house at 1 a.m., driving for over six hours so she could get dental care for her daughter," Dr. Kromash said. "No other facility was able to provide both a pediatric dentist and general anesthesia. Her daughter did quite well, and all her dental needs were addressed in one appointment. These are the people the ADA Foundation grant has touched."
For more information about Advocate Illinois Masonic Dental Center, visit its website.
For more information about the ADA Foundation, ADAFoundation.org.