New ADA 3D Printing Guide offers insight as digital workflow technology expands
Now available for free download in the ADA Store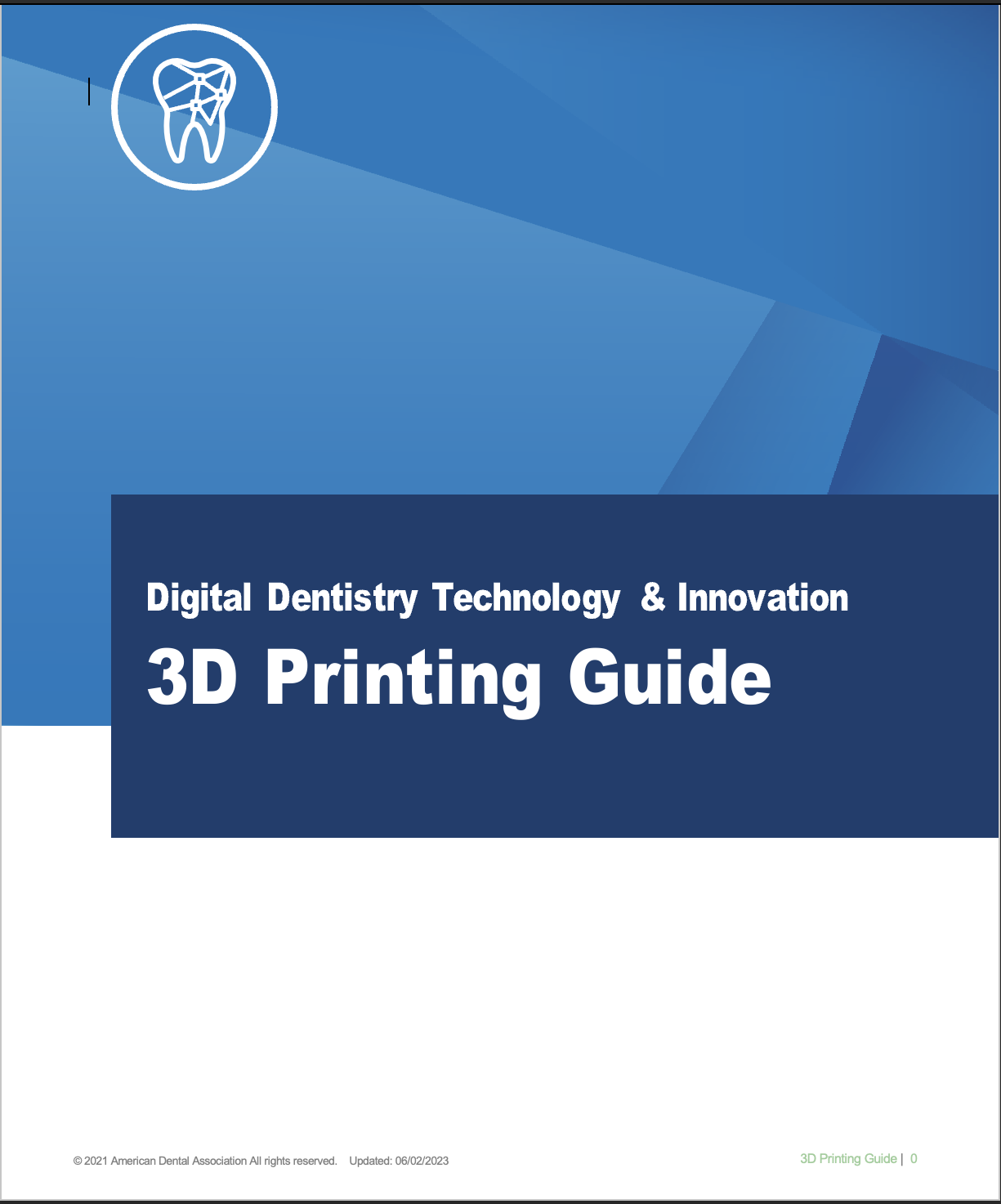 The ADA has created a new 3D printing guide as dental professionals consider expanding their use of digital workflow technology.
One part of the digital workflow can include a 3D printer to fabricate diagnostic models, occlusal guards, and surgical guides.
Dental professionals can find this resource, developed by the ADA Council on Dental Practice's Digital Dentistry Technology and Innovation subcommittee with input from the American Dental Education Association, in the ADA store for download free of charge.
"We recognize that technology is ever-changing, and we want dental practitioners to feel confident and that the ADA is the trusted source of information for dental professionals to be the best informed in the field of technology," said Michael Saba, D.M.D., chair of the subcommittee.
The new 3D printing guide provides guidance on a broad range of features a dental practice may consider when investing in a 3D printer for their dental practice. The guide offers a comparison chart highlighting the clinical indications for use, unique features, initial investment and a breakdown of print times.
According to the ADA's ACE Panel Survey from earlier 2023, the most common reasons dentists said they began using a 3D printer were to complement or enhance other digital technologies, control workflows, improve efficiency, use existing digital skills or procedures, and reduce cost or manufacturing time.
"The application of digital technologies in dentistry offers the clinician a unique opportunity to optimize their workflows without compromising high-quality standards," said Gabriela Lagreca, D.D.S., consultant on the guide and chair of the Teaching and Learning with Technology ADEA special interest group. "It allows patients and practitioners to communicate better, provide consistency in the quality of care, and improve the patient experience. Young clinicians are eager to practice modern dentistry using the latest technology. Now more than ever, the digitalization of your practice will set you apart, giving you a true competitive advantage among clinicians. Let's all get ready for it."