August JADA explores saliva-based testing
Research breakthroughs could lead to increased clinical applications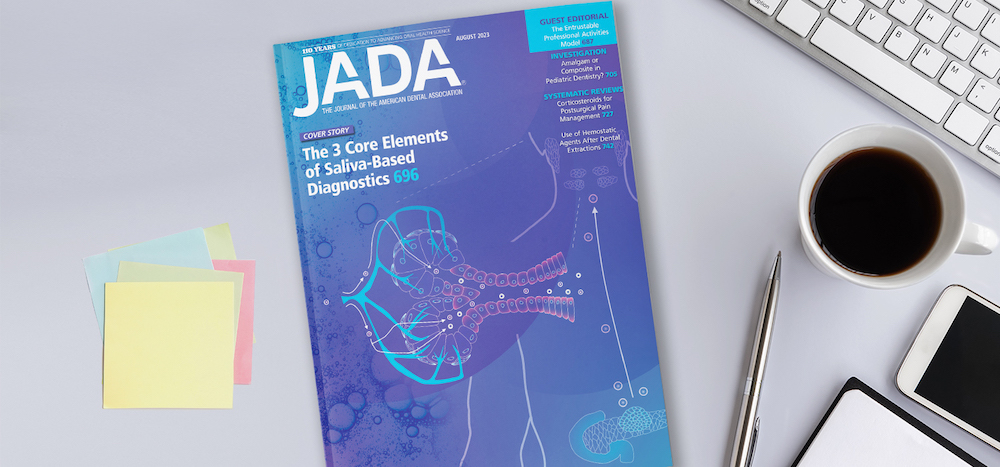 Breakthroughs in saliva research will help facilitate clinical uses of saliva-based testing, according to the cover story of the August issue of The Journal of the American Dental Association.
In "Saliva Diagnostics: Salivaomics, Saliva Exosomics, and Saliva Liquid Biopsy," the authors discuss salivaomics, the integrative study of saliva and its constituents and functions using omics technologies; saliva exosomics, an emerging subfield of salivaomics research; and the mechanisms on which saliva diagnostics are based.
"Each day, humans produce approximately 0.5 through 1.5 liters of saliva, a biofluid that is rich in biological omic constituents," authors Taichiro Nonaka, D.D.S., Ph.D., and David T.W. Wong, D.M.D., D.M.Sc., said in the article. "Our lack of understanding how omic biomarkers migrate from diseased tissue to the saliva has impeded the clinical translation of saliva testing. … Although COVID-19 highlighted the need for rapid and reliable testing for infectious diseases, it represents only one of the many health conditions that potentially can be diagnosed using a saliva sample."
The cover story is JADA's latest addition to its Oral Science Trends series, made up of invited reviews that explain where current biomedical and clinical sciences are leading to impactful changes in dentists' ability to provide care and improve health.
In the article, the authors introduce a novel electrochemical sensing technology that may be used for saliva liquid biopsy in early cancer detection. They also highlight the landscapes of saliva-based SARS-CoV-2 testing and ultrashort cell-free DNA and outline how these fields are likely to evolve in the near future.
"The utility of saliva for screening for lung cancer is under investigation," Drs. Nonaka and Wong said. "Saliva testing may be used to stratify patients, monitor treatment response, and detect disease recurrence."
Other articles in the August issue of JADA discuss trends in the use of amalgam and composite restorations in pediatric dentistry, the effect of corticosteroids on postsurgical pain and the role of hemostatic agents after dental extractions.
Every month, JADA articles are published online at JADA.ADA.org in advance of the print publication. ADA members can access JADA content with their ADA username and password.