Retired UCSF School of Dentistry dean receives 2023 ADA Distinguished Service Award
Dr. John Featherstone focused research career on caries management, dental lasers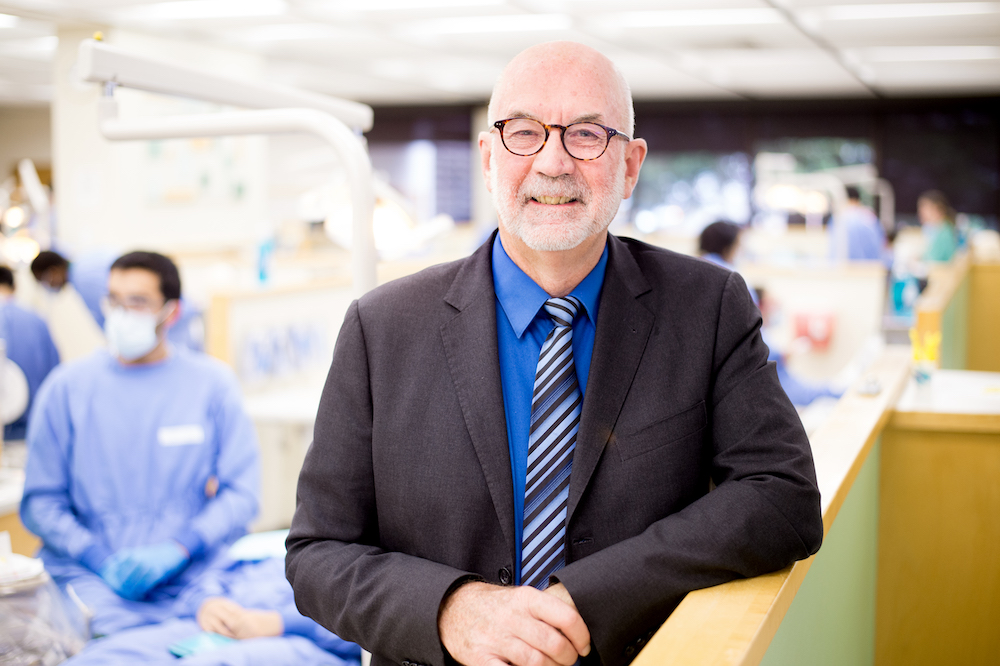 John D.B. Featherstone, Ph.D., grew up in a small town in New Zealand that few people ever left.
But at the encouragement of his high school chemistry teacher, Dr. Featherstone attended college, a decision that led to a career in research and academia highlighted by discoveries surrounding caries, fluoride and lasers and an appointment as dean of the University of California San Francisco School of Dentistry.
The American Dental Association Board of Trustees is recognizing Dr. Featherstone's contributions to dentistry by presenting him with its highest honor, the ADA Distinguished Service Award. He will be recognized during the Saturday Keynote on Oct. 7 at SmileCon in Orlando, Florida.
"I was very surprised to get the call from the ADA president telling me of the award," Dr. Featherstone said. "It was totally unexpected. Why would I be given such an honor? I was greatly honored and very appreciative of the recognition."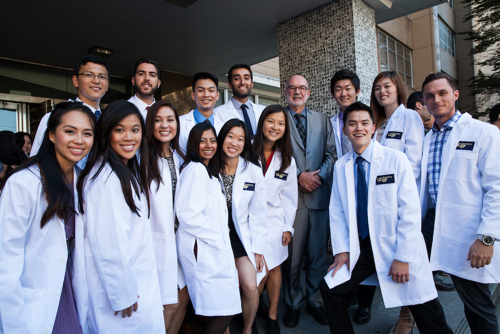 Journey into dental research
After earning a bachelor's degree in mathematics and chemistry from the Victoria University of Wellington in New Zealand in 1964, Dr. Featherstone began his career in industry as a chemist, which brought him to the U.K. for a job as a production manager in a pharmaceutical company. While there, he decided to go back to school to earn a master's degree in physical chemistry from the Manchester University College of Pharmacy.
"When I graduated with my B.Sc., I went into industry with no intention of being in academia," he said. "However, after traveling across the world and ending up in the pharmaceutical industry in Manchester, U.K., I decided to go back to university to do a master's degree, and I got hooked on research and the health sciences. With the aid of a couple more scholarships, the rest is history."
Dr. Featherstone then moved back to New Zealand to pursue his doctorate in chemistry from the Victoria University of Wellington in 1975. His thesis focused on the chemistry of dental caries because he wanted to continue his career in the health sciences.
"That was nearly 50 years ago, and I have been active in the world of dentistry ever since, not just in research and its application to clinical dentistry, but in organized dentistry, student activities, teaching, fundraising, scholarships, endowed chairs and many related activities," Dr. Featherstone said.
Dr. Featherstone received the ADA's Norton M. Ross Award for Excellence in Clinical Research in 2007, and in 2015, he was named an honorary lifetime member of the Association. He is also an honorary fellow of the American College of Dentists and the Pierre Fauchard Academy and an honorary lifetime member of the Academy of Laser Dentistry. He was a founding member of the American Academy of Cariology and a founding board member of the ADA Science & Research Institute.
"Dr. Featherstone has helped to propel the dental profession forward through his research on cariology, service in organized dentistry and mentorship of the next generation of dentists," said ADA President George R. Shepley, D.D.S. "I am honored to recognize the long and noteworthy career he chose to dedicate to dentistry through this year's Distinguished Service Award."
Dr. Featherstone's journey to the U.S. began after he presented his doctoral research on the chemistry of caries at the International Association for Dental Research annual meeting in 1977, where he was recruited to join the University of Rochester Medical Center Eastman Institute for Oral Health in New York.
After moving to New York in 1980, his work over the next 15 years involved studying the fundamental mechanism of dental caries and the true mechanism of how fluoride works to prevent and reverse caries. He also pioneered research on dental lasers and began an interest in caries risk assessment and management.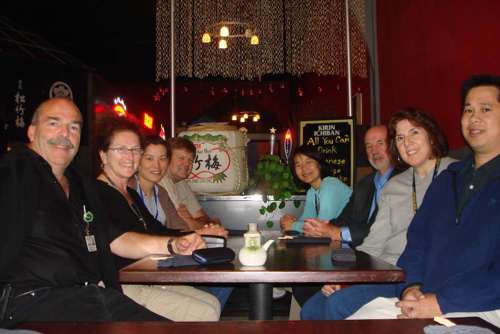 Building a team
In 1995, Dr. Featherstone joined the University of California San Francisco School of Dentistry.
"I was fortunate there to be able to build an amazing team and to extend my laboratory and clinical research into major activity in the caries management arena, as well as lasers in dentistry," he said.
Dr. Featherstone was appointed chair of the department of preventive and restorative dental sciences and became dean of the dental school in 2008. His continued research included spearheading the development of CAMBRA, or caries management by risk assessment, and he is currently active in encouraging the implementation of CAMBRA in several venues across the world.
"I have been supported by many amazing colleagues, collaborators and graduate students over the years, not only in the U.S., but across the world," Dr. Featherstone said. "These are the people who have made my career possible and the ones who really deserve this recognition."
Peter Rechmann, D.M.D., Ph.D., professor in the UCSF School of Dentistry department of preventive and restorative dental sciences, met Dr. Featherstone more than 30 years ago at an international dental laser conference. Their paths continued to cross at conferences at least twice a year, and in 2001, Dr. Featherstone hired Dr. Rechmann to be the director of the clinical sciences research group in the department of preventive and restorative dental sciences. His responsibilities included translating Dr. Featherstone's laboratory research into clinical applications.
"John's research dealt on multiple levels with caries prevention, and I believe that his impact on dental research has been very important," Dr. Rechmann said. "He was one of the first researchers that elucidated the topical mode of action of fluoride in the demineralization and remineralization process of caries. Furthermore, his interest in understanding the mechanisms of this widespread disease made the implementation of CAMBRA in the U.S.A. and other parts of the world possible. He is also a pioneer in researching a specific carbon dioxide laser wavelength to render enamel more acid resistant. It has always been fun working with him."
Jane Weintraub, D.D.S., former dean of the University of North Carolina at Chapel Hill Adams School of Dentistry and immediate past president of the American Association for Dental, Oral, and Craniofacial Research, collaborated with Dr. Featherstone on several research projects while she was part of the faculty in the department of preventive and restorative dental sciences at the UCSF School of Dentistry.
"John Featherstone has excelled as a visionary leader, whether leading a research team or serving as a dental school dean, as an inspiring educator for generations of students, and as a first-rate, world-renowned scientist," Dr. Weintraub said. "Few people have been able not only to obtain scientific evidence through randomized clinical trials and other studies, but also use that knowledge to change dental curriculum and dental practice with the goal of improving health. He has been at the forefront of shifting our tradition of repair, restore or replace types of treatment to focusing on the disease process occurring by identifying and increasing protective factors and decreasing risk factors."
While dean, Dr. Featherstone also established a scholarship to help attract talented students from disadvantaged backgrounds to the dental school and mentored many students and faculty members.
"It is wonderful to see many of them in amazing and successful careers," he said.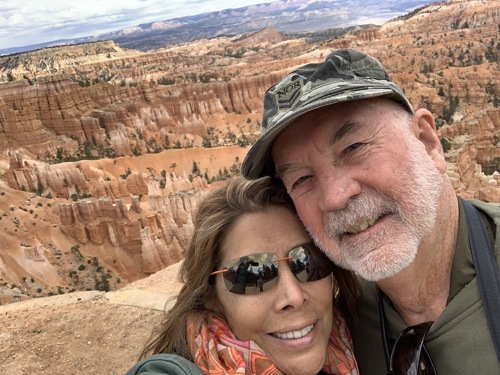 Life as a retiree
Since retiring as dean in 2017, Dr. Featherstone has focused on spending time with the people who matter most, including his family, friends and colleagues. This has taken him all around the world.
He and his partner and collaborator, Yasmi Crystal, D.M.D., live in both California and New York and have visited 12 countries in the last 12 months, combining work with leisure. They regularly visit each other's grown children and especially enjoy spending time with their grandchildren. Dr. Crystal works in private practice and as a clinical professor at the New York University College of Dentistry. She is also active in the American Academy of Pediatric Dentistry and International Association of Paediatric Dentistry.
Dr. Featherstone's travels also reflect his passion for the outdoors. He used to be an active mountain and rock climber and still skis and hikes.
"We love spectacular outdoor places and archaeology," he said. "We have been able to do some amazing trips since I retired. One of my hobbies is outdoor photography, ranging from mountains to ruins that are thousands of years old."
Dr. Featherstone is not completely removed from the dental world since retiring, however. He continues to consult for organizations and companies, but only when he feels the work could really make a difference. He and Dr. Crystal also attend scientific meetings around the world, where usually one or both of them are speaking.
But retiring has freed up a lot of his time to focus on his love of family, travel and other hobbies, including playing the piano. He stopped playing for more than 20 years because he had no time for it, but he now plays daily.
"My retirement present to myself was a grand piano," Dr. Featherstone said.