Abe Abdul, D.M.D., receives Excellence in Action for Dental Health Award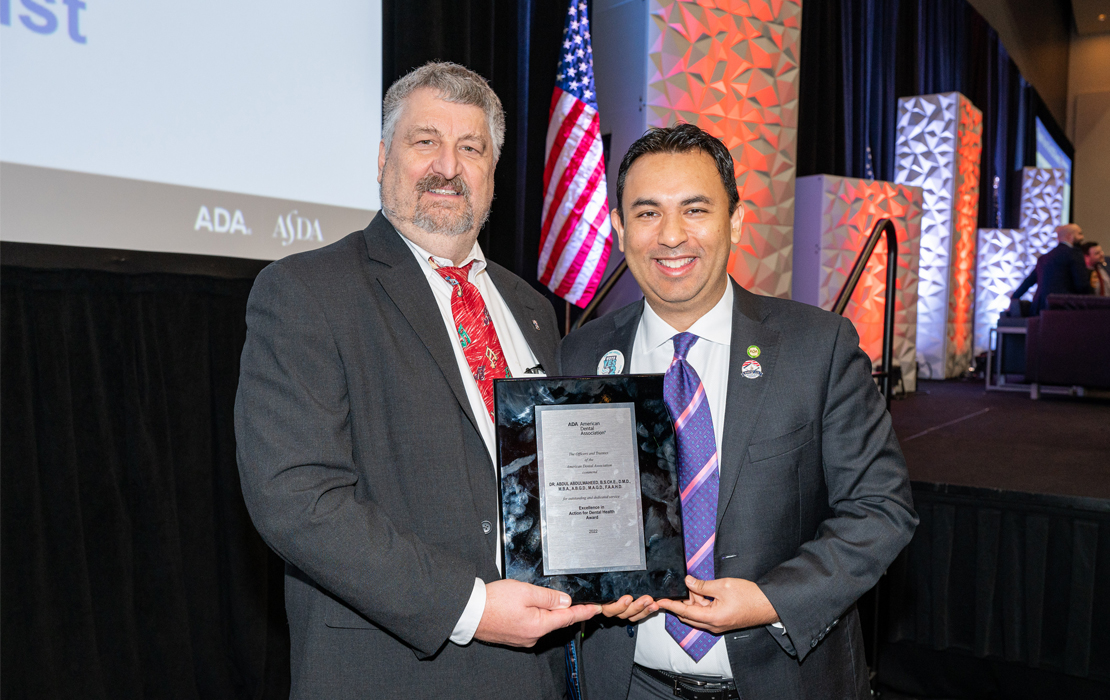 Abe Abdul, D.M.D., is the recipient of the 2022 Excellence in Action for Dental Health Award from the ADA Council on Advocacy for Access and Prevention.
The Excellence in Action for Dental Health Award is an annual award that recognizes stakeholders who have advanced the ADA's Action for Dental Health initiatives in their state. The Action for Dental Health Act — signed into law in 2018 — seeks to improve access to oral health care for people who suffer fromuntreated dental disease.
A longtime champion for the MassHealth program in his home state of Massachusetts, Dr. Abdul was honored for his tireless efforts in helping the underserved — most recently most recently for his work duringthe COVID-19 pandemic. That's when he created an online directory, Dental Cupid , which helped identify a network of dentists equipped to see dental emergencies.
"Dr. Abe, through his service, embodies the spirit and pragmatism for the Action for Dental Health Award," said James Mancini, D.D.S., chair of CAAP. "Through his work, over 14,000 patients were diverted away from emergency rooms to the dentist."
Inaddition to his advocacy, Dr. Abdul is also a member of the ADA Council on Government Affairs, vice president of the Massachusetts Dental Society and vice chair of the MDS Political Action Committee.
"For nearly two decades, Dr. Abdul has been a Medicaid provider, and established one of the state's first private federally qualified health center partnerships," Dr. Mancini said. "As a teacher as well as a dentist, Dr. Abdul has taught the Boston University APEX program, leveraging this platform to encourage and cultivate future Medicaid providers. Many graduates have since become providers. Continuing to give back to the community, Dr. Abdul and his team at Lux Dental Care P.C. have cared for over 450 clients enrolled in the Ryan White Dental Program, a comprehensive access program for persons with HIV/AIDS in Massachusetts."
"I need to share this recognition with all of you, with so many of you," said Dr. Abdul, who received a standing ovation. "I need to share it with the 30% of our colleagues that provide Medicaid access."
Dr. Abdul also praised his fellow providers and students for donating their time to advocacy and access events.
"I also need to thank those of you have given up time from your practice and your family to serve our Missions of Mercy, our veterans, our Give Kids A Smile events ... and I need to thank those of you who supported the ballot initiative in Massachusetts. Without you, there would be no voice for those without a voice. When I stand up here and look out, I see hope," he concluded.