HPI examines dentist workload impact from staffing shortages
Several other pieces of new research, including dashboard on wages and job counts, posted online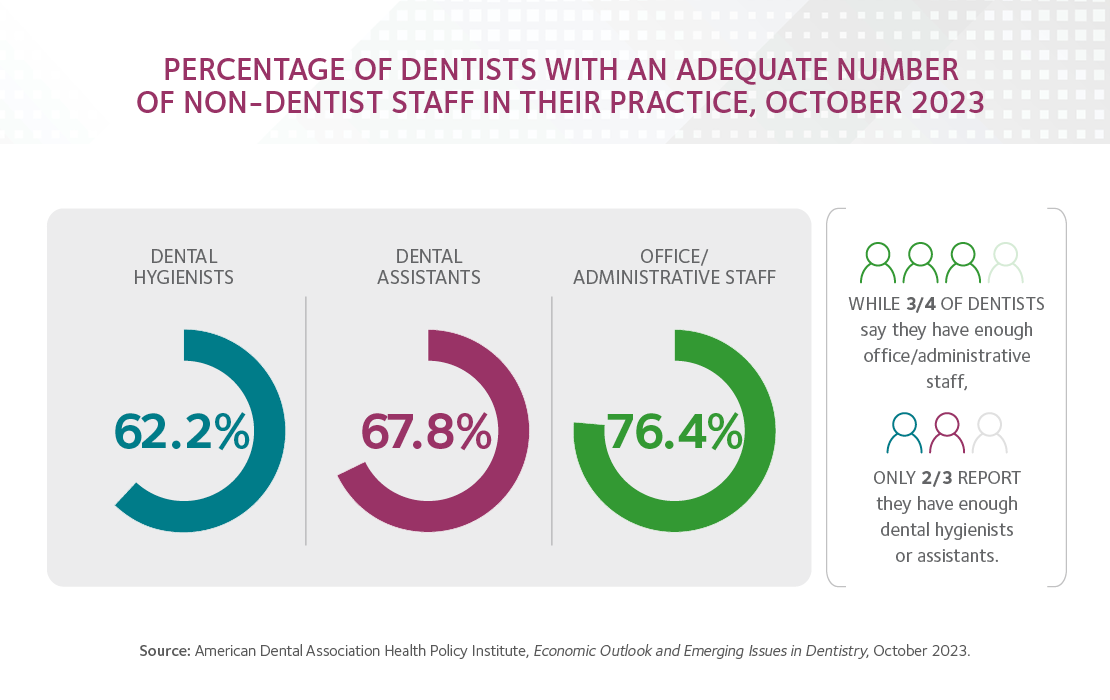 Dentists report taking on additional tasks as staffing shortages persist, according to new data from the ADA's Health Policy Institute.
Of the more than 1,000 dentists surveyed in the October 2023 edition of HPI's Economic Outlook and Emerging Issues in Dentistry poll, more than one-third reported that workload division has changed between themselves and their teams since the beginning of the COVID-19 pandemic, with many dentists taking on duties normally assigned to dental hygienists, dental assistants and administrative team members.
Poll respondents also said that more team members are being cross-trained and maximizing their qualifications to cope with staffing shortages.
Additionally, when asked whether staffing shortages or low patient demand concerned them the most, more than half of poll respondents said they are concerned about staffing shortages, while about one-third said they are concerned about low patient demand for care.
New U.S. Bureau of Labor Statistics info
The U.S. Bureau of Labor Statistics released data on wages and currently filled positions in dental offices. HPI created an interactive dashboard to visualize the data at both the national and state levels from 2001 to 2022.
See the dashboard at ADA.org/resources/research/health-policy-institute/wage-and-job-count-dashboard/.
Research brief on career transitions, satisfactionhttps://www.ada.org/resources/research/health-policy-institute/wage-and-job-count-dashboard
 In a new research brief, HPI analyzes career transitions and job satisfaction among new dentists. Findings include:
• New dentists are likely to remain within the same practice type over a five-year period. This is true regardless of practice size or dental service organization affiliation status.
• In terms of career satisfaction, new dentists prefer unaffiliated private practices, described as non-DSO, non-multisite group practices. At the same time, HPI research indicates there are pros and cons associated with different practice settings, and new dentists might make their selections based on how much they value various aspects of the practice environment.
• Debt is not a major driver of career choice for dentists in this initial career stage.
Updated infographic on practice ownership
The HPI has updated its infographic on key trends in practice ownership. Practice ownership among dentists in private practice has been declining over the years, dropping from 84.7 percent in 2005 to 72.5 percent in 2023. The decline is more pronounced among younger dentist cohorts.
Six new reports on dental education released
New data from the annual Survey of Dental Education, Survey of Advanced Dental Education and Survey of Allied Dental Education Programs has been published for the 2022-23 school year.
All the surveys are conducted on behalf of the Commission on Dental Accreditation as a means of supporting the accreditation of dental education programs.
Readers can find information on dental school enrollment and graduate figures, data on 770 advanced dental education programs across 16 different disciplines and other data on dental hygiene, dental assisting and dental laboratory technology programs.
Learn more at ADA.org/resources/research/health-policy-institute/dental-education