October JADA highlights studies on caries management
Other articles discuss dental care use during COVID-19, specialty board examinations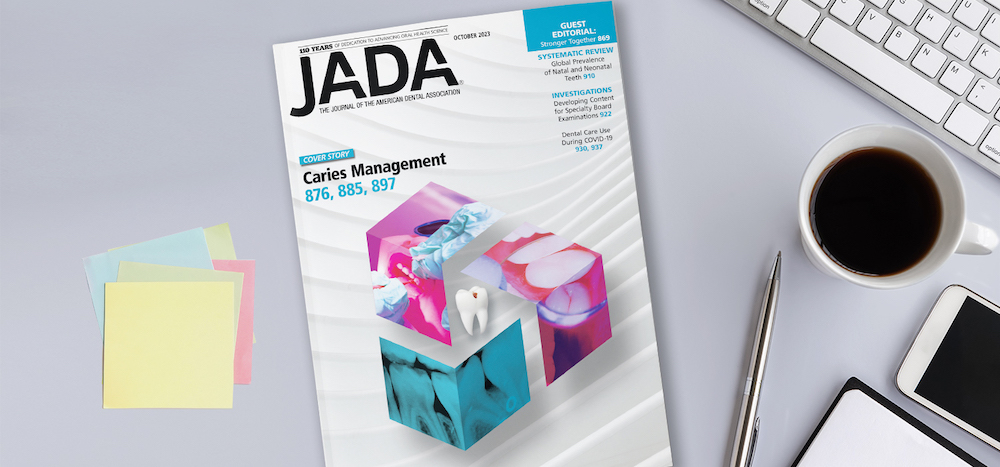 The October issue of The Journal of the American Dental Association explores three topics related to caries management: the impact of topical fluoride on future restorations, the remineralizing potential of self-assembling peptide P11-4, and the financial costs and benefits of noninvasive treatments.
"Topical Fluoride Impact in Future Restorative Dental Procedures: A Claim Study" investigated the impact of fluoride varnish and gel applications on future restorative dental treatment claims. The authors included data from more than 670,000 patients aged 1-8, finding fluoride varnishes and gels decreased the number of future claims and increased the time before patients' first restorative procedure or extraction.
"Remineralizing Potential of the Biomimetic P11-4 Self-Assembling Peptide on Noncavitated Caries Lesions: A Retrospective Cohort Study Evaluating Semistandardized Before-and-After Radiographs" followed 219 children aged 10-19 with a total of 405 proximal lesions in posterior teeth, finding self-assembling peptide P11-4 can lead to recovery and a healthier tooth stage.
"[Self-assembling peptide] P11-4 is a safe treatment for initial caries lesions in permanent teeth that remineralizes in the deepest zone of the lesion and can be introduced easily into routine dental practice," the authors said in the study.
"Framework for Fiscal Impact Analysis of Managing Initial Caries Lesions With Noninvasive Therapies" compared costs and benefits across 11 scenarios simulating the treatment of 1,000 initial caries lesions during a three-year period. The scenarios included varying combinations of noninvasive therapies, no treatment, and various rates of one- through three-surface restorations.
"We found that the use of noninvasive therapies for initial lesions increased payor savings, was efficient and profitable for clinics, and was beneficial for patients in the modeled scenarios," the authors said in the study.
The parameters considered by the study were not exhaustive, and the assumptions and values were not representative of the overall U.S. market. Further customization is needed to reflect specific markets and payment models, according to the study.
Other articles in the October issue of JADA discuss global prevalence of natal and neonatal teeth, developing content for specialty board examinations and dental care use during COVID-19.
Every month, JADA articles are published online at JADA.ADA.org in advance of the print publication. ADA members can access JADA content with their ADA username and password.