HPI poll: One-third of dentists report insurance reimbursement rates have decreased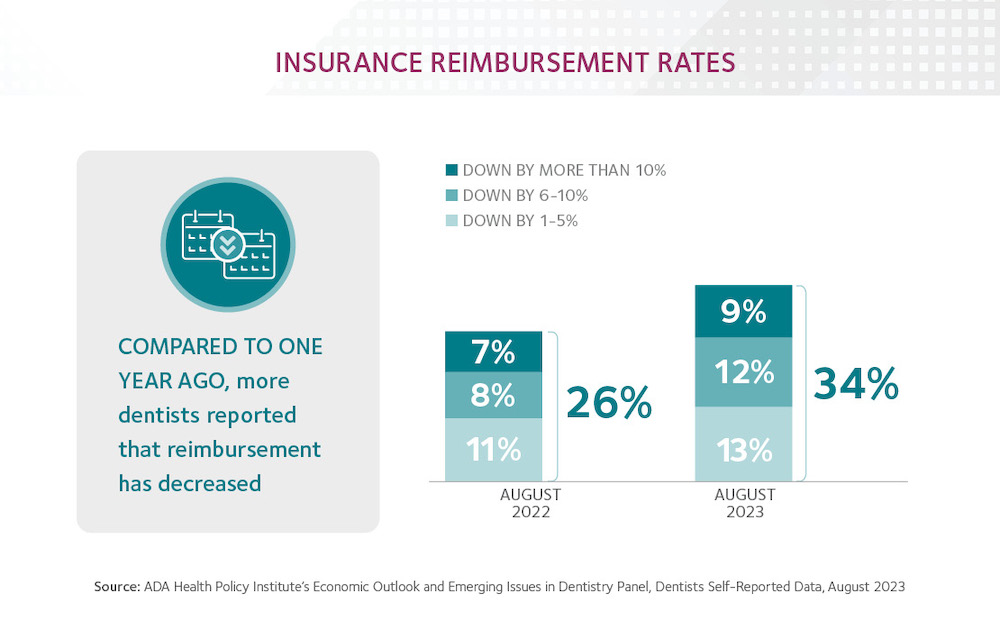 About one-third of practice-owning dentists reported their reimbursement from insurance companies decreased within the past 12 months, according to data from the ADA Health Policy Institute's August 2023 Economic Outlook and Emerging Issues in Dentistry poll.
In the same poll one year ago, about one quarter of dentists reported insurance reimbursement decreased.
The monthly poll, which measures the ongoing impact of the COVID-19 pandemic and other emerging issues in dentistry, also found that:
• Dentists' confidence in their dental practice and the dental care sector has been slightly declining over the past few months.
• Recruiting dental hygienists and dental assistants remains extremely challenging.
• Practice appointment schedules remained steady at 87% full in August.
• Average appointment wait times for new and established patients dropped slightly from July.
• Fewer owner dentists reported significant price increases for personal protective equipment and supplies compared with a year ago, but more owner dentists reported significant increases for staff wages and equipment.
All of the August poll results can be found on ADA.org.