HPI: Consumer confidence in returning to the dental office hits new high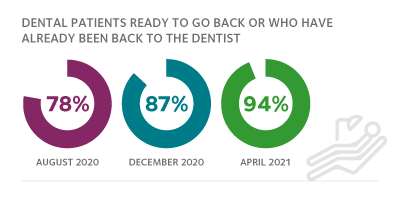 Consumer confidence in returning to the dental office hit a new high in April, with 94% of typical dental patients indicating that they are ready to go back or have already been back to the dentist, according to a poll jointly conducted by Engagious, the Sports and Leisure Research Group and ROKK Solutions.
The ADA Health Policy Institute engaged with that consortium of companies to gain insights on consumer sentiments related to dentistry, and that data comes on top of a separate poll the HPI conducted the week of April 12.
The HPI poll also covered issues related to office recovery, financial sustainability, relief programs and vaccinations at dental offices.
The April 12 results included data about:
Recovery: Patient volume in private practices was at 86%, on average, in April, the highest it has been since polling began in March 2020. According to the Bureau of Labor Statistics, employment in dental offices has fully recovered. More non-owner dentists are back to work and a greater share have returned to their pre-pandemic employment levels.
Financial sustainability: Dentists have raised fees, taken out loans and changed their suppliers and labs for financial sustainability. However, fewer dentists indicated the need to take these measures compared to earlier in the year.
Dentists as vaccinators: Very few dentists are taking part in COVID-19 vaccination efforts to date. A greater share of non-owner, dental service organization-affiliated, and large group practice dentists are doing so. Among those who are administering vaccines, it is most commonly done at a public health site or part of a mass vaccination event. Others indicate they do not have the time or capacity or are not interested in administering the vaccine.
Relief programs: The Paycheck Protection Program has been very popular among dentists. The Provider Relief Fund uptake has been less, but there is still a meaningful share of dentists receiving funds from this relief opportunity. Funds have been most commonly put toward retaining staff, operational expenses like mortgage and utilities and supplies for the practice.
The HPI expects an increase in patient volume in the coming months, largely dependent on the continued success of vaccine rollout.
The HPI launched a tracking poll on the economic impact of COVID-19 on dental practices on March 23, 2020, and the poll continues on a monthly basis. Nearly 2,000 dentists from across the country responded to the latest poll.