HPI publishes findings into racial disparities in oral health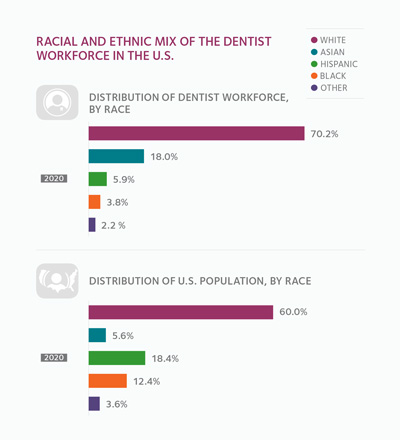 The HPI published on April 19 a series of infographics and data looking into racial disparities in oral health. The series also highlighted the dental care utilization among the U.S. population, finding that for all age groups, Hispanics and Blacks are most likely to face cost barriers to dental care.
These findings present an opportunity to raise awareness in the area of health disparities and educate Association members, said Jessica Meeske, D.D.S., chair of the ADA Council on Advocacy for Access and Prevention.
"The ADA has a historic opportunity to lead that change and work for improved oral health of every American through supporting oral health equity and reforms that ensure that anyone who wants a healthy mouth can achieve it, regardless of age, race, disability, and income," said Dr. Meeske.
According to the HPI, racial disparities in cost barriers to dental care have narrowed slightly for children and have widened for adults and seniors.
"What was most surprising to me is how far we've come in decreasing the gap between children of different races in seeing a dentist, but not adults," Dr. Meeske said. "I suspect this is due to a smaller number of dentists willing to be able to see new adult Medicaid patients."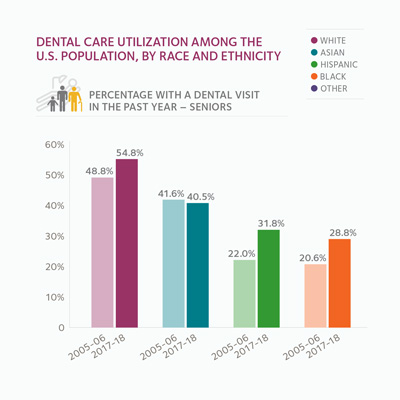 Other findings highlighted in the infographics include:
Research indicates some career choices are influenced by race. For example, Black dentists (63%) are more likely to participate in Medicaid than white dentists (39%). About 50% of Hispanics, Asians and other races participate in Medicaid.
In 2020, white dentists made up 70.2% of the dentist workforce; 18% were Asian; 5.9% were Hispanic; and 3.8% were Black. In comparison, in 2005, white dentists made up 79.8%; Asians were 11.8%; Hispanics were 4.2%; and Black dentists made up 3.7%.
Dental student body has diversified over time, with more Asian and Hispanic dental students. Nearly one-quarter of dental students are Asian, compared to 18% of dentists overall and 6% of the U.S. population.
Educational debt levels for dental school graduates vary significantly by race. More than 20% of Asian dentists graduate with no student debt compared to less than 1% of Black dentists. Black dentists, by far, graduate with the highest levels of educational debt.
Among the class of 2019 dental graduates, the average educational debt at graduation for Black dentists is $314,360. The average for white dentists was $283,046; Hispanic dentists was $286,437; and $225,750 for Asian dentists.
Racial disparities in dental care use are smallest for children and largest for seniors. In2017-18, 54.8% of white seniors visited a dentist; 40.5% of Asians; 31.8% of Hispanics; and 28.8% of Black seniors.
"Our essential position within the health care arena allows us to stand up and author a resolution that addresses health equity that will go before our House of Delegates policymaking body," Dr. Meeske said, adding that policymakers and funders need to clearly believe, along that all Americans should have access to a dental home with a dentist in charge to allow optimal oral health for all.
"When members of society are unable to access affordable dental care, we leave behind too many in our communities who live with painful dental disease such that it is impacting their overall health or ability to find work," she said.
For more information or to view the infographics, visit ADA.org/HPI .