May JADA finds no increased osteosarcoma risk associated with topical, supplemental fluorides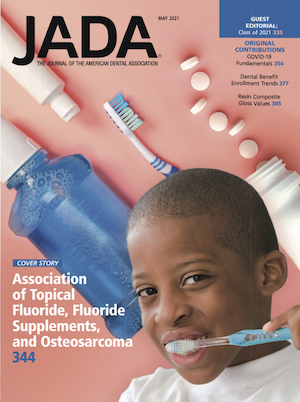 Topical and supplemental fluorides used in dental offices and over-the-counter products are not related to an increased risk of developing osteosarcoma, according to a study published in the May issue of The Journal of the American Dental Association.
The cover story, "A Case-Control Study of Topical and Supplemental Fluoride Use and Osteosarcoma Risk," analyzed data from two separate but linked studies that looked at the behaviors and demographics of case patients with osteosarcoma and control patients with other bone tumors or nonneoplastic conditions, including whether they ever used topical or supplemental fluoride.
In telephone interviews in the first study and in-person interviews in the second, patients were asked about the brands of toothpaste they usually buy, their use of mouth rinses, their participation in a school mouth rinse program and their use of fluoride tablets, pills or drops. Their history of living in a fluoridated or non fluoridated community also was collected using their residential history. The association between fluoride exposures and osteosarcoma was not significantly different between the two studies, allowing them to be combined for analysis.
When the studies were combined, the prevalence of topical fluoride use was 18% among case patients and 16.8% among control patients, and the prevalence of supplemental fluoride use was 17.5% among case patients and 21.2% among control patients.
The researchers estimated odds ratios to quantify the relationship between fluoride exposure and osteosarcoma, finding the odds of the case patients having been exposed to topical fluoride were similar to the odds of the control patients and the odds of the case patients having been exposed to supplemental fluoride were lower than the odds of the control patients.
"Dental caries remains a very common disease in both children and adults," said corresponding author Catherine Hayes, D.M.D., D.M.Sc., director of dental services at the University of Massachusetts Medical School. "Unfortunately, we still see both children and adults with untreated disease. It is important that dental professionals continue to promote evidence-based, safe and effective preventive dentistry regimens, including fluoride."
Other articles in the May issue of JADA discuss COVID-19 fundamentals, dental benefit enrollment trends and resin composite gloss values.
Every month, JADA articles are published online at JADA.ADA.org in advance of the print publication.