Dr. Walter F. Lamacki, former ADA trustee, dies at 85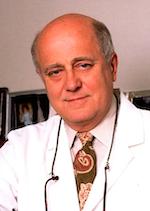 Dr. Lamacki
Walter F. Lamacki, D.D.S., a longtime leader in organized dentistry and staunch supporter of the Association's advocacy efforts, died on July 27. He was 85.
Dr. Lamacki was elected ADA 8th District trustee in 1990 and served on many councils and committees, including the Special Committee to Study the Future of Dentistry, the Council on Government Affairs and the American Dental Political Action Committee's executive committee.
As trustee, he chaired a special committee to determine the definition of "invasive procedure." In 1990-91, he served as chairman of a committee to study the AIDS crisis and represented the ADA at a public hearing before the Centers for Disease Control and Prevention, which led to an appearance with Bryant Gumbel on the Today Show to explain the ADA's position.
"Dentistry will be affected by decisions made in Washington and the state capital," he told the Chicago Dental Society Review in a 1994 profile. "As a result, the ADA must be more sophisticated in its legislative efforts."
Born in Chicago, Dr. Lamacki graduated from Loyola University School of Dentistry in 1961. He then served in the United States Army Dental Corps for two years before starting a practice in Chicago's Back of the Yards neighborhood in 1963. In 1973, he moved his practice to Burbank, Illinois, where he would practice for more than three decades.
Dr. Lamacki held several leadership roles with the Chicago Dental Society and the Illinois State Dental Society. He served as Chicago Dental Society president in 1985-86.
A known lover of history, Dr. Lamacki also served as chair for the Committee for the Planning of the 150th Anniversary Celebration and the subcommittee that published "150 Years of the American Dental Association — A Pictorial History" in 2009. Dr. Lamacki was also the longest serving editor of the Chicago Dental Society Review.
Dr. Lamacki is survived by his wife, Gloria; his three children, Kimberly, Gregory and Leslie; and seven grandchildren. In lieu of flowers, donations can be made to the Chicago Dental Society Foundation at 401 N. Michigan Ave., Suite 200, Chicago, IL 60611.