'I wonder what happened to that guy Shimazu?'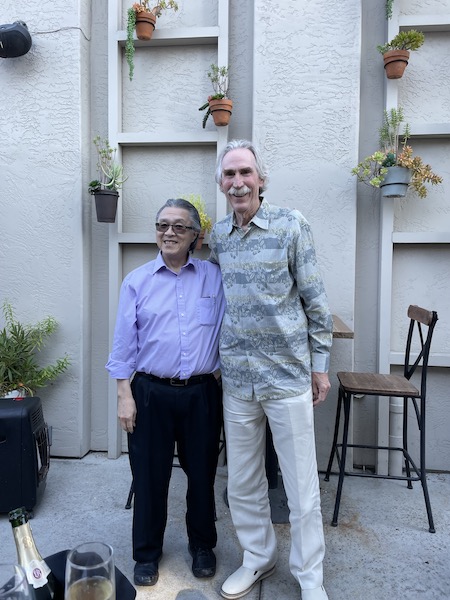 Los Angeles — "You do not know me but I have known of you for almost 50 years."
So begins a letter written by Patrick K. Turley, D.D.S., to Hal Shimazu in the summer of 2021 that was part of solving a mystery that Dr. Turley had puzzled over for nearly a half-century.
Back in 1971, Dr. Turley was a recent graduate of Whittier College in California and wait-listed for the incoming class of the UCLA School of Dentistry — the only school that was a viable option at the time for the young man.
Every day that summer before dental school began, Dr. Turley contacted the UCLA admissions office to keep in touch and check if he was moving up on the alternate list.
A week before school began, Dr. Turley learned he was first on the waitlist, but it looked doubtful that he would be admitted. Disappointed, he went camping for the week to take his mind off things.
"I headed back home, so I could be at my part-time job that Friday evening," Dr. Turley said. "I thought, 'What the heck, I'll call UCLA just in case a miracle might have happened.' I got the same lady from the admissions office I'd been talking to for months now. She recognized my voice and knew what I was calling about. 'Didn't your mother tell you?' 'Tell me what?' 'Oh, that's great, because I wanted to tell you myself. One person did not show up for orientation today, so we have a spot available. Can you be here on Monday?'"
It was the joyful news he was waiting for.
Dr. Turley showed up on Monday and the rest is history. He embarked on a journey that eventually led to a successful practice that continues to this day and a teaching position at the very school he was once wait-listed for.
Mistaken identity
A funny thing happened that first year of dental school, as UCLA apparently didn't register the fact that Hal Shimazu was not a student there and that Dr. Turley had replaced him.
"On the first day of each class, the instructor would do roll call, calling out each student's name, and then asking the person to respond 'here,'" Dr. Turley said. "In each class they would get to the letter S and say Hal Shimazu, but no one would respond. They then would ask if there was anyone that hadn't been called, at which time I would raise my hand and respond, 'Patrick Turley.'"
"This roll call occurred with each class throughout most of the first year," Dr. Turley wrote in the letter. "Handouts intended for you with your name on them, would ultimately make their way to my desk.
"I would never forget the name Hal Shimazu because I knew it was his deciding not to come to UCLA that opened the spot for me," said Dr. Turley.
At his 47th reunion for his dental school class, each person was asked to get up and tell a story about their experience at UCLA.
"I told this story to the amazement of my classmates who didn't know," Dr. Turley wrote in the letter. "That evening, someone happened to ask, 'I wonder what happened to that guy Shimazu?' I had asked myself the same question many times over the years. Did he attend another dental school? Decide not to be a dentist? A few times over the years I would check the ADA Directory, but there was no Hal Shimazu so I knew you were not a dentist."
So in 2021, he finally had a staffer go online to solve the enigma.
After some searching, a Hal Shimazu came up.
It turned out that Hal Shimazu was not a dentist at all.
He was an M.D., a family physician in nearby Orange, California.
Connection made
So Dr. Turley decided to contact Dr. Shimazu.
"I hope your career has been as gratifying as mine has," Dr. Turley wrote. "And thank you so much for deciding at the last minute not to become a dentist."
He figured his chances of getting a reply were about 50-50, so Dr. Turley was surprised when he received a reply a few days after he sent off his letter in the mail.
"Thank you for your kindness in making the effort to locate me and reach out to include me in your Capra-esque tale," Dr. Shimazu wrote back. "What an incredible and distinguished career you achieved from such a razor-thin near miss. This was meant to be for you, and you seized it and did not let go. I am so happy I did not attend UCLA and upset the course of your personal history."
In his letter to Dr. Turley, Dr. Shimazu explained that he rescinded his UCLA acceptance when he was accepted to the School of Dentistry at the University of Southern California. UCLA somehow didn't get the message.
But Dr. Shimazu said he only lasted a year at USC's dental school.
"I realized that I was trying to live my father's dream of becoming a dentist/orthodontist," Dr. Shimazu wrote. "Unfortunately, the internment camp and its aftermath precluded his dreams of dental school."
He applied to USC's medical school, and Dr. Shimazu ended up becoming a family physician. After finishing his residency at the University of California, Irvine, in 1980, he started a practice and also taught part-time at UC Irvine through 2007.
"So this is what happened to that guy Shimazu, at least educationally and professionally after missing nearly a year's worth of roll calls at UCLA," Dr. Shimazu wrote to Dr. Turley. "Thank you for answering the call."
"It was just very cool to not just meet him but find out what his story was," Dr. Turley told ADA News.
The two men and their wives met shortly after they exchanged letters. It looks like the beginning of a beautiful friendship, a half-century in the making.