Increasing diversity in dentistry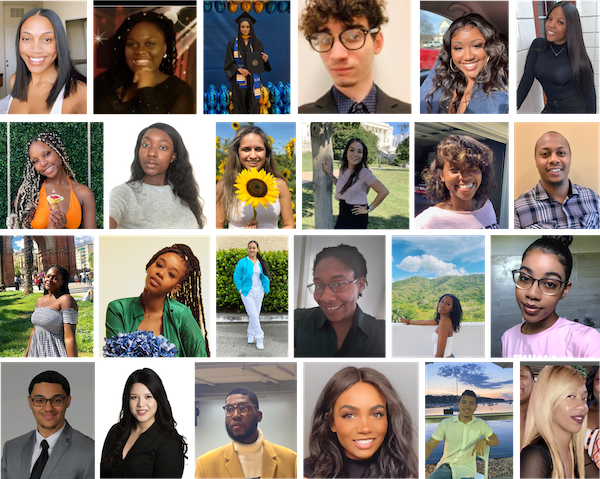 Buffalo, N.Y. — Marithza Flores, a University of Colorado Boulder junior majoring in integrative physiology, was browsing dental school websites when she came across a program promoted by the University at Buffalo School of Dental Medicine.
Aptly called Destination Dental School, or DDS, it was a new initiative by the dental school that aims to remove barriers to careers in dentistry for underrepresented students.
As a Latina interested in pursuing a career in dentistry, Ms. Flores said this piqued her interest.
"I was motivated to apply due to the emphasis on promoting diversity within the dental community and providing minority students with the opportunity to get more detailed information about the application process," she said.
On July 31, Ms. Flores was among Destination Dental School's first cohort of 24 students to complete the free, eight-week program. The virtual program provided participants with an understanding of the day-to-day life of a dentist and dental student, helped strengthen their dental school applications, and developed their skills as researchers.
"[The program] has allowed me to understand that everyone's journey is unique, and has inspired me to push through adversity to pursue my dream of becoming a dentist," she said.
Effective solution
Recognizing that the profession has a shortage of dentists of color, the University at Buffalo created Destination Dental School to help increase the enrollment of underrepresented students in dental schools.
According to the ADA Health Policy Institute, Hispanic, Black and Native American dental school graduates made up only around 8.6%, 4.7% and 0.4% of the Class of 2020, respectively, despite representing a larger percentage of the U.S. population.
However, according to a 2009 report by the Journal of the American Dental Association, pipeline programs have proven to be an effective solution in increasing enrollment of underrepresented students in dental schools by 54%.
"The racial and ethnic diversity of the oral health care workforce remains disturbingly insufficient to meet the needs of an increasingly diverse population in the United States," said program director Wendell Carmona, D.D.S., volunteer adjunct professor in the UB School of Dental Medicine and managing clinical director for Aspen Dental in Niagara Falls.
"Dental school appearing as an unachievable goal and limited exposure to the field of dentistry are two obstacles that have contributed to this lack of representation," Dr. Carmona said. "Destination Dental School proudly and effectively addresses these obstacles, and is an exceptional introduction to dentistry that peaks and nourishes our students' interest in the field. Our students are educated by dental professionals who look like them, showing that it is not beyond their reach."
Gaining confidence
Held virtually from June 5 to July 31, the program provided hands-on simulations that teach tooth anatomy and the process for creating fillings and taking impressions; presentations that explore the various disciplines within dental medicine; networking opportunities with local dentistry leaders; and dental school application assistance that includes weekly guidance from more than 30 UB dental faculty, staff, students and alumni, and preparation for the Dental Admission Test. The program will cover the cost of the Dental Admission Test, and participants who apply to the UB School of Dental Medicine will receive an application fee waiver.
Students also completed a capstone research project that may address a range of topics, including disparities in dental care, the long-term impact of veneers on young patients with healthy teeth, and comparing the effectiveness of Invisalign with traditional orthodontic treatment.
The experience has expanded Frandy Castellano Gutierrez's idea of dentistry as an intertwine art where public health, oral health and systemic health come together through the oral cavity.
"For me, it confirmed my passion for pursuing dentistry because I hope to approach dentistry through a holistic and community-based oral health approach," said Mr. Gutierrez, a 2021 graduate from Rutgers University.
"As an immigrant, I know first-hand how difficult it is for underrepresented minority communities like ours to find opportunities," he said. "I never had the opportunity before to explore dentistry through a [pipeline program]. I knew I wanted to do something that would allow me to continue thriving ... when pursuing dentistry."
For Ms. Flores and Mr. Gutierrez, the program reinforced their goal of becoming a dentists by connecting them to mentors, improving their application readiness and learning what it'll take to be successful in dental school.
"Being part of UB's DDS program has given me a strong network and has solidified my confidence in my own abilities to apply to dental school, as a minority student," Ms. Flores said.
Mr. Gutierrez agreed, adding that his expanded network now also includes the two dozen underrepresented students with similar career goals.
"Personally, the biggest highlight of the program for me was being able to meet and network with other thriving and inspiring individuals because I know I will have a group of individuals whom I can collaborate with to revolutionize the delivery of oral care within and beyond the boundaries of our communities," he said.