Updated ADA Dental Drug Handbook Chairside Instructor provide up-to-date value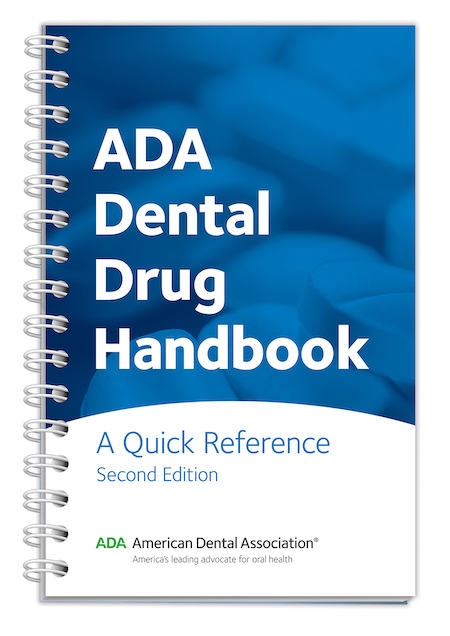 The ADA has updated the  ADA Dental Drug Handbook: A Quick Reference as well as The Chairside Instructor, both available for order through the ADA Catalog.
Created by a team of dentists, pharmacists, scientists and experts in pharmacology, the ADA Dental Drug Handbook: A Quick Reference, Second Edition, delivers concise and accurate information about prescribed medications used in dentistry.
This second edition includes the latest, most up-to-date information to assist in treating patients.
The handbook includes:
Detailed, full-color drug monographs with black box warnings, cautions and contraindications, potential adverse reactions and possible drug interactions.
Sample prescriptions with dosage, frequency and route of administration.
Information on over-the-counter products with the ADA Seal of Acceptance.
ADA resources on procedures such as general anesthesia, antibiotic prophylaxis and medication-related osteonecrosis of the jaw.
Tables presenting adverse drug reactions, drug interactions and generic brands.
The Chairside Instructor,12th Edition, has been revised to include 50 new images and the most up-to-date patient education information on topics ranging from daily hygiene to identifying symptoms of sleep apnea.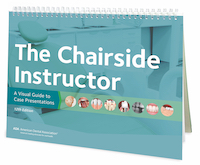 New and expanded content includes these topics:
Fluoride.
Wisdom teeth removal.
Children's airways.
Dry mouth.
Dental emergencies.
More than 220 full-color photos and illustrations can educate patients as well as train members of the dental team.
The manual is available in English or Spanish as a book, e-book or app.
To order, visit ADACatalog.org or call the ADA Member Service Center at 1-800-947-4746. ADA members can save 15% on ADA Catalog products by using the promo code 21114 by Nov. 19.