Tiny Smiles, a Give Kids A Smile program, promotes CDA's CE course on care for young patients
Treating Young Kids Everyday offered at NO charge through February 2022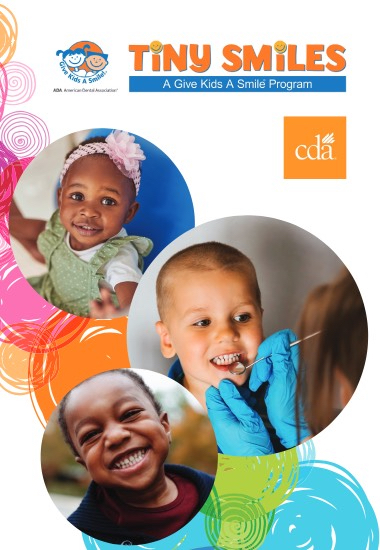 The ADA is collaborating with the California Dental Association to promote the CDA's Treating Young Kids Everyday (TYKE) continuing education course, intended to inspire a commitment to decreasing the prevalence of children's dental caries.
The collaboration is part of Tiny Smiles, a Give Kids A Smile educational program sponsored by Colgate and CareCredit and supported by the ADA Foundation. The ADA's Give Kids A Smile program, launched nationally in 2003, provides underserved children with free oral health services.
"As a proud member of the California Dental Association and the ADA's Give Kids A Smile National Advisory Committee, I couldn't be more excited about this unique, mutually beneficial collaboration," said James D. Stephens, D.D.S., ADA Thirteenth District trustee. "Both the CDA and the ADA, through its GKAS Tiny Smiles program, want to help increase dentists' confidence to see babies and young children. The CDA's Treating Young Kids Everyday CE course does just that."

The course offers educational tools and training to support dental teams in using caries risk assessment, disease prevention and early intervention to reduce dental caries among children ages birth to 5 years.
Educating parents and caregivers early is critical as dental caries remains the most common preventable chronic disease of children,  according to the National Institute of Dental and Craniofacial Research .
The course, worth two CE credits, will be offered to dentists and dental team members at no charge — a $200 value — from December through February 2022.
Information about the collaboration and instructions for how to access the course can be found at  ADA.org/TinySmiles . 

"We're happy to share this valuable educational resource so that fewer children ages 0-5 suffer from tooth decay," Dr. Stephens said.