New flyers designed to help dentists recruit allied dental professionals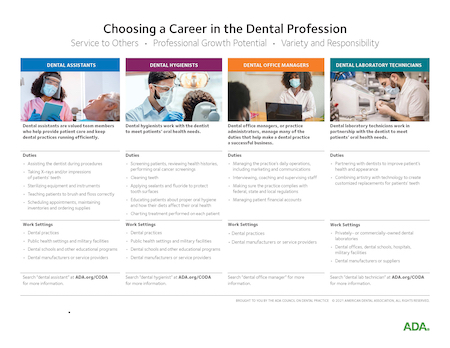 The Association has developed a new resource to encourage more people to enter the allied dental professions.
Recruiting the perfect dental team members has long been a challenge. An Oct. 5 survey by the ADA Health Policy Institute revealed that these workforce issues have increased as a pain point experienced by dentists as the profession moves forward through the pandemic.
The ADA Council on Dental Practice has created two flyers meant to help address challenges practices across the country reported in finding, hiring and retaining qualified dental team members, such as dental assistants, dental hygienists, dental office managers and dental laboratory technicians.
Allison House, D.M.D., chair of the subcommittee on practice management for the ADA Council on Dental Practice, said that recruiting dental team members has been a challenge for practice owners before the COVID-19 pandemic and it continues to be a challenge for owners today.
"The ADA has heard from our members about this challenge of raising awareness of the various allied dental-related employment opportunities," Dr. House said. "These flyers will help."
The flyers are meant to encourage people, primarily patients, to consider allied dental careers. The flyers are designed to be used in practices, at community events and shared with guidance counselors and educators.
For ADA members, the flyers can be customized with a dental office's contact information at the bottom.