University of Michigan School of Dentistry dean wins Ross Award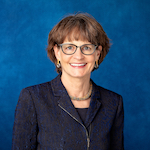 Dr. McCauley
The dean of the University of Michigan School of Dentistry, who has spearheaded research in bone remodeling, is the latest winner of the American Dental Association's Norton M. Ross Award for Excellence in Clinical Research.
"It is an incredible honor to be selected for the Norton M. Ross Award, and I am truly grateful to the ADA for this recognition," said Laurie K. McCauley, D.D.S., Ph.D. "I am fortunate for the outstanding students, colleagues and mentors who have been instrumental in the work for which I am being recognized. When I look at the individuals who have been selected before me, I am humbled to be among such a distinguished group."
Presented annually since 1991, the award recognizes an individual who has made significant contributions in clinical investigations that have advanced the diagnosis, treatment or prevention of craniofacial, oral or dental diseases, as well as outstanding research endeavors in other areas.
For more than 20 years, Dr. McCauley has led an active research program in hormonal controls of bone remodeling, parathyroid hormone anabolic actions in bone and prostate cancer skeletal metastasis.
In addition to her position as dean, Dr. McCauley is the William K. and Mary Anne Najjar professor of periodontics at the University of Michigan School of Dentistry. She is a diplomate of the American Board of Periodontology, fellow in the American Association for the Advancement of Science, former council member of the American Society for Bone and Mineral Research, former associate editor of the Journal of Bone and Mineral Research and fellow in the American College of Dentists and International College of Dentists. Dr. McCauley also served on the National Advisory Dental & Craniofacial Research Council of the National Institutes of Health.
She is the recipient of the inaugural Paula Stern Achievement Award from the American Society for Bone and Mineral Research, a distinguished scientist award from the International Association for Dental Research and the Distinguished Alumni Award from the Ohio State University College of Dentistry. Dr. McCauley is also a member of the National Academy of Medicine.
The Ross Award honors the memory of Dr. Norton Ross, a dentist and pharmacologist who spent most of his career in academic and research positions and elevated clinical research to higher scientific standards. It is supported by Johnson & Johnson Consumer Inc. Recipients receive $5,000 and a plaque.
For more information on the award, visit ADA.org.