U.S. News & World Report: Dentists continue to have one of top 10 best jobs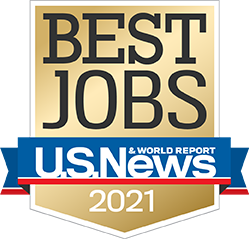 Dentistry remains among the top 10 jobs in America, according to rankings published Jan. 12 by U.S. News & World Report.
Dentists are No. 9 on the list of the publication's 2021 Best Jobs report, with health care jobs dominating the list.
The global pandemic has reinforced the need and value of health care professionals, said Antonio Barbera, consumer advice editor at U.S. News & World Report.
"With health care being more critical than ever, the job outlook for the sector is positive, with 42 of the 100 Best Jobs in health care or health care support roles," Mr. Barbera said. "Dentists rank ninth in the 2021 Best Jobs rankings due a high median salary, low unemployment rate and excellent work-life balance."
After ranking No. 3 since 2017, physician assistant captured the No. 1 spot, while software developer landed at No. 2 after topping the list for three consecutive years. Nurse practitioner followed at No. 3, with medical and health services manager debuting in the top 10 at No. 4.
Health care jobs also rank high among the publication's list of Best Paying Jobs. Oral and maxillofacial surgeon is ranked No. 3, with a median salary of $208,000. Dentist is ranked No. 11, with a median salary of $155,600.
The Bureau of Labor Statistics projects 2.8% employment growth for dentists between 2019 and 2029. In that period, an estimated 3,700 jobs should open up, the publication reported.
To calculate its list of Best Jobs every year, U.S. News & World Report identifies jobs with the greatest hiring demand. Jobs are then scored using seven component measures: 10-year growth volume, 10-year growth percentage, median salary, employment rate, future job prospects, stress level and work-life balance.
The listings largely draw from data from the U.S. Bureau of Labor Statistics. The most recent data available is from 2019, and was released in March 2020, so it pre-dates the coronavirus pandemic.