ADA 'strongly' encouraging dental professionals to be vaccinated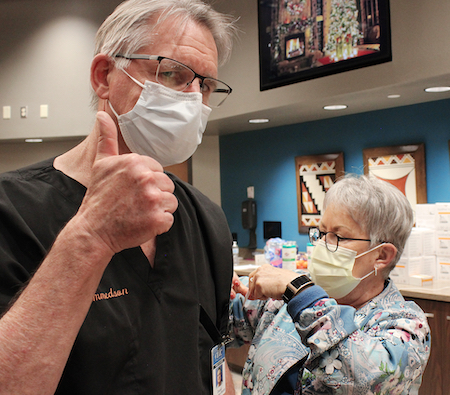 The ADA is "strongly" encouraging dental professionals to be vaccinated for COVID-19 and other infectious diseases. The ADA is not calling for mandated vaccination.
In a July 28 email to member dentists, ADA President Daniel J. Klemmedson, D.D.S., M.D., said that ADA policy recommends vaccination in accord with what the Centers for Disease Control and Prevention recommends, and the CDC doesn't recommend mandated COVID-19 vaccination for health care professionals at this point in time.
Dr. Klemmedson said it was important to confirm the ADA's stance on vaccination for COVID-19 in light of recent news coverage about a number of health organizations calling for mandatory COVID-19 vaccinations for health care workers.
"As we continue to hear about rising infection rates due to the Delta variant, I want to repeat to you what I noted in my December 2020 message: Dentists are essential health care providers whose leadership, counsel, and example will goa long way in building vaccine confidence in our nation," Dr. Klemmedson wrote. "Let's do our part to move public health forward. If you haven't already been vaccinated, please get vaccinated and encourage your team members and patients to do the same."
He noted that if the CDC changes its recommendation, the ADA will share this news with members to ensure they are following all applicable rules and regulations.
The president noted that the ADA was a staunch advocate for the successful inclusion of dental professionals in Phase 1A of COVID-19 vaccine distribution, with final authority resting with individual states.
Because dentistry is a science and evidence-based profession, Dr. Klemmedson also shared ADA Health Policy Institute data that found nearly 90% of dentists reported being fully vaccinated for COVID-19, while 93.4% of dentists reported receiving at least one dose.
"Clearly, dental professionals are doing their part to limit the spread of the virus, but we must keep at it," Dr. Klemmedson said. "I'm a very strong believer in vaccination, and I hope, as a health care professional, that you are, too. Let's take our shot to help end this pandemic."
For more information on current CDC guidelines specifying which immunizations are recommended for health care workers, including those in dental practices, visit ADA.org and be sure to follow rules and regulations applicable to their location or employment situation.
The ADA continues to create COVID-19 resources that address members' concerns. For the latest information, visit ADA.org/virus.