ADASRI project leader wins $50,000 award for research on monitoring biomarkers to track periodontitis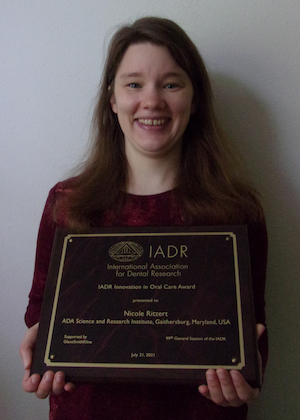 With the support of a $50,000 award from the International Association for Dental Research, a project leader with the American Dental Association Science & Research Institute will examine the role biomarkers play in tracking the progression and treatment of periodontitis.
Nicole Ritzert, Ph.D., won an IADR Innovation in Oral Care Award for her research proposal entitled "Label-Free, Multianalyte Electrochemical Biosensors for Monitoring Progression and Treatment Response of Periodontitis." She was recognized virtually July 21 during the 99th General Session and Exhibition of the IADR.
"I am excited for the opportunity to combine my knowledge of electrochemical sensors with my colleagues' expertise in microbiology and periodontal disease in this new research," said Dr. Ritzert, who will serve as principal investigator of the project, with support from others with the ADASRI and National Institute of Standards and Technology.
Current diagnostic parameters for periodontitis rely on visible signs of inflammation and tissue breakdown and are unable to detect active disease. Dr. Ritzert's project will evaluate if monitoring host-derived biomarkers related to inflammation and tissue breakdown can provide a better understanding of how periodontitis progresses and responds to treatment in individual patients.
To study this, Dr. Ritzert will use electrochemical sensors to measure the concentration of multiple biomarkers in saliva. The sensors are designed to be embedded in point-of-care testing devices for patients to use at home.
The Innovation in Oral Care Award, which is funded by GlaxoSmithKline, aims to help researchers develop innovative technologies that can be used routinely by the public to maintain and improve oral health and quality of life. Dr. Ritzert's funding is for a two-year period.
While attending the IADR conference, Dr. Ritzert also chaired an oral session focused on diagnostic sciences and presented an abstract entitled "Miniature pH Sensors for Detecting Inflammation at Specific Gum Sites."