Connecting industry with students to improve dental education, access to oral care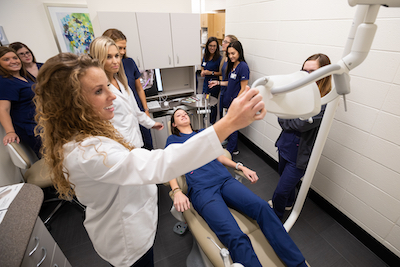 With the increasing pace of technological advances, one group has made its mission to help build a collaboration between industry and schools to introduce dental students to the latest innovations that can ultimately help their patients.
"We want to show the students something about the dental profession that they probably wouldn't see because of the economic constraints on a dental school," said Edward Rossomando, D.D.S., Ph.D., president of the Center for Research & Education in Technology, or CRET.
CRET, which was founded in 2004 by a group of dental industry leaders, awards a dental school with an innovation center. These innovation centers are modeled on a private practice setting and equipped with the latest in dental technology and products.
The dental school builds the innovation center and funds the staff. In return, the CRET award provides all the equipment and merchandise for the innovation center at no cost to the school.
On April 6, the Lincoln Memorial University College of Dental Medicine in Tennessee received the 2021 CRET innovation center award. The timetable calls for the innovation center to be ready when the school welcomes its first dental students in the fall of 2022.
Based on past awards, the award to Lincoln Memorial should provide about $1 million in equipment and merchandise.
The innovation center is designed as a private practice dental office with treatment rooms, a dental laboratory, a sterilization area, reception area, records area, staff areas and consultation areas. CRET is providing equipment for six treatment rooms and all the associated technology, including dental chairs, laboratory equipment, X-rays, equipment for sterilization, handpieces and instruments, consumable materials, restorative materials and digital technology.
"The integration of state-of-the-art technology into the college of dental medicine changes the world of dental medicine and dental education," said Denise Terese-Koch, D.D.S., Lincoln Memorial University dental school dean. "Our graduates will be equipped to provide patients with quality, comprehensive patient- and person-centered care in a stress-free environment utilizing the most current technological advances."
Lincoln Memorial University joins the University of Missouri-Kansas City, the University of Mississippi and West Virginia University among the dental schools in the country that have received CRET innovation center awards.
"This is a tremendous opportunity as we continue to build the foundation for our college of dental medicine," said Lincoln Memorial University President Clayton Hess. "The CRET innovation center will ensure our students are practice ready upon graduation so they can make an immediate impact in the health of the communities they serve."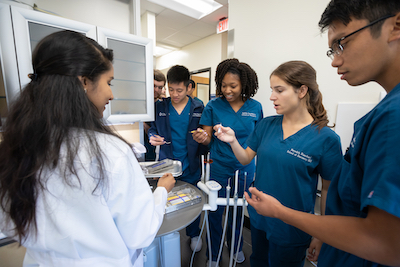 Benefiting communities
And to think that CRET started with donated dental equipment collecting dust in a janitor's closet.
In 2001, in an effort to get their new technologies and equipment to students and faculty, dental manufacturers donated equipment to dental schools.
One year later, when the industry representatives returned to the schools to see what the faculty and students thought of the donated items, Dr. Rossomando said, the equipment could not be located.
"After a thorough search, one of the custodians was asked about the equipment," Dr. Rossomando said. "The custodian replied, 'Oh yes, here it is.' And he opened the door to the closet and there it was, the CAD/CAM dental milling machine donated a year ago and sitting there still packaged."
In 2004, a group of about 10 dental manufacturers and dental industry leaders approached Dr. Rossomando to help them figure out how to develop a program to provide equipment and merchandise to dental schools. And CRET was created.
CRET's mission is "to develop a technology educational program for dental students, dental residents and dental faculty that will promote knowledge and competency in 21st century technology."
And like the technology and equipment used in the innovation centers, CRET's mission also continues to evolve.
"Our focus is on students," Dr. Rossomando said. "We want to show them what dentistry could be like, and is like in many situations."
However, along with the students and school, the innovation centers can also benefit the community, especially in areas with a high degree of dental insecurity.
It's become part of CRET's selection process to consider dental schools that can use the innovation centers to elevate access to dental care in the surrounding communities.
"This effort to help the communities through this industry-dental education partnership is part of our mission," Dr. Rossomando said.
'We are a family'
Building and equipping an innovation center can vary by school, and it's not uncommon for an innovation center to have more than one company provide similar equipment.
"It's very much encouraged to have a variety of different manufacturers provide similar products," said Mia Cassell, CRET executive director. "Students can try them all and find what's most comfortable for them. Equipment in the innovation center should not already be available in the school's dental clinics, hence it being innovative."
At the University of Missouri at Kansas City, it took about three years of discussions and agreements to build the 2,026-square-foot Dr. Charles Dunlap Innovation Center for Research and Education in Technology, which opened in 2012. The school provided the space for the seven-chair clinic, while the dental manufacturers equipped the operatories. The equipment, provided by CRET members, include dental chairs, cone beam X-ray, CAD/CAM, sterilization equipment, impression materials and electronic practice management systems.
At the most recent innovation center, which opened at the University of Mississippi School of Dentistry in 2019, students and faculty utilize a dental microscope, lasers, digital impressions and cone beam computed tomography and have the ability to design and mill dental prostheses.
While there is a sense of competition embedded in the participating member companies, CRET promotes a unified mindset to get behind improving dental education and the mission of improving access to care in the school's surrounding communities.
"It has been very rewarding for me to work with this group of industry professionals and to promote dental education," Dr. Rossomando said. "We are a family."
For additional information on CRET and how to apply for a CRET innovation center award, visit cretdental.org.