Longtime dental education leader, Dr. Herbert K. Yee, dies at 96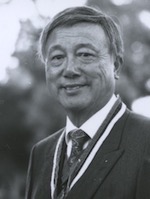 Dr. Yee
Sacramento, Calif. — Herbert K. Yee, D.D.S., a philanthropist and longtime leader in organized dentistry and dental education, died on June 26. He was 96.
Dr. Yee held many roles, including serving on the ADA Council on Dental Education — now known as the Council on Dental Education and Licensure — from 1968-74, and as president of the California State Board of Dental Examiners and the International College of Dentists.
In addition, Dr. Yee was a champion and lifelong supporter of the University of the Pacific and the Arthur A. Dugoni School of Dentistry, where he graduated in 1948 when it was called the College of Physicians and Surgeons. He served in the school's Board of Regents from 1972-2005.
"Dr. Yee's more than 30 years of service on the university's Board of Regents is emblematic of his passion for our alma mater," said Norman Allen, current chair of the Board of Regents, ina news release. "His support of Pacific and its students, particularly at Dugoni, has made our university greater and enriched the lives of countless students. We are indebted to him for his service."
Born in the Toishan, Guangdong Province of China in 1924, Dr. Yee immigrated to the U.S. at age 6 with this younger brother and mother to join their father, who was a civil engineering graduate of the University of Michigan. The family would settle in Sacramento.
While attending Stanford University in the early 1940s, Dr. Yee met and married his wife, Inez. After dental school, he would return to Sacramento to open a dental practice where he practiced for 54 years.
According to his obituary, Dr. Yee also served as the dentist for the staff of two California governors, Pat Brown and Ronald Reagan, who appointed him to the California State Board of Dental Examiners.
As a member of the Board of Regents, Dr. Yee helped established a scholarship endowment for students at the Arthur A. Dugoni School of Dentistry. He also helped create a scholarship fund for students of California State University, Sacramento, who are accepted into U.S. dental schools. In addition, he led the building of a school in his hometown in China and ensured scholarships were available for high-achieving and need-based students.
In 2018, for all of his service, the California Dental Association Foundation honored him with its Humanitarian Award.
"I've had a tremendous amount of accomplishments throughout my lifetime," Dr. Yee told the CDA Foundation in 2018. "Being honored as this year's recipient means a lot to me because I love my profession, and I'm happy to be recognized for all I've done."
Dr. Lee is survived by his brother, Franklin Yee; sister, Carolee Lim; sons, Alan and H. Wesley; along with nine grandchildren. A funeral service was held at East Lawn Memorial Park on July 3, with a celebration of life to be held in the future. In lieu of flowers, the family suggests charitable donations to the Asian Community Center of Sacramento Valley, Sutter Medical Foundation, the California Museum and the California State Railroad Museum Foundation.