Scaling mountain of student debt achievable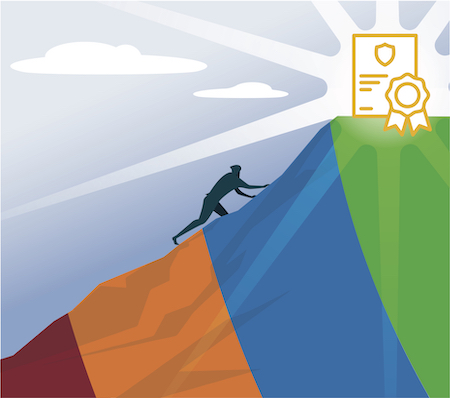 The financial cost of becoming a dentist can seem intimidating.
"Graduate student debt has been rising for decades, even after adjusting for inflation. It has risen to the point that today new dentists with debt are starting their careers owing nearly $305,000 in educational debt," wrote ADA President Daniel J. Klemmedson, D.D.S., M.D., and Executive Director Kathleen T. O'Loughlin, D.M.D., in an April letter to a congressman who had introduced a student loan reform bill.
The mountain of debt is daunting, but scaling that mountain is achievable, as long as dental students realize that refinancing and other options - including federal service and the armed forces - are available.
Laurel Road refinancing
Student loan refinancing may add up tosignificant savings. For example, if someone refinances multiple loans into one loan with a lower rate, and they keep the loan term the same, that person will accrue less interest over the life of the loan, saving them money on a monthly basis and over the life of the loan.
Laurel Road, an online lender and brand of KeyBank, is already the ADA Member Advantage-endorsed provider for student loan refinancing and has worked with ADA members since 2015.
ADA members receive an extra 0.25% discount on their studentloan refinancing rate as long as they maintain their membership, said Alex Macielak, Laurel Road's director of business development.
"We're really a company that prioritizes those in health care. And it's not just our student loanrefinance product - we also offer dentists tailored financial insights, member perks and premium care." Mr. Macielak said.
Rates for the Resident Student Loan Refinancing program offer an extra discount for those that set up autopay.
To earn the ADA Member Advantage endorsement, Laurel Road participated in a rigorous request for proposal process and was selected by an oversight board comprised of dentists and business people. The ADA's endorsement program continually evaluates endorsed providers to ensure a high level of customer service and competitive pricing are provided to ADA members. Laurel Road is the only student loan refinancing provider that is endorsed by ADA Member Advantage.
Juno option
Thinking outside of the box is the basis of Juno, which until recently was branded as LeverEdge. It was founded by two Harvard Business School students who were looking for a way to lower the costs for their loans several years ago.
Their idea was this: Put large groups of student debt into a "bucket" and sell it to banks for discounted rates - providing savings for the students and making the loans more interesting to the bank.
They have had great success with the program, having secured over $380 million in loans for their clients, according to Chris Abkarians, cofounder of Juno along with Nikhil Agarwal.
"We started shopping around for student loans ourselves and thought, there has to be a better way," said Mr. Abkarians. "So we started an initiative to negotiate bulk discounts for our classmates. High-interest rates on student loans are frustrating. Without strong competition and transparency, lenders can charge higher rates. Instead of taking expensive loans, we grouped together 700 students from 10 different schools and were able to negotiate lower rates for every student, saving each of [them] $15,000."
Mr. Abkarians stressed that they are different from other companies.
"We are not a direct lender," he said. "Instead, we run an auction between dozens of lenders and select one who offers the best rates for our members. In this sense, we are the only initiative like this in the student loan space. Our interests are aligned with our members', and our mission is to secure the cheapest loan possible for our members using the power of the community we've built. Dental students, or current dentists, can sign up for access to our negotiated deals through our website joinjuno.com. Joining Juno is free and there's no obligation to take the student loan and refinancing deals we offer."
Federal programs abound
"The federal dental services - through the Indian Health Service, the National Health Service Corps, the VA and the military - offer scholarship programs for students and substantial loan repayment options following graduation," said Rear Admiral Timothy L. Ricks, D.M.D., assistant surgeon general and chief dental officer of the U.S. Public Health Service. "Students can provide care and hone their clinical skills in a variety of federal settings earning a competitive salary, pay off student loan and still have many years left after leaving federal service to pursue other career opportunities."
The Department of Veterans Affairs offers an Education Debt Reduction Program to dental professionals who are full or part-time employees of the VA. The program is for qualified applicants to positions that are difficult to recruit and retain.
Students pursuing primary care health professions training, including dentistry, may be eligible to apply to the National Health Service Corps Scholarship Program. Awarded scholars provide primary care health services in health professional shortage areas. While in school, dental students are also eligible to apply to the NHSC Students to Service Loan Repayment Program and for those who are employed, the NHSC Loan Repayment Program is an option. The NHSC student to service loan repayment program provides up to $120,000 to eligible dental students in their final year of school in exchange for three years of service in a health professional shortage area. For working dental professionals, the NHSC loan repayment program can help pay off up to $50,000 in eligible loan debt for awardees who commit to serve full time for two years in a health professional shortage area. The NHSC loan repayment program also provides one-year continuation awards, which may allow a clinician to pay off all of their qualifying loans. For more information and to learn when the next application cycles open, visit the NHSC website or find open positions at NHSC-approved sites on HRSA's Health Workforce Connector.
The IHS Loan Repayment Program rewards clinicians working at Indian Health Service facilities, Tribally-Operated 638 Health Programs and Urban Indian Health Programs. The IHS Loan Repayment Program funds IHS clinicians to repay their eligible health profession education loans - up to $40,000 - in exchange for an initial two-year service commitment to practice in health facilities serving American Indian and Alaska Native communities. As a program participant, they are eligible to extend their contract annually until their qualified student debt is paid.
Military choices
The armed forces also offer generous financial support for those In need.
The U.S. Army can help pay for advanced degrees. The F. Edward Hobert Armed Forces Health Professions Scholarship Program offers an opportunity for financial support. This program permitsselected students to be commissioned as officers in the Army Reserve while in school and then transition to active duty upon graduation. While completing school, students receive a monthly stipend of more than $2,390 for more than 10 months each year. For the remaining time they will be on active duty for training, and will receive the pay and allowances of a second lieutenant. Qualifying dental students are also eligible to receive a $20,000 sign-on bonus. The Army will payall tuition, required books, most academic fees and more during the length of dental school.
The Air Force Financial Assistance Program for dental residencies can help those completing their residency without having to worry about finances. Recipients will receive an annual grant of more than $45,000 for every year they participate in the program, and receive a stipend of $2,540 a month to cover living expenses. Upon completion of their residency, they'll have a one-year obligation for each year of participation (minimum two-year commitment.)
Through the U.S. Navy Health Professions Scholarship Program , students could receivefull tuition coverage for the cost of dental school and related expenses as well as receiving a monthly stipend of $2,540 per month. Additionally, through the Navy Health Services Collegiate Program , students could receive up to $269,000 while attending dental school to help cover the cost of tuition and expenses. In addition, the Navy Financial Assistance Program offers potentially more than $275,000 during a dental residency, consisting of annual grants, monthly stipends and expense reimbursement. Also, practicing dentists can receive a sign-on bonus.
Dental students and new dentists can also find help on the New Dentist Now blog, with over 150 articles on finances for recent graduates. The posts include guidance on basic budgeting, tackling loans, federal programs available to help pay off debt, and ways to structure debt in case students and early-career dentists want to open a practice someday.
For information on more ADA debt resources, visit ADA.org/mydebt.