ADA honors Rear Adm. Timothy Ricks with Distinguished Service Award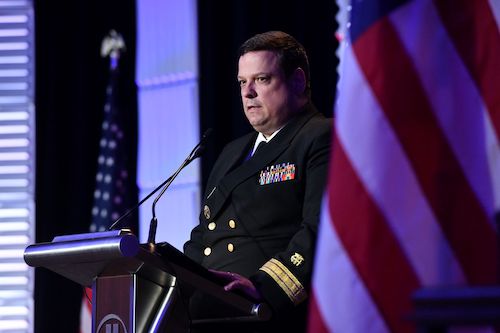 Rockville, M.D. — Rear Adm. Timothy L. Ricks, D.M.D., never imagined a career in public health. He had not even heard of the U.S. Public Health Service when he picked up the phone to call an Indian Health Service recruiter.
This was in 1998, and he had been a dentist in Mississippi for more than three years. What sparked his interest in public health was finding that he enjoyed volunteering and doing pro bono work, such as helping treat children with special needs, going to schools and partnering with nonprofits to provide dental care to underserved populations in the community.
"I remember the Indian Health Service coming to my dental school for recruitment," he said. "And I found that I still had the brochure."
Today, more than 20 years later after that initial call, Dr. Ricks is the nation's top oral health official, serving as chief dental officer for the U.S. Public Health Service along with his full-time role as the deputy director of the Indian Health Service Division of Oral Health.
In October, the ADA Board of Trustees will honor Dr. Ricks with the ADA Distinguished Service Award, the highest honor the ADA Board of Trustees can bestow on a member. He will be at SmileCon in Las Vegas to accept the award, back to the state where itall started.
"Dr. Ricks is a dentist who exemplifies service, leadership and dedication. That's why the ADA is recognizing him with this year's Distinguished Service Award," said ADA President Daniel J. Klemmedson, D.D.S., M.D., who made the nomination. "His many accomplishments in public health, oral health promotion, and continuing education have made an indelible impact on our profession. He is well-deserving of this distinction."
'My wife knows best'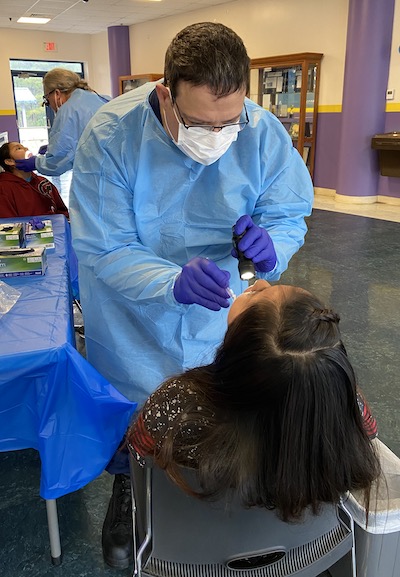 GKAS: Dr. Ricks examines a patient during the 2020 Give Kids A Smile Day at the Choctaw Indian Reservation in Mississippi. It was similar to volunteer opportunities to help underserved communities that first attracted Dr. Ricks to pursue a career in public health.
A biology and chemistry major in college, Dr. Ricks knew he wanted do something in health care. His mother was a registered nurse, which influenced his pursuits. But dentistry never even crossed his mind until his wife suggested it.
"I was disillusioned after four years of college," he said. "I didn't really know what I was going to do. I actually sold cars for a few months."
In December 1990, he was activated for Desert Storm as part of the Army National Guard. While in training at Ft. McClellan, Alabama, Dr. Ricks said his wife, Julie, turned to him and asked: "What about dentistry?"
"My wife knows best," he said.
Dr. Ricks remembers that he took his dental admission test after a weeklong training. He was sleeping in the woods, dressed in camouflage and playing war games.
"I don't think I slept for 48 hours when my wife picked me up and took me to the University of Alabama at Birmingham for the test," he said. "I was the first to finish the test. Instead of going back to the base, I took a few hours to catch up on sleep in the university's parking garage."
Dr. Ricks ultimately earned his dental degree in 1995 from the University of Mississippi Medical Center.
Years later, when Dr. Ricks considered going from private practice to public health, he flew out to Nevada for an Indian Health Service job interview. He was supposed to also go to Montana for a different interview.
"But I was hired on the spot after I met with the clinical director and never made it to Montana," he said.
His first IHS job was running a two-chair clinic in the Pyramid Lake Paiute Reservation, about 35 miles northeast of Reno, Nevada.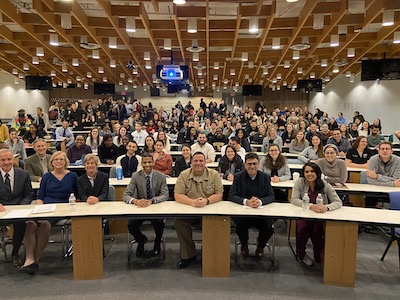 Improving community health
For 20 years, what he loves most about working in public health is working with people with a similar passion for improving the health of Americans.
"In my agency, the IHS, so many people work tirelessly to improve the health of American Indians and Alaska Natives," he said. "I enjoy the interconnectedness of health in the U.S. Public Health Service, where dentists work in partnership with physicians, nurses, engineers, dieticians, environmental health officers, scientists and others to carry out the mission of their respective agencies and the USPHS."
In his role as chief dental officer, Dr. Ricks advises the Office of the Surgeon General and the U.S. Department of Health and Human Services on the recruitment, assignment, deployment, retention and career development of oral health professionals. He is also responsible for overseeing the development of the second-ever Surgeon General's Report on Oral Health, and he chairs the USPHS Oral Health Coordinating Committee.
In addition, Dr. Ricks serves in numerous national roles within the Indian Health Service, including continuing dental education coordinator, oral health promotion/disease prevention consultant, oral health surveillance coordinator, dental lead for the Government Performance and Results Act, and as IHS representative to the Healthy People 2020/2030 Oral Health Workgroup.
"Over the last two decades, Dr. Ricks has been instrumental to the advancement of oral health in our nation," Dr. Klemmedson said. "And at the onset of the COVID-19 pandemic, his leadership was vital in supporting dentists and patients when uncertainty abounded. He fostered collaboration across our profession, and these efforts helped us all navigate a challenging time."
This past year, during the COVID-19 pandemic, he has helped convene public-private partnership meetings to allow for the exchange of information and collaborative though.
"Initially, I thought that because there was so much confusing information at the onset of the pandemic, especially related to dental practice, that all of us in oral health needed to be on the same page regarding infection control and other pandemic-related recommendations," Dr. Ricks said. The group continues to meet and now includes 36 dental organizations and representatives from 12 federal agencies.
While the focus is still on COVID-19, Dr. Ricks said, they have had time to discuss some of the other major topics concerning oral health including the release of the Healthy People 2030 oral health objectives.
"The oral health community recognized it was time to come together, to listen, and learn from each other, and Dr. Ricks coordinated an opportunity for this to happen," said Josefine Ortiz Wolfe, Ph.D., oral health section chair of the American Public Health Association.  "Because of this coordinated group common goals were identified, and new alliances were formed.  This is only the beginning of the great things to come by this initiative coordinated by Dr. Ricks."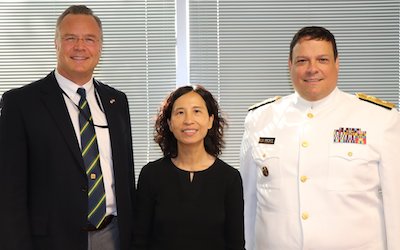 Proudest moment
In his two decades in public health, Dr. Ricks said there's a lot that he's proud of. One standout item has been the work in helping reduce early childhood caries among American Indian and Alaska Native children.
"American Indian and Alaska Native children under six years of age suffer four times as many decayed or filled teeth as white children and twice as much as the next highest minority group," Dr. Ricks said.
In 2009, a colleague of his, Bonnie Bruerd, DrPH, had volunteered Dr. Ricks to lead a new early childhood caries initiative.
"I went ahead and volunteered with her, and we developed and promoted a new early childhood caries collaborative over a five-year period," Dr. Ricks said. The initiative promoted early oral care access ("two is too late" and "first tooth, first exam" were the mottos), fluoride varnish three to four times a year, sealants in young children, and scoop-and-fill interim therapeutic restorations, and all of these remain as cornerstones to ECC prevention in the IHS today.
"Over the past decade, we have had the first measured decrease in early childhood caries, with a 5% drop in caries experience (any history of decay) and a 14% drop in untreated decay in American Indian and Alaska Native children under 6 years of age," he said. "This initiative, and the many oral health professionals in our system who adopted these prevention measures, contributed to this outcome."
Joys of public health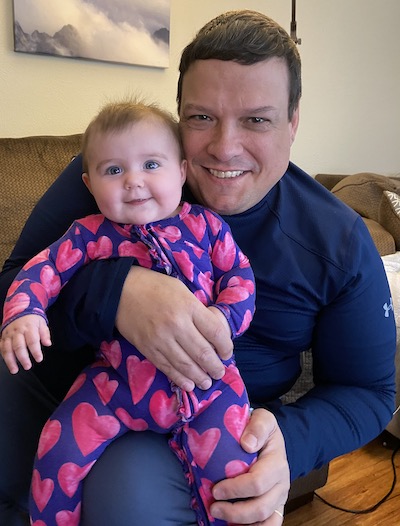 Family: Dr. Ricks with his first granddaughter, Arabella Rose, who was born in August 2020. Dr. Ricks said he and his wife love spending their weekends with her.
When he received the call from Dr. Klemmedson that he would be receiving this year's Distinguished Service Award, Dr. Ricks said he was stunned.
"I immediately thought of all the great people I've been blessed to have around me throughout my career," he said. "I am fortunate to have had so many people around me to mentor me, serve with me, and serve with such passion to make my career so rewarding."
These mentors include his first dental assistant, Pam Spotted Wolf, who gave Dr. Ricks an orientation to the Indian Health Service; Steve Tetrev, D.D.S., M.P.H., an area dental officer out of Phoenix who taught him to think from a public health perspective; and Rear Adm. (ret.) Dushanka Kleinman, D.D.S., M.P.H., a former chief dental officer who helped him see things from a broader perspective.
When away from the office, Dr. Ricks said he enjoys oil painting, wood burning and gardening. He recently built a new garden with eight raised beds and individual irrigation systems for each. He also loves the outdoors, such as kayaking, jogging and hiking.
And since August 2020, Dr. Ricks and his wife have spent their weekends with their first granddaughter, Arabella Rose.
Dr. Ricks said he does plan to attend SmileCon to accept the award.
"I serve as a delegate in the ADA House of Delegates and was planning to attend anyway," he said. "This award has been a highlight of my career, and I'm humbled by the recognition."
Dr. Ricks encourages dental students and new dentists to consider a career in public health.
"It is so rewarding," he said. "We're advocating for community water fluoridation, starting school programs, developing initiatives that help the vulnerable and underserved. Rather than just waiting for individual patients to come through the door, you'll have the opportunity to help people at the community level."