ADA selects vendor to investigate root causes of problems with eligibility, verification of benefits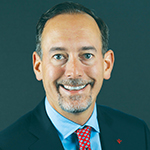 Dr. Markarian
The ADA Council on Dental Benefit Programs has selected a Nashville health care technology company to investigate whether there are market solutions to effectively help solve problems dentists currently face regarding eligibility and benefits verification.
Change Healthcare will investigate the feasibility of implementing a unified system that would provide dentists with accurate information regarding a patient's dental benefits, possibly through an online portal or app.
The collaboration is a response to Res. 102H-2020 adopted by the 2020 House of Delegates, and a report is scheduled to be presented to the 2021 House of Delegates.
Randall Markarian, D.M.D., chair of the ADA Council on Dental Benefit Programs said that if there is a unified system for benefit verification, a dentist will be able to better inform their patients about what the plan will cover and avoid surprise bills for both the practice and the patient. It will also prevent retroactive denials in those instances when the dental plan mistakenly pays for a service that should not have been covered, he added.
"Eligibility and benefits verification is a pain point for many dental offices on a daily basis," said Dr. Markarian. "It hurts the efficiency of the office when staff are on the phone trying to verify information. We need a process that is real-time and trackable so that dental plans will stand by the information given to offices. Providing better information about the patient's coverage will enhance the doctor-patient relationship and lead to an increase in treatment plan acceptance."
Dr. Markarian is optimistic about Change Healthcare's potential to help the ADA and its member dentists.
"Change Healthcare understands our desire to determine the root causes of the problems dental offices face in not receiving complete, current and accurate eligibility and benefits information, as well as our goal of establishing a system that would resolve these underlying issues," Dr. Markarian said. "There is not just a single approach to this problem, and we will identify and understand all of the options so dentists have the tools they need to be successful."
While a solution won't be immediately available, members should know that the process is in motion, Dr. Markarian said.
"It may take some time and effort to get a fully functional system, but the benefit to dentists will be worth the wait," Dr. Markarian said.
In addition to this effort, the ADA's Standards Committee on Dental Informatics is developing a companion guide to the HIPAA eligibility transaction (X12 271 eligibility response transaction) to support better use of the existing electronic standards to convey eligibility and benefit information between third-party payers and dental practices. The eligibility/benefit inquiry transaction is used to obtain information about a benefit plan for an enrollee, including information on eligibility and coverage under the health plan. This inquiry can be sent from a health care provider to a health plan, or from one health plan to another.
Kevin Dens, D.D.S., a member of the Council on Dental Benefit Programs and a member of the SCDI Workgroup developing this companion guide, said, "Ultimately administrative efficiency can only be achieved if we have robust standards and all business partners use these standards to communicate information."
He added, "The Council on Dental Benefit Programs is looking for existing market solutions to help solve the issue in the near-term for dental practices while the SCDI effort is looking for a longer-term standard solution. Together these efforts are promising to help practices achieve the efficiency they seek when interacting with dental benefit plans. It is in the best interest of both providers and payers to have those standards."
For more information on dental benefits, visit ADA.org/dentalinsurance .