Dental practices 'largely exempt' from OSHA rule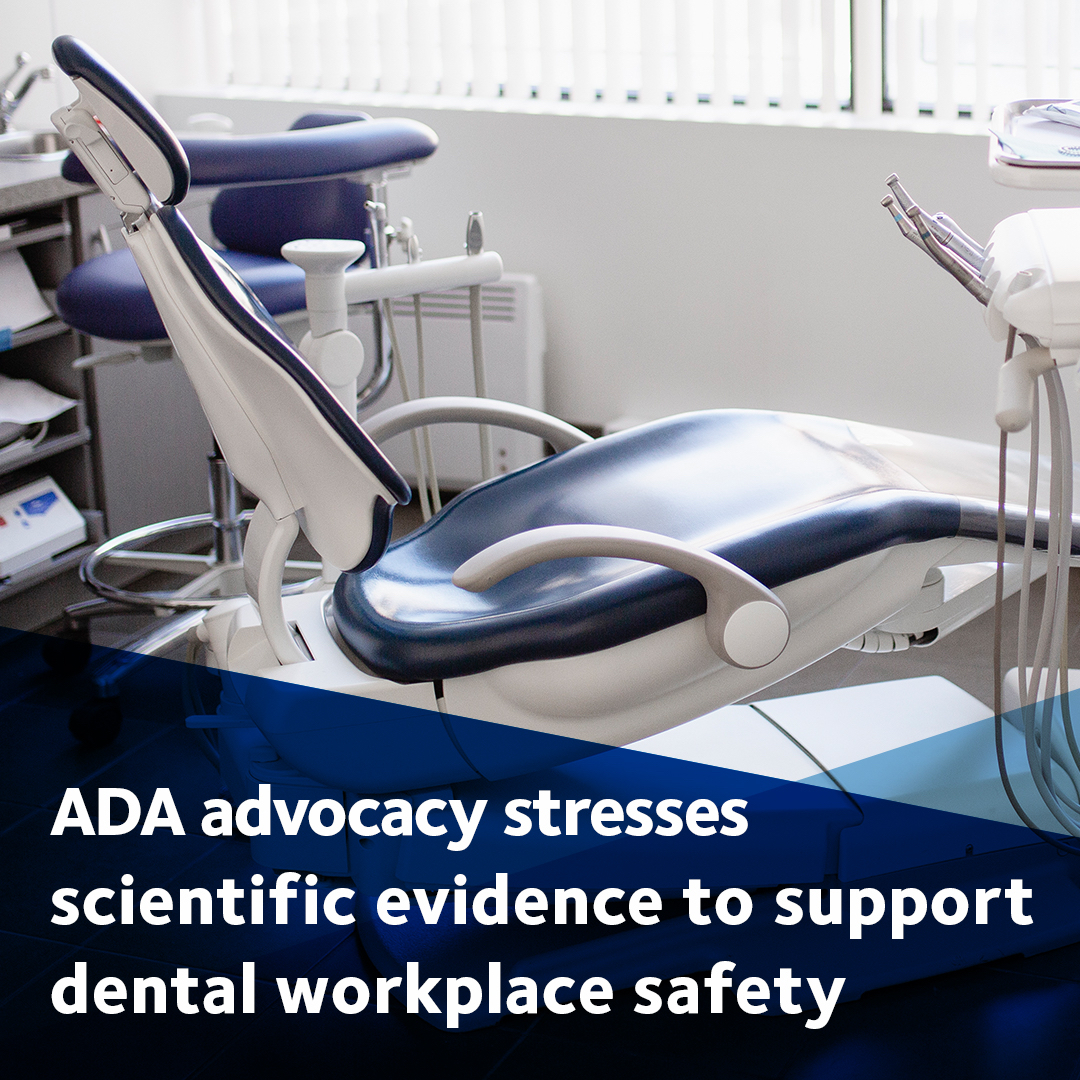 Dr. Klemmedson
Washington — The ADA is pleased that dental practices are mostly exempt from the Occupational Safety and Health Administration's new emergency temporary standard to protect health care workers from COVID-19.
The OSHA emergency standard, released June 10, provides additional guidance for health care settings, including hospitals and nursing homes, where all employees may not be screened for COVID-19, and non-employees and patients with suspected or confirmed cases of COVID-19 are allowed to enter and may be treated. Dental offices most likely to be affected by the new standard include hospital-based oral surgery practices or those dentists who provide care for COVID-19 patients. The federal emergency temporary standard does not apply in states which have their own OSHA plan.
"The great news is that dentistry is largely exempt from this additional federal regulation," said ADA President Daniel J. Klemmedson, D.D.S.,M.D., in a video message to dentists. "Why? Because of dentistry's proven ability to practice safely during the pandemic."
Dr. Klemmedson pointed to the profession's widespread adoption of the guidance outlined in the ADA Return to Work Interim Guidance Toolkit as key to that success and praised his fellow dentists for their strong adherence to the use of increased personal protective equipment and infection control precautions throughout the pandemic.
"The new infection control guidance and very low COVID-19 infection rate for dentists and dental hygienists prove that dental practices are safe workplaces," said Dr. Klemmedson in an ADA news release.
Dental offices should have a written COVID-19 plan in place. If an office is covered under the emergency temporary standard, it is mandated to do so. If an office is exempt, it still should do a hazard assessment and written plan as recommended in  OSHA's Recommended Practices for Safety and Health Programs. Dental practices must also conduct workplace-specific hazard assessments for COVID-19 and should also continue pre-appointment patient screenings to identify individuals with suspected or confirmed COVID-19, rescheduling their appointments if possible or referring them as necessary.
The ADA has been advocating for dentistry on this issue even before January, when the new administration issued an executive order making the health and safety of workers a priority. Earlier this month, Dr. Klemmedson and ADA staff met with the White House Office of Management and Budget  to discuss how the rule could impact dentistry. During that meeting, the Association told officials there wasn't a "grave danger of being exposed to COVID-19 in dental settings, particularly as the pandemic is decelerating" and noted that dentists have experienced "exceptionally low monthly incidences of COVID-19" despite several regional and national spikes during OSHA's study periods.
"This is a win for science, a win for ADA advocacy and especially a win for you," Dr. Klemmedson told dentists in his video message.
To help dentists understand the OSHA emergency temporary standard, the ADA has created a fact sheet that includes some key points to help walk dentists through the process. Visit  ADA.org/virus to access the fact sheet.
Follow all of the ADA's advocacy efforts at ADA.org/Advocacy.