Dentistry through and through': Raymond A. Cohlmia, D.D.S., prepares for next step of organized dentistry journey as ADA executive director
For Raymond A. Cohlmia, D.D.S., dentistry and family have always gone hand in hand.
From a young age, he watched the kind of impact his father, Ray Cohlmia, D.D.S., had within his community and the world of organized dentistry, including as a delegate to the ADA House of Delegates.
"My father was a very big influence in my life. He was a dentist, and he taught us how to live and to support people. That was his whole life," Dr. Cohlmia said. "I am so glad that he took me into dentistry because it is a wonderful profession. My father was really instrumental in putting me on the path of not just dentistry but giving back to the community."
Although his father passed away in April, Dr. Cohlmia will carry that example with him as he begins his new role as executive director of the ADA. The Association announced May 12 that it named Dr. Cohlmia, dean of the University of Oklahoma College of Dentistry and a former ADA trustee, as its next executive director, effective Nov. 15.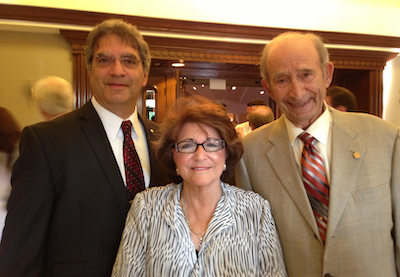 "The American Dental Association is excited to welcome Dr. Cohlmia as its new executive director," ADA President Daniel J. Klemmedson, D.D.S., M.D., said. "In addition to a breadth of experience in dental practice and education, his many years of service in organized dentistry made him a standout candidate. Dr. Cohlmia is widely respected in the dental community for his thoughtfulness, dedication and service-oriented approach to leadership. With these qualities, as well as his proven background, he is well-suited to help the ADA drive dentistry forward and into the future."
Dr. Cohlmia, who lives in Oklahoma City, Oklahoma, will begin onboarding for his new position on Oct. 1. His hiring follows an extensive search process that began when current Executive Director Kathleen T. O'Loughlin, D.M.D., announced she would retire in 2021.
"Dr. Cohlmia's passion, energy and business acumen ensure that the future of the ADA is in good hands," Dr. O'Loughlin said. "I greatly admire Dr. Cohlmia's ability to get things done while demonstrating compassionate leadership combined with a great sense of humor — extremely important for long-term success at the ADA."
Dr. Cohlmia has a long history with organized dentistry — involvement that was always part of his plan. After graduating from the OU College of Dentistry in 1988, he mapped out his career, even planning for a term as ADA trustee.
"Organized dentistry has always been a part of my life," he said. "It provides us with the support that we need to provide the best care to our patients. That's the importance of organized dentistry. It's one of the reasons why I'm very excited about serving the ADA."
Dr. Cohlmia was a member of the ADA Board of Trustees from 2015 to 2019, and he was president of the Oklahoma Dental Association in 2001 and Oklahoma County Dental Society in 1997. He also led the ADA New Dentist Committee and Council on Membership, serving as chair in 1999 and 2007, respectively.
Other ADA appointments over the years have included the Council on Annual Sessions, Council on Dental Benefits and American Dental Political Action Committee. Dr. Cohlmia has also represented his district as a delegate to the ADA House of Delegates, and he served as chair of the ADA Science & Research Institute Board of Directors, extending his involvement with the ADA to its research arm.
"Dr. Cohlmia is a champion of science and has a deep understanding of research strategy and dissemination," said Marcelo Araujo, D.D.S., Ph.D., CEO of the ADA Science & Research Institute and chief science officer of the ADA. "We know that he will continue to promote the ADA value of science and evidence-based dentistry."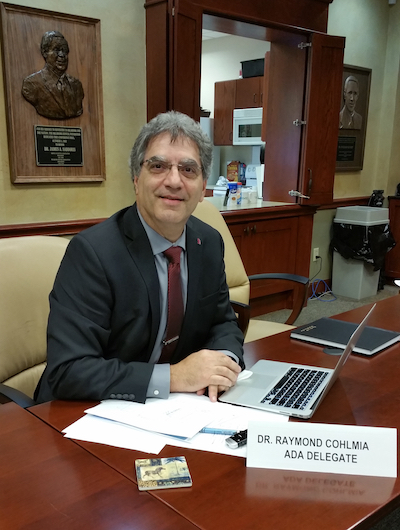 Dr. Cohlmia said he was a mix of stunned, honored, excited and nervous to learn he would bethe ADA's next executive director.
"I was really excited because I thought they believed in my vision enough to support me — that they want to go to the next level, they want to try to achieve what I had presented to thesteering committee and to the Board of Trustees," he said. "I was honored, and I'm thrilled. I just can't wait. I'm looking so forward to being a part of the ADA and helping to get it to the next level."
Dr. Cohlmia's wife of34 years, Sherry, has been his rock during every step of his organized dentistry journey, he said.
"As soon as Raymond became a dental student, he participated in organized dentistry. His dad knew the importance of strengthening the profession and passed this passion on to his son," Sherry Cohlmia said. "Quality patient care is Raymond's motivation. I have witnessed Raymond's countless hours of working, studying, volunteering and mentoring. I know that this position means a great deal to him because it is another opportunity to serve the profession that transforms lives by restoring oral health. Through organized dentistry, we have been blessed by incredible friendships. We are excited about his new position and look forward to the new friendships this opportunity allows."
While Dr. Cohlmia has been a faculty member of the OU College of Dentistry since 1988, he began to increase his time with the college in 2009, serving in a variety of leadership positions. In 2011, he created the division of comprehensive care and was named its director. He then served as assistant dean for patient care from 2013 until he was appointed dean in 2015.
"Dean Cohlmia's leadership and selfless dedication to the OU College of Dentistry has had a tremendous impact on the university and its students, faculty and staff," University of Oklahoma President Joseph Harroz Jr. said. "OU is fortunate to have someone of his caliber leading our next generation of dentists, and I am personally thankful for all of his invaluable support and service. Dean Cohlmia has had an illustrious career, and I have complete confidence he will successfully lead the American Dental Association and have a profound lasting impact on this organization."
Prior to becoming dean, Dr. Cohlmia practiced dentistry for 26 years at the private practice he ran with his father and brother, Matthew Cohlmia, D.D.S., a member of the ADA Council on Government Affairs. The dentists in his family include not only the three of them, but also an uncle, more than a dozen cousins and two of his sons, who also graduated from the OU College of Dentistry.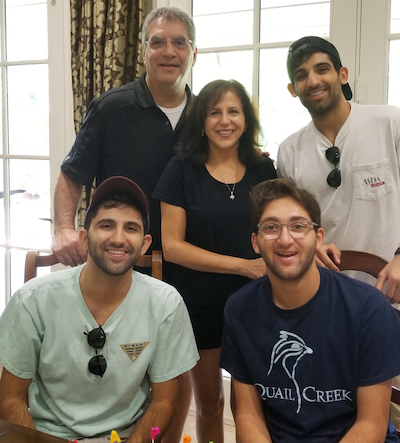 For Dr. Cohlmia, being able to share his professional life with his family has been a gift.
"We are dentistry through and through — three generations of dentistry," he said. "When you look at the perspective of what my father provided for us and what he's given to us, practicing with him each and every day was the biggest blessing in my life."
While Dr. Cohlmia has not been able to practice with his own sons, he did get to watch them graduate as both their father and dental school dean, and he helps them with case treatments from time to time. His oldest son, Derek R. Cohlmia, D.D.S., graduated in 2017, and his middle son, Brandon J. Cohlmia, D.D.S., followed in 2019. His youngest son, Joshua R. Cohlmia, is a senior at the University of Oklahoma majoring in biology, and he is considering a career in dentistry as well.
"In our home, dentistry has never been seen as just a job," his sons said. "Our grandfather and our dad imparted a love for the profession that serves our communities. We are so proud of our dad and the passion he brings to everything he does."
In addition to his family and career, Dr. Cohlmia's passion extends to an assortment of hobbies, many of which require the fine motor skills of a dentist, including rebuilding cars, sewing, woodworking, putting together model train layouts and playing piano. He credits the influence of his mother, Sameera Cohlmia, who majored in music in college and was known for her needlepoint work, for his piano playing and crafting.
"People say I get more out of a 24-hour day than most people. It's just how I am; it's the way I'm wired. I go 90 miles an hour," he said. "I just enjoy the blessings of life, I really do."
Dr. Cohlmia also likes to bicycle, golf, play tennis, ski and travel in his free time, and he is excited to embark on his next adventure as executive director of the ADA.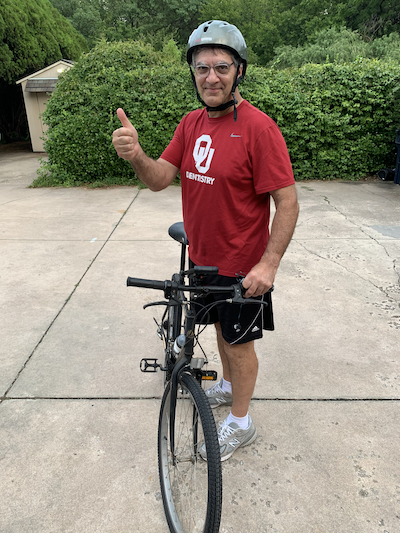 Staying active: Raymond A. Cohlmia, D.D.S., is an avid bicyclist.
He has three main goals for his new role.
"My first big goal is to create, instead of a membership drive, a market share drive, and that's two different things," Dr. Cohlmia said. "A membership drive — we're asking people to join. A market share drive is: I have a product that they need, that they want to be a part of, that's going to help to support their practice. We'll be developing a product and a process that creates a market share drive for all the members of the ADA that they're going to need and they're going to use on a regular basis every day."
He also wants to build upon the ADA's relationship with dental education and ensure long-term financial stability for the Association.
"Everything that I do is a three- to five-year plan for me," Dr. Cohlmia said. "I set our goals three and five years out, and then we make changes here in order to target those goals."
As the dental profession emerges from the COVID-19 pandemic, he knows he will have a lot on his plate as executive director, but he is ready to face it with his fellow dentists.
"COVID-19 has taught us to be prepared," Dr. Cohlmia said. "It hastaught us to take what happens today and deal with it and create a better tomorrow."