Society of American Indian Dentists celebrates dental school graduates with blanketing ceremony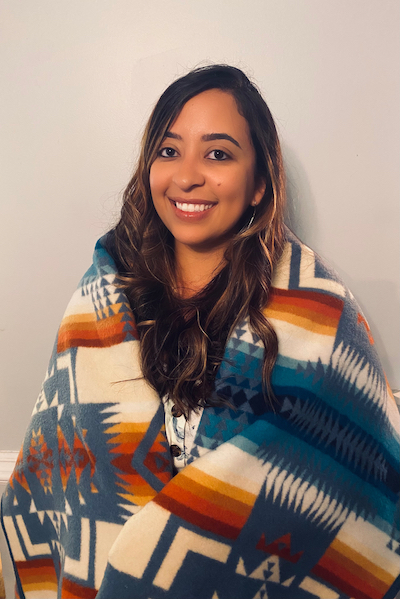 For Brianna Chavis-Locklear, D.M.D., marking her dental school graduation with a traditional blanketing ceremony held by the  Society of American Indian Dentists was a proud moment.
"Having the opportunity to participate in the ceremony felt surreal," said Dr. Chavis-Locklear, a member of the Lumbee Tribe who graduated in 2020 from East Carolina University School of Dental Medicine in Greenville, North Carolina. "As my husband blanketed me, I began to feel a sense of accomplishment and gratitude. With all the odds stacked against me, as an American Indian woman, I'd finally reached a goal some only dream about. My hope and goal is to inspire other American Indians to pursue a career in dentistry."
The Society of American Indian Dentists holds a blanketing ceremony each year to honor its graduating dental student members. Because last year's event was canceled in light of the COVID-19 pandemic, the society blanketed both 2020 and 2021 graduates June 19 during a virtual meeting.
"Blankets have a deeply woven history with Indigenous peoples in North America," said Janice Morrow, the society's executive administrator. "Originally created from fur, animal hides, grasses or cedar bark, wool is now the typical material used for blankets and shawls. Blankets were and continue to be integral in ceremonial practices such as weddings, namings, coming of age and funerals. We consider graduation from dental school an exceptional achievement and a ceremonial rite of passage for our students as they move on to their next phase in life."
During its 30-year history, the society has typically blanketed three to five students each year. This year, the ceremony included 10 dental school graduates and one member who had completed a dental residency program.
"Our student dentists are of American Indian heritage, and we support their dental school efforts in a variety of ways, including mentorship, scholarship, test prep, volunteer opportunities and hosting our students at our annual conferences," Ms. Morrow said. "Each year, over 20 students attend the conference. And, you can be sure, our graduating students especially attend to participate in the very special and very humbling blanketing ceremony."
During a typical in-person ceremony, the society's president and president-elect blanket each student, but the virtual nature of this year's event allowed family members to take on that role. Then-President Frederick Jeremy John, D.M.D., began the ceremony by sharing its history and tradition and then asked families to blanket their graduates.
"The beauty of this year's event is family members were able to participate in the ceremony by blanketing their own graduate, which is unusual at our regular in-person banquets," Ms. Morrow said.
Jacob Collins, D.D.S., a member of the Choctaw Nation of Oklahoma, was blanketed by his wife.
"To me, the blanketing ceremony was very special because it is symbolic of me beginning my career path in dentistry," said Dr. Collins, who graduated this year from the University of Michigan School of Dentistry in Ann Arbor, Michigan. "After spending many years preparing to work in oral health care, this is a big transition from dental school to dental practice. My blanket will always represent the end of one journey and the beginning of another."