Becoming a Dentist: UMSOD trio graduates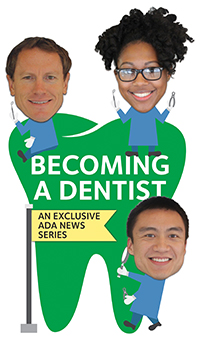 The labs are done.
The patients have been transferred.
The competencies, experiences, and vertical learning assignments are all complete.
The only thing left is to call them dentists.
For the dental Class of 2021, getting to the finish line has been rife with challenges posed by the COVID-19 pandemic, from adapting to virtual learning and wearing proper personal protection gear to logging enough clinical hours and attending countless online meetings.
But that's just made the joy of becoming a dentist all the sweeter for Dan, Ben and LaShonda. Since 2017, the ADA News has followed these University of Maryland School of Dentistry graduates from their first year as dental students until May 20 when the trio graduated with their Doctor of Dental Surgery degrees. To celebrate the Class of 2021, the school held several small in-person and virtual ceremonies in accordance with COVID-19 safety protocols.
"It's really a cliché to say this, but time has really flown," Dan said. Still, "I feel much older after these four years."
LaShonda agreed: "I can't believe it."
Said Ben, "It's time for the next step. The last four years have gone quickly, but I am definitely ready, and I feel good!!"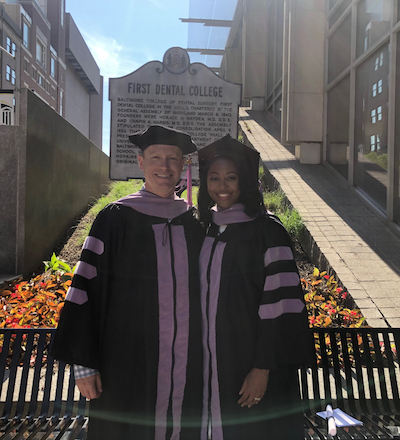 Final weeks
The end of dental school is always a stressful time, but wrapping up four years during a pandemic? Let's just say more than one new graduate might need to be fitted for a mouthguard.
Like all fourth-year students in their last few months before graduation, Dan, Ben and LaShonda had many projects and assignments to complete. They also needed to make sure that, although they're moving on to the next phase of their careers, their patients' care will continue uninterrupted. That meant making sure their patient contact lists are organized and updated and ready to be passed along to members of the rising fourth-year class.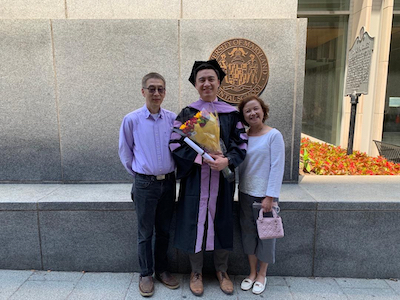 Family matters: Dr. Dan Yang poses with his parents following graduation.
"I'm just wrapping up things like paperwork and administrative stuff, cleaning up the Rolodex because we're transferring patients. I'm trying to go through things in order to smoothly transfer patients to the third-year students I worked with before. Making sure that I'm transferring patients to people that they already know," LaShonda said.
"For me, this definitely has been the most stressful year especially because of COVID-19," she added. "Because this is it: The end of this chapter of my life."
"It was super stressful, trying to put everything together and hit all my competencies and meet clinical requirements and just tie up loose ends," Dan said. "I'm looking forward to getting away from it all for a little bit and recharging."
LaShonda, too, is picturing herself taking a break at one of her favorite places — the beach.
"I would love to be there now," she said.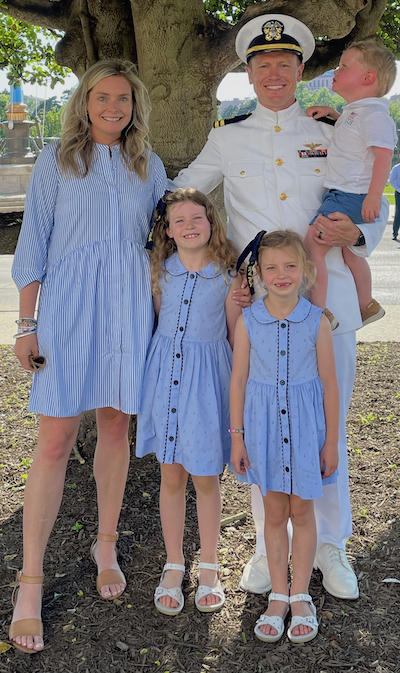 Ben's planning a getaway with his family before beginning his one-year advanced education general dentistry residency at the Naval Postgraduate Dental School at Walter Reed National Military Medical Center in Bethesda, Maryland. Following his residency, Ben will either be assigned to one of the many bases or ships where the Navy has dentists stationed, or he will stay at Walter Reed if he is selected for the three-year residency in periodontics he has applied for. Prior to dental school, Ben served as a naval aviator for 12 years. In this next chapter, he will serve as a Navy dentist.
He said, "I'm ready for whatever the Navy has in store for me and I'm excited to be back in the fleet."
Saying goodbye
Dan, Ben and LaShonda all said the strong ties they formed with their classmates were among the best parts of dental school.
"Where else can you gather together a group of about 100 people and have this exchange of knowledge and sense of camaraderie that you feel when you walk down the hall and see somebody else in green scrubs?" Dan said. "I think that's a pretty special and something that I will cherish."
He is particularly grateful to have met his fiancée, classmate Jennifer Kim, D.D.S., during their first semester at UMSOD. The two are planning to be married in 2022. "I'm very thankful that I met my future wife here in school," he said.
During their four years at the school of dentistry, the graduates built strong relationships with faculty members.
"I'm really going to miss the safety net of having the faculty to help you out if you have questions," LaShonda said. "Going out into the real world, I won't really have access to all these specialists to help me come up with treatment plans. I'm about to be doing this on my own."
They also created memorable bonds with their patients.
LaShonda recently treated a patient with deep anxieties about receiving dental care. In cases like these, she said, she discusses each procedure with the patient before performing it.
One day, she heard the patient tell a dental assistant how comfortable he felt with her as his dentist — and how much he appreciated her patience.
"I overheard him talking to someone who was assisting me, and he was like, 'Yeah, she's really awesome." LaShonda said. "It's amazing to have this kind of impact on people. It's what you hope for, and to overhear it in person was special."
A willingness to listen has helped Ben build trusting relationships with patients. "I did an extraction yesterday, and the patient told me, 'I hope I have you when I come back next week.' That was super rewarding to me," Ben said.
Another patient told him she wanted to be able to chew her favorite foods, steak and crab, without being in pain. During her final visit, he presented her with a set of crab mallets to help her get started again.
"That was fun to do," he said.
What's next
Although Dan, Ben and LaShonda are looking forward to resting and relaxing after graduating, they also are ready for their next adventures.
"When you first start doing dentistry, it's so foreign. When you're just learning it, it seems insurmountable," Ben said. "But then for lack of a better term, you just kind of keep swimming and all of a sudden, the appointment's over and you did the procedure. And you're, like, 'Wow.'"
Dan is shadowing an orthodontist during the early part of the summer before heading to New York for a general practice residency. Afterwards, he plans to apply to residency programs — with an eye toward teaching at a dental school one day.
"I have a real passion for that," he said.
After his year at the Walter Reed, Ben is also planning to apply for a future residency program.
"I'm just still so thankful for the opportunity the last four years have been," he said. "Four years later, I can sit here and wholeheartedly say that I have chosen the right profession."
LaShonda is beginning her general practice residency in Long Island, New York, later this month. She's still considering whether she wants to specialize. Something that that hasn't changed since her first day of dental school is her desire to mentor and give back: She dreams of returning to her hometown of Grady, Alabama, and volunteering with a community health center.
"I'd love to be able to give back and change the way people think about oral health," she said.
Editor's note: In November 2017, the ADA News launched Becoming a Dentist, a series of stories that follows three dental students at the University of Maryland School of Dentistry — Dan Yang, LaShonda Shepherd, and Ben Horn — during their journeys to becoming dentists. This is the final installment of the series. See the complete series at ADA.org/BeADentist .