April JADA finds curing lights inhibit gingival epithelial cell growth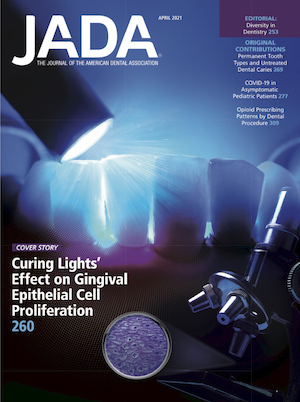 Prolonged exposure to blue curing light slows the growth of gingival epithelial cells and may damage oral soft tissues, according to a study published in the  April issue of The Journal of the American Dental Association .
The cover story, "Effects of Curing Lights on Human Gingival Epithelial Cell Proliferation," evaluated the performances of LEDand quartz-tungsten-halogen curing lights, as well as the heat they generate, and measured the proliferation of human gingival epithelial cells under different light exposure conditions, including intensity, distance and exposure time.
The study found both LED and quartz-tungsten-halogen lights generated heat; however, the LED light generated less heat and could decrease curing time by two-thirds. When used for 18 seconds at a 6-millimeter distance, the LED light did not inhibit cell proliferation, but it did at longer exposure times. This effect increased as the exposure time increased. Quartz-tungsten-halogen light did not slow cell growth if the exposure time was less than 120 seconds.
"The study demonstrated that prolonged exposure to a blue curing light inhibits the proliferation of gingival epithelial cells in vitro," said Yanhui H. Zhang, Ph.D., corresponding author and associate professor in the department of bioscience research at the University of Tennessee Health Science Center College of Dentistry in Memphis. "It implies that in dental practices, a balance should be struck in consideration of curing time not only to cure the composites completely but also to minimize unnecessarily prolonged light exposure."
Because this was an in vitro study using cultured cells, the article advised that caution should be taken when interpreting the data in a clinical context. However, the study provided evidence that it is important for dental professionals to use an appropriate curing time specifically suited to their curing light unit and power output.
Other articles in the April issue of JADA discuss the contribution of different permanent tooth types to untreated dental caries , COVID-19 in asymptomatic pediatric patients and opioid-prescribing patterns by dental procedure.
Every month, JADA articles are published online at JADA.ADA.org in advance of the print publication.