Commemorate FDI World Oral Health Day on March 20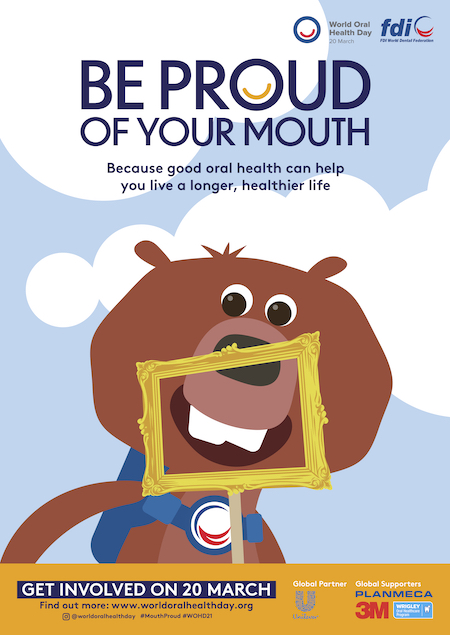 World Oral Health Day will again be celebrated around the globe on March 20.
Organized by the FDI World Dental Federation, it is the largest global awareness campaign on oral health. The official theme of the 2021 campaign is Be Proud of Your Mouth.
The observance spreads messages about good oral hygiene practices for adults and children and illustrates the importance of oral health in maintaining general health and well-being.
World Oral Health Day focuses on a specific theme each year and reaches out to the public, oral health professionals and policymakers who all have a role addressing the consequences of oral disease.
World Oral Health Day was first declared in 2007 and originally celebrated on Sept. 12, the birthday of FDI founder Dr. Charles Godon. However, the campaign was not fully activated until 2013, when the date was changed to March 20 to avoid conflict with the FDI World Dental Congress, which traditionally takes place in the late summer.
Resources and tips on how to celebrate World Oral Health Day are available at worldoralhealthday.org/resources.
FDI World Dental Federation is the largest membership-based dental organization in the world. It is the principal representative body for over 1 million dentists worldwide. FDI's membership comprises approximately 200 national member dental associations, including the ADA, and specialist groups in some 130 countries. It was founded in Paris in 1900 under the name Fédération Dentaire Internationale.